I know, I know…. Asparagus and who is Rachel?    Historically, Asparagus has not been my favorite veggie – but I will eat it – I'm a good girl like that.  Then, a couple of weeks ago a friend of mine posted on Facebook that she had prepared asparagus for dinner and it was DELICIOUS.  She had added garlic, bacon and honey.  I read her post and thought, "HONEY?,…..  WHAT?", which is pretty much what I responded.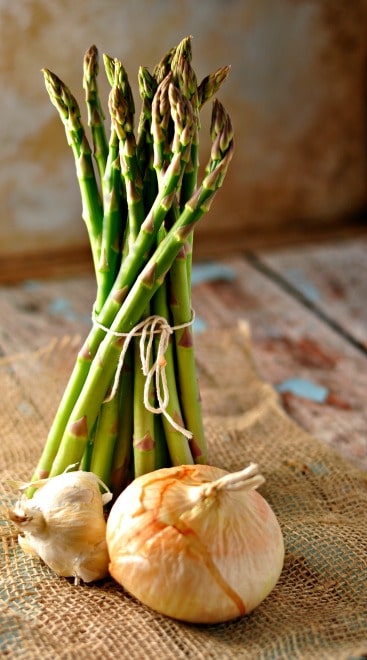 Rachel replied, "Yes, Honey, and it was YUMMY!".  Trusting Rachel's judgment as I do, I was intrigued and  had to try it too!  I made only a few alterations to her initial recipe and I have to admit, I'm hooked too!
This friend of mine, Rachel, is a nurse who I have worked with for several years.  Rachel is calm and cool in the face of any emergency and she always seems to know exactly and immediately what to do.  I admire her positive and sweet demeanor as well as her skills as a nurse.  Rachel is a real pro.  What I didn't know is that Rachel is a pro in the kitchen too.  As has been true for about 5 years now, I am once again finding myself learning from her!  (And… she is only about ½ my age!)
I asked her if I could include this Asparagus recipe on my website – and as is always true of her giving spirit, she said, "OF COURSE!".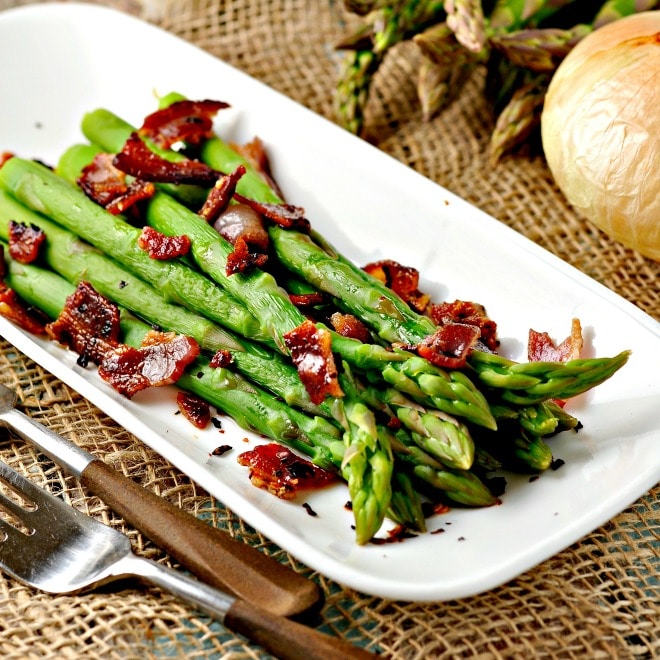 Thanks Rachel!
Coming up next time on Loaves and Dishes
Be Prepared Lasagna
Don't forget to subscribe to Loaves and Dishes so that I can send you an email notice when the next recipe posts.  I PROMISE to never give (or sell) your email address to anyone else – and I PROMISE not to bug you to death!
Serving suggestions for  Asparagus a la Rachel
Hubby and I  have found that Asparagus a la Rachel is tasty with a hearty meat main course such as  Zesty Drunkin Chicken            followed by a sweet and  homey dessert like  Cookie Bars!                           .
Now I ask you,  Make Dinner, Not War.
"A new command I give you: Love one another. As I have loved you, so you must love one another.  ~ John 13:34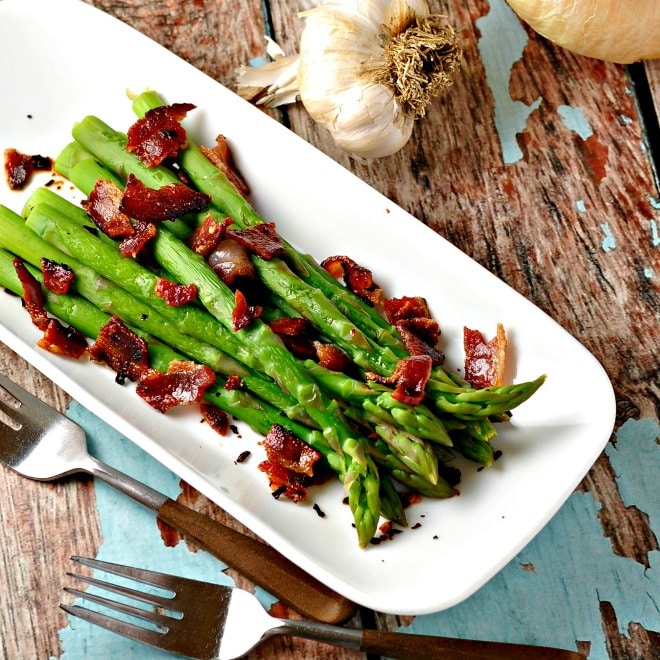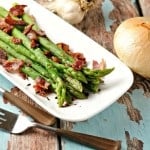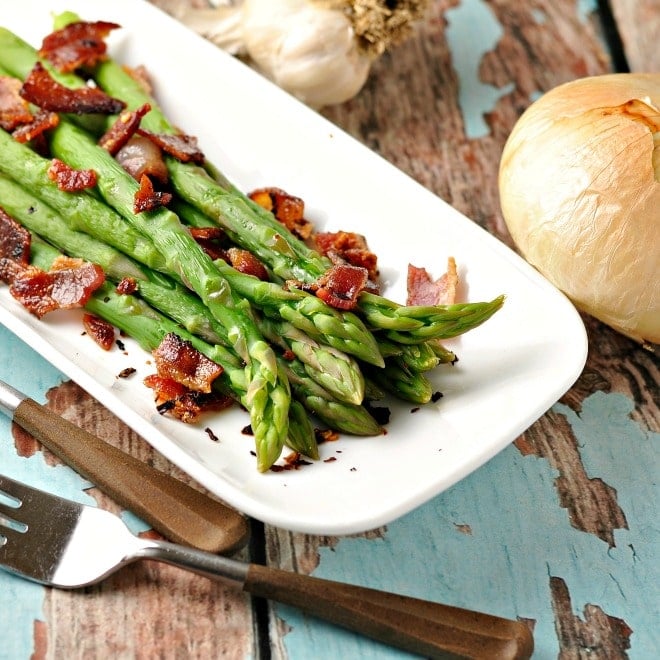 Asparagus a la Rachel
Easy and delicious Asparagus recipe
Ingredients
2

slices

of bacon - browned

1

bunch of asparagus

1/2

onion - chopped

1

garlic clove - minced

2

TBS

honey - heaping

1/2

tsp

dried chipotle peppers

1/2

tsp

salt - more to taste when ready to serve

1/4

tsp

pepper

1/2

tsp

cider vinegar
Instructions
Brown bacon in frying pan.

Remove bacon and add onion, garlic and asparagus and brown over medium heat.

When asparagus is cooked and onions translucent, Add the honey, peppers, salt and pepper.

Remove to serving dish and add cider vinegar and toss. Add more salt if tastes bitter