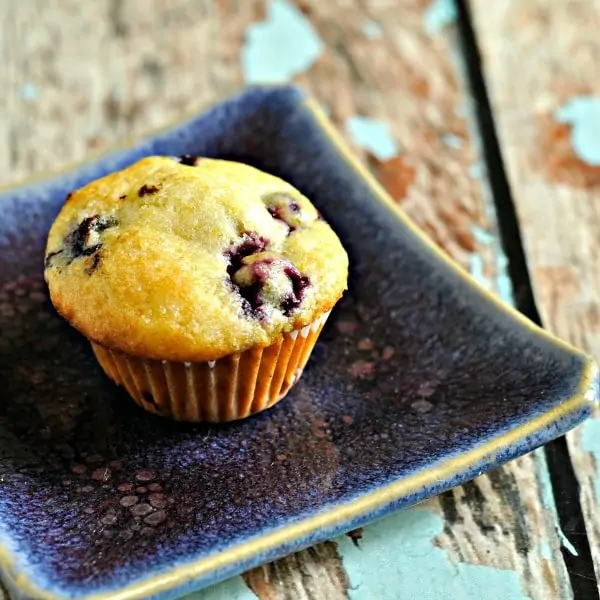 "BLUEBERRIES!!! We LOVE BLUEBERRIES!!!" I'm sure my husband could make up a little song about it and we could teach it to you here! But you didn't come here to sing about Blueberries. How can you help singing though, Blueberries are delicious and good for you! All those little antioxidants coursing through your veins as you gobble up a muffin. Its delightful!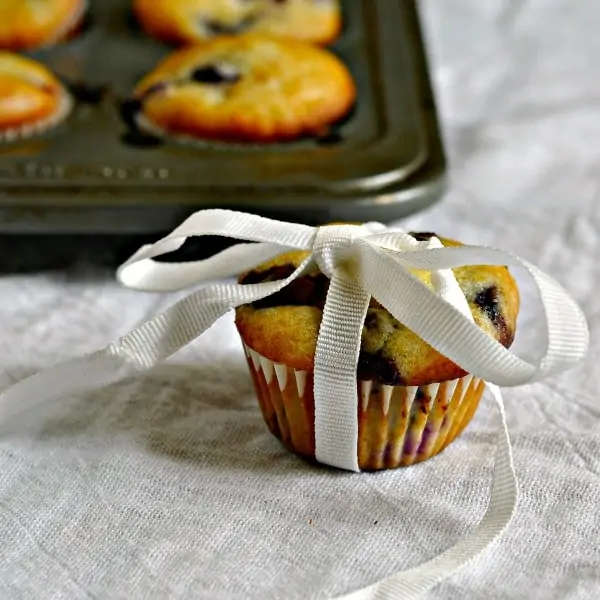 And just LOOK at those muffins! We love to see the little exploded blueberries with juice running down the side of the muffin. OOOooo, it's just too much!
This is a long approved family favorite. The kids love them, the teenagers love them and the big burly man-husband loves them too! Besides that these little guys are travelers! They go to school, work, to the beach, for rides in the car, up to the lake for swimming and on bicycle rides. Too bad for the muffins though, it is a one way trip. They never make it back home. I think you will want them to go everywhere with you too.
This recipe started out as a standard sized muffin recipe – but my husband, Mark, insists that the crust to soft inside ratio is just right with the mini muffins. So – please enjoy the crusty little blueberry explosions and the light and fluffy insides – I know we do! We find that they are especially good on Saturday morning.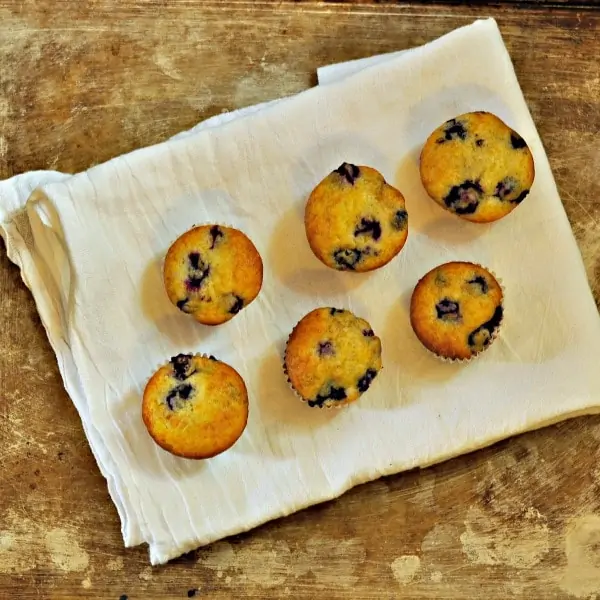 Just print the recipe below and enjoy. In my oven, 22 minutes is the perfect amount of time. It might be a little different in your oven. I hope you will visit again and next time bring some friends.
You might also enjoy Blueberry Mini Muffins with Crumble Top!
Lets eat ya'll!
(I searched for a bible verse on muffins – but after reading the one that appeared – I think we better go with a different one! <laughing>).
Clap your hands, all peoples! Shout to God with loud songs of joy! ! Psalms 47:1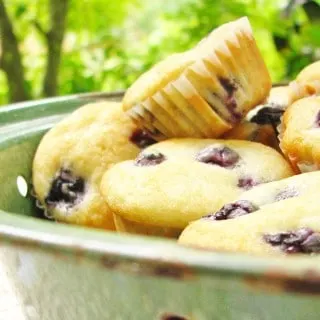 BAM! Blueberry Mini-Muffins
An easy to make and delicious blueberry muffin that you will want to take everywhere you go!
Print
Pin
Rate
Ingredients
1 ½

Cup

All Purpose Flour

¾

Cup

Sugar

½

tsp

salt

2

tsp

baking powder

1/3

Cup

Vegetable Oil

1

egg beaten

1/3

Cup

plus ½ cup milk

1/8

tsp.

pure almond extract

2

Cups

fresh or frozen blueberries
Instructions
Preheat the oven to 400

Prepare muffin tins by either spraying with baking spray or placing muffin cups.

In a medium sized bowl, whisk together flour, sugar, salt and baking powder to make sure well blended.

In a separate small bowl, beat the egg. Add the oil and both measurements of milk and the almond extract to the egg and mix.

Pour the liquid ingredients into the dry ingredients and mix well – do not over mix.

Fold in the blueberries.

Fill muffin cups to ¾ full.

Bake at 400 for 20-25 minutes. Check at 18 minutes and recheck every 2 minutes thereafter till done.
Notes
Simple delicious blueberry muffins without a crumble on top
Nutrition
Nutrition Facts
BAM! Blueberry Mini-Muffins
Amount Per Serving
Calories 200
* Percent Daily Values are based on a 2000 calorie diet.
And now for my faithful readers, the post -blog dessert. Thank you so much for visiting! Do you shop at your local farmer's market ,fruit stand or purchase a CSA veggie box? No? I didn't either – for a long long time. Where I live the farmer's market is only open for a few hours on Friday afternoon and I am usually working. The farmer's market in the nearest city is open on Saturday mornings, but is a 45 minute drive away. It is much more convenient to shop at the grocery store or big box store and I can get things all in one stop. Besides, I reasoned, I'm sure the farmer's market is more expensive. That is what I used to think. About a year ago, a fruit stand opened just a short way from my home and that has caused an entire shift in my thinking. I have started buying everything I can from the fruit stand, the farmers market and farmers I know locally. I find that my food is fresher and it tastes better. I am able to purchase most of my fruits and veggies, mushrooms, beef, pork sausage and fresh chicken right here within 5 miles of my home. Besides that, I am helping my friends and neighbors. Here is a picture of some things I bought at the fruit stand – all more local than I can get at the grocery. What you see here– milk, cheese and all was less than $25.