HELLLOOOOO Meat Lovers!!! What follows is for you. This is a knock it out of the park recipe for Beer Braised Brisket with Ding Dang Good Sauce . All in all it is pretty darn easy too. It simply requires some planning. This is not a dish that you make in the 10 minutes between coming home from work and running out the door to a soccer game.
No sireee… this right here is real food LOVE. A simmering, braising, all day kind of affair that has you bursting with anticipation at dinner time. This is the kind of dish that you dream about the whole week before with thoughts of dark red smoked paprika mixing with fresh white/green garlic cloves in a bath of vinegary oils.
Sorry. I can't help it. I could go on about this forever.
I am that girl who, when asked something about food at a party can go on and on for hours about the different tastes of this and that – until she finally looks around – no one is listening and the crickets have started chirping. Yep. That girl is me.
With that, I'll be quiet now and I think I'll go see if there is one more little scrap of this anywhere in the fridge.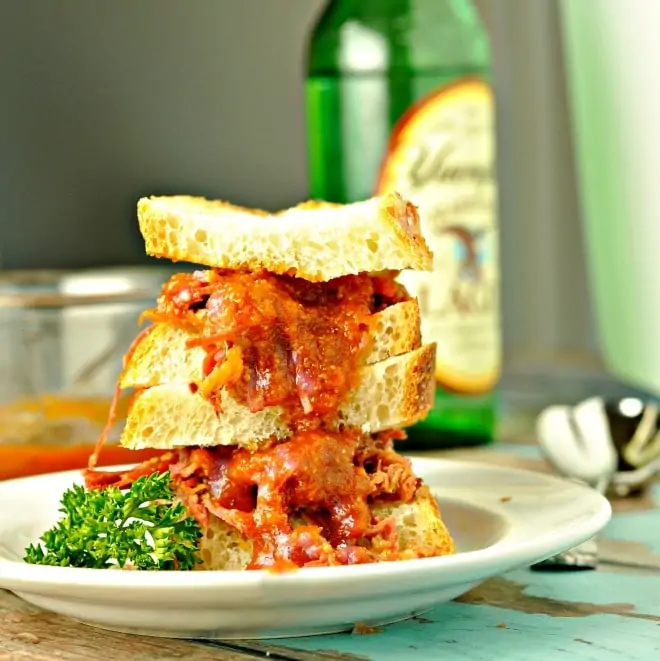 I did make this for a Super Bowl Party and the crock was licked clean. I'm exaggerating a little – but really, very close to licked clean. I did see one friend take a piece of bread and swipe it all around the inside of the dish – sopping up what tiny little bit was left. So see…. that is pretty close to licked clean. Except for the fact that we are nice people – someone might have picked the bowl up and started licking it.
The version I made for the party had a little bit more salt than what I am writing in the recipe here. In my opinion, my Super Bowl version was just too salty – I think perhaps it was the brisket that I bought. Who goes to the grocery and expects to find a brisket on the Friday before the Super Bowl? No one. Just me.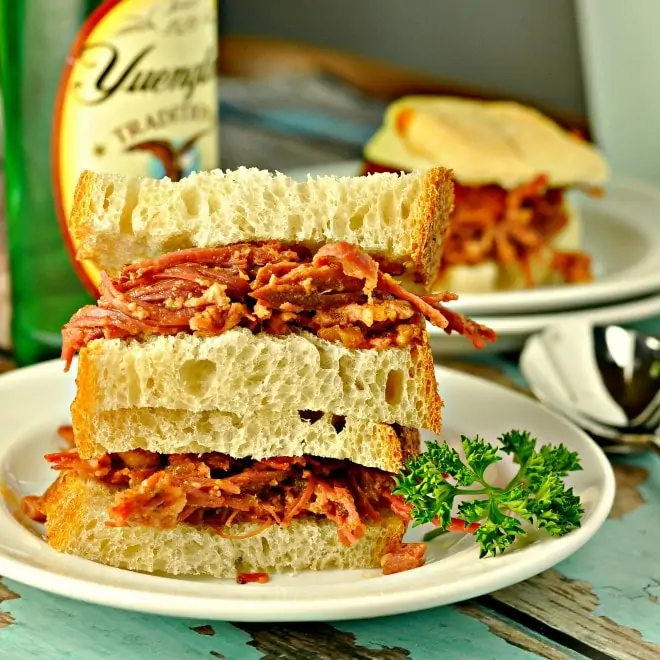 I bought the only beef brisket available which was the sealed in plastic – ready to make corned beef brisket – the one with the little seasoning packets on the inside of the package. The butcher told me that he felt it was the same cut of meat and should be fine – but I am pretty darn sure that it must have had saline injected into it – because it was very salty after I cooked it.
I recommend finding a fresh brisket – use the salt recommended here and then you can always add salt at the end if necessary. If, like me, you have to buy the "ready for corned beef brisket" – use the recommended amount here and you should be fine.
Just remember – you need to start on this two days before you want to eat it. It is a labor of LOVE and LOVE takes time.
Thanks for visiting – I hope you come back really soon!
Recipe inspiration For Beer Braised Brisket with Ding Dang Good Sauce
This recipe was inspired by looking around on Pintrest at all of the delicious roasts out there – so, I had to make my own! The sauce was inspired because I canned homemade ketchup last summer and we need to get busy eating it up! I had my own "Super Bowl" in the kitchen mixing things together until I created the very taste I was going for – and let me tell you, it is Ding Dang Good!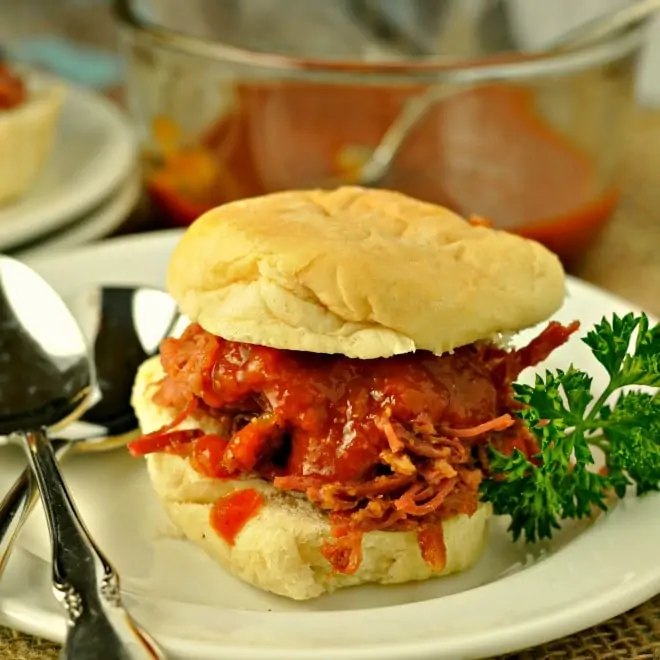 Coming up after Beer Braised Brisket with Ding Dang Good Sauce
Join us next time for a guest contribution from Sarah Uselton.
Don't forget to subscribe to Loaves and Dishes so that I can send you an email notice when the next recipe posts. I PROMISE to never give (or sell) your email address to anyone else – and I PROMISE not to bug you to death!
Serving suggestions Beer Braised Brisket with Ding Dang Good Sauce
Serve this brisket with crusty bread and a fresh salad. You will also want to offer slaw, pickles and any other kind of sauce your guests may want.
Now I ask you, Make Dinner, Not War.
Trust in the LORD with all your heart and lean not on your own understanding; in all your ways acknowledge him, and he will make your paths straight. ~ Proverbs 3: 5-6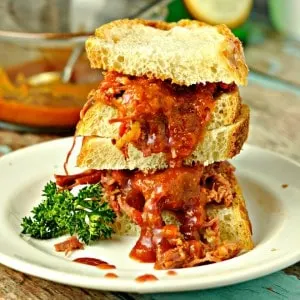 Beer Braised Brisket and Ding Dang Good Sauce
Delicious brisket that anyone can prepare
Print
Pin
Rate
Ingredients
For the Brisket
6

cloves

garlic

2

Tbsp

brown sugar

¼

Cup

honey

1

Tbs

Ancho Chilis in Adobo sauce

2

Tsp

dark Dijon mustard

go for the good stuff

1

Tbs

fresh cracked black pepper

1

Tbs

ground cumin

1

Tbs

Smoked paprika

1

tsp

cayenne pepper

2

Tbs

kosher salt – plus any additional to taste at end

1 4-6

lb

beef brisket

2

large sweet onions – slice very thin

1 12

oz

can lager
For the Sauce
2

Tbs

pan drippings from the Brisket

can use olive oil if making separately

1

Cup

diced onions

10

cloves

garlic – minced

1

Cup

Lager

1 ½

cup

ketchup

¼

cup

apple cider vinegar

¼

cup

honey

1/3

cup

brown sugar

1

tbs

Chilis in Adobo sauce

¼

tsp

red pepper flakes

1

tsp

smoked paprika

1

tsp

salt

½

tsp

fresh cracked black peppers
Instructions
In a food processor or blender, finely chop garlic. Add brown sugar, honey, mustard, ancho chili in adobo, mustard, oil, black pepper, cumin, paprika, cayenne and 2 tbs salt and process until smooth. Rub all over the brisket making sure to get into the nooks and crannies. Place brisket in a gallon size freezer bag – or if unable to fit into bag – wrap well with plastic wrap and put in the refrigerator x 1-2 days.

Allow brisket to come to room temp ( about an hour) before preparing. Preheat oven to 325. Separate and scatter onions in a large baking dish or roasting pan. Set brisket (fat side up) on top of the onions. Add beer to pan and any marinade the clings to the plastic wrap. Cover and seal with foil tightly. Braise in the oven until the meat is fall apart tender – about 5 hours. Begin to check after 4 hours. Meat should literally be falling apart when you stick it with a fork. When done, set oven to broil and broil for 5-10 minutes until top develops a crispy crust.

Allow brisket to cool for at least 10 minutes, remove from the pan and shred or slice. Remove the onions with a slotted spoon and mix into the brisket. Moisten with pan drippings and season with salt if needed.

For the Sauce

In a medium sauce pan over medium heat, add the pan drippings or olive oil and sauté the onions until soft – 5-7 minutes. Add the garlic and cook one minute longer,. Add the beer, bring to a boil and cook until reduced by half – about 10 minutes or so.

Add in the remaining ingredients and heat through.

Place sauce in a food processor or blender and puree until smooth. Can use immediately or can be refrigerated until ready to use.
Nutrition
Nutrition Facts
Beer Braised Brisket and Ding Dang Good Sauce
Amount Per Serving
Calories 300
* Percent Daily Values are based on a 2000 calorie diet.