Welcome to Loaves and Dishes Finger Licking readers!!! Ribs are a FAVORITE thing here in our house. My dear husband is always checking out the rib selection at any restaurant we visit. That sent me on an expedition to find the perfect rib recipe. Let me tell you – we had some disasters along the way! LOL. But – this one is the winner after more than a year of experimenting.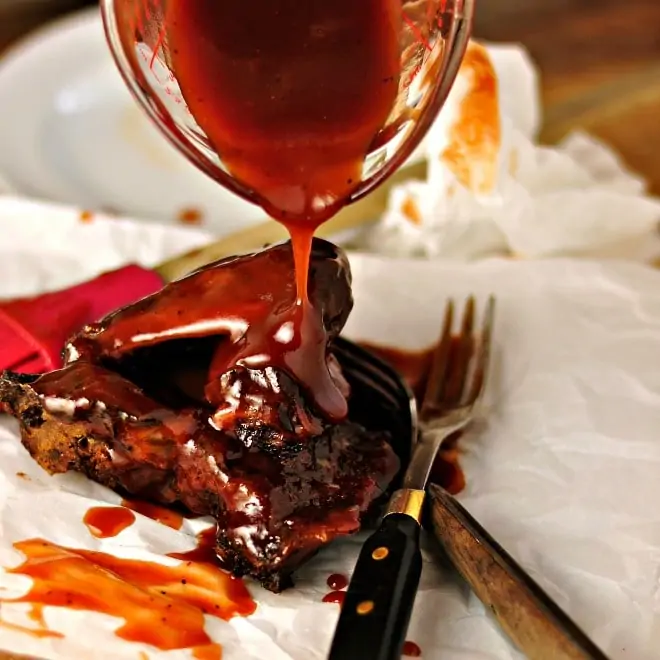 We lucked into some ribs recently. We buy a year's worth of sausage at a time from a local young man who raises hogs. This same fella had ribs to sell this year and so we bought about 10 lbs. We have local sources for our beef, chicken and now most of our pork. Makes for a little less money spent at the grocery and we feel a little better knowing that our meat was raised without antibiotics, growth hormones or any other gobbeldy gook. I promise- it tastes better too.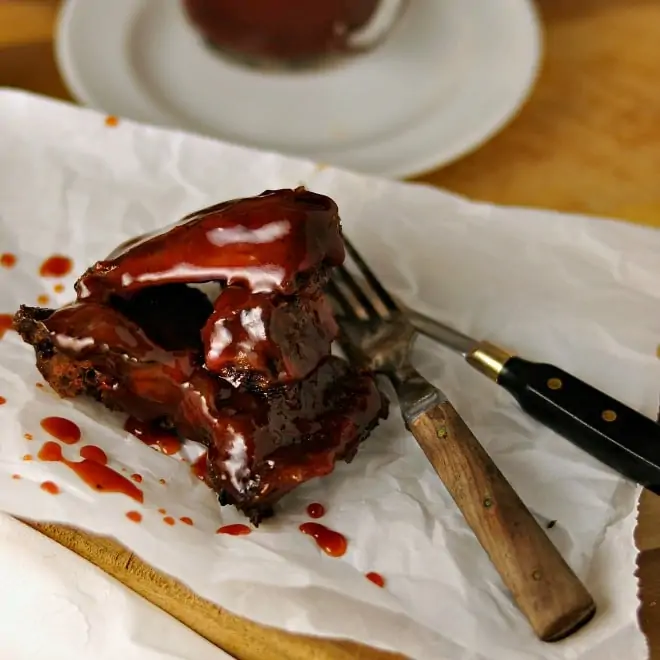 One thing I want to point out here – do not think that these ribs are too big of a project because they cook for so long. I made the ribs you see in this picture WHILE WE WORKED IN THE GARDEN all afternoon. Here are some pictures of what we did WHILE I cooked these ribs…
I took a break from gardening to take my daughter to work – I mixed up the rub (2 mins) , packed it on the ribs (2 mins) and wrapped them in aluminum foil and set them back in the fridge (1 min) = 5 minutes! When I came back home, I did a few things around the house, preheated the oven, mixed up the braise (only a few minutes), poured it into the aluminum foil packet – placed the packets on a rimmed baking sheet and went back outside to work in the garden = another 5 minutes. In three hours –we were STARVING – and the house smelled SO GOOD. I whipped up a few veggies and some bread and in no time we were watching Final Four basketball in the living room and licking the delicious juice off of our fingers.
So, anyway, these ribs. What can I say. They are DELICIOUS!!! We have tried ribs cooked several different ways – including in the crockpot, boiling first, baking only…. You name it. I tried it. I think this is the best. I learned this basic technique from Cooks Illustrated – and I have no idea which issue – because it was a long time ago. The recipe has changed so extensively that it doesn't even resemble what I read way back then anyway.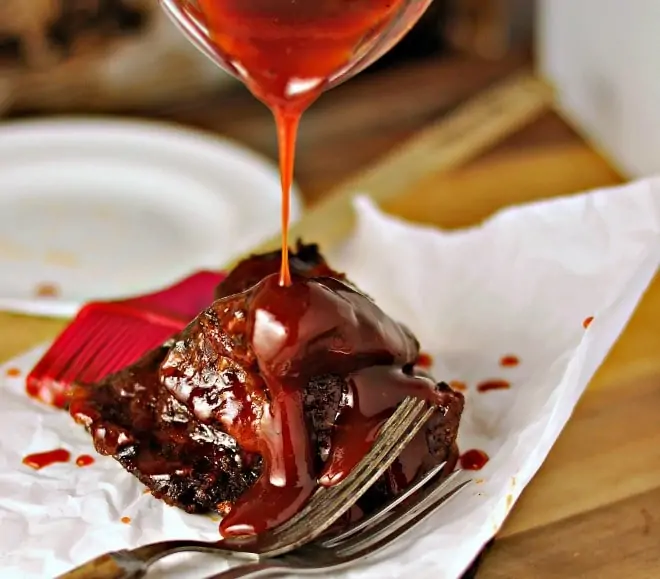 Recipe inspiration for Braised Pork Ribs
Like I said a second ago – these ribs were inspired by an old recipe I had from Cook's Illustrated, but I don't know where the original recipe is – and I do know that I have changed it extensively, so that is all that I can say about that.
Don't forget to subscribe to Loaves and Dishes so that I can send you an email notice when the next recipe posts. I PROMISE to never give (or sell) your email address to anyone else – and I PROMISE not to bug you to death!
Serving suggestions for Braised Pork Ribs
Serve braised pork ribs with some crusty bread, a fresh salad and some roasted sweet potatoes. YUM!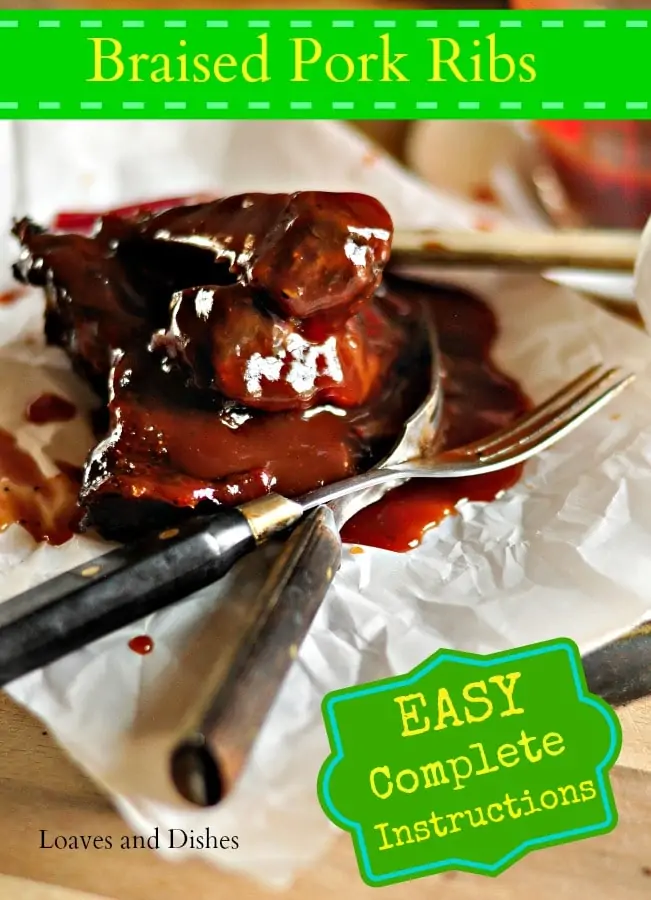 Now I ask you, Make Dinner, Not War.
This is my blood of the covenant, which is poured out for many for the forgiveness of sins ~ Matthew 26:28
Thank you so much for visiting, please come again!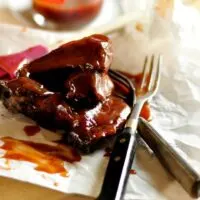 Ingredients
For the Dry Rub
2.5

lbs

Pork Ribs

10

Tbs

brown sugar – packed

3

Tbs

Kosher salt

1 ½

tbs

chili powder

¾

tsp

black pepper

¾

tsp

cayenne pepper

1

tsp

old bay

¾

tsp

Dried thyme

1

tsp

onion powder

1

tsp

garlic powder
For the Braise
1

cup

white wine

2

Tbs

rice wine vinegar

2

tbs

Worcestershire

3

Tbs

honey
Other ingredients
Your choice of barbeque sauce – I recommend – Ding Dang Good Sauce
Instructions
At least one hour before cooking – pat the dry rub mix into the ribs. Place the ribs (divided into two groups) each onto a large sheet of heavy duty aluminum foil – shiny side of the ribs facing down. Fold the foil gently into a packet around the ribs and refrigerate the meat with the rub. (place the packets on a plate in the fridge). This step can be done up to 24 hours ahead.

Preheat the oven to 225. Mix the ingredients for the braise together and pour half of the braise into one packet and the other into the other packet. Set the packets on a rimmed baking sheet and place onto the middle rack in the oven. Allow to cook for 3 hours – do not open the packets to check on the ribs.

After three hours –Remove the ribs from the oven – and then set the oven on broil and allow the ribs to rest for 10 minutes – without opening the packets. After 10 minutes, remove ribs from the packets, thickly apply your choice of barbeque sauce and place the ribs back on the baking sheet. Broil in oven for about 5 minutes until the sauce becomes thick and bubbly. Remove from the oven, apply another coat of sauce and serve.
Notes
Make sure to cover with a delicious sauce, like ding dang good sauce.
Nutrition
Nutrition Facts
Braised Pork Ribs
Amount Per Serving
Calories 400
* Percent Daily Values are based on a 2000 calorie diet.