Welcome to Loaves and Dishes Hungry Tax Day eaters!!!! Today I am reminded of how times change as I pay my taxes. In 1929 Herbert Hoover promised such prosperity that there would be a "chicken in every pot.." if he were elected. Today, Uncle Sam left me with enough so that I could at least put a chicken in the pie.
Actually, though, I put chicken thighs in my pie – because that is what was in the freezer. That is our family's favorite chicken piece – and so that is what you will see featured here too – because, well, we eat this stuff for dinner! Any chicken meat will do – use all breast if you like – just use what would be an equal amount.
Chicken pie is something that I discovered upon moving to the Winston Salem, NC area. It is a favorite here and is unlike chicken pot pie, chicken and dumplings or any other southern chicken dish. Around here, the Moravian Churches are well known for chicken pies and I have been known to buy a stack of 10-15 of them just to keep in the freezer. Terrific for a simple and easy dinner. Great for taking to a friend in need.
Here is the thing though. I don't have a recipe for Moravian style chicken pie. I had to make up my own! Those Moravian folks must keep a pretty tight lid on the chicken pie recipes. There were a few I found on line – but didn't think those would taste just right.
I decided to try mine with a puff pastry lid because, yum. Me and puff pastry have a thing. I love to hear that crunch when you cut into it – I mean, have you ever heard goodness? Puff pastry – nuff said.
Recipe inspiration for Chicken Pie and Puff Pastry Crust
Wonderful Moravian Chicken Pie is my inspiration – but lacking a recipe – I had to make one up on my own. My Chicken Pot Pie recipe served to guide my way through the kitchen. The rest is on me.
Don't forget to subscribe to Loaves and Dishes so that I can send you an email notice when the next recipe posts. I PROMISE to never give (or sell) your email address to anyone else – and I PROMISE not to bug you to death!
Serving suggestions for Chicken Pie and Puff Pastry Crust
Serve Chicken Pie and Puff Pastry Crust with a green salad and a cold drink. Perfect Sunday lunch or if you freeze it ahead of time – for a hurried weeknight dinner.
Now I ask you, Make Dinner, Not War.
Jesus said to her, "I am the resurrection and the life. He who believes in me will live, even though he dies; ~ John 11:25
Thank you so much for visiting, please come again!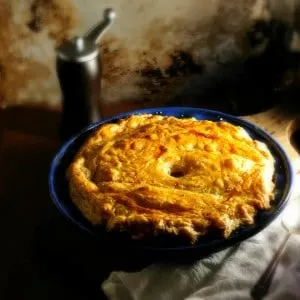 Chicken Pie and Puff Pastry
Chicken Pie and Puff Pastry - simple and easy
Print
Pin
Rate
Ingredients
5

chicken thighs

use any piece you like – just equal amount

2

celery stalks

4

bay leaves

4

garlic cloves

1

onion

6

quarts

of water

Salt and pepper per tastes

1

refrigerated pie crust

1

cup

reserved chicken stock

2

tbs

flour

2

tbs

butter

1

puff pastry crust – room temp

1

beaten egg
Instructions
Place first 7 ingredients into a large stock pot and bring to boil on the stove top over medium high heat. Boil until the chicken is falling apart when lifted with a fork. Remove from the heat and allow to cool enough that you are able to safely handle the chicken. Dip the chicken from the stock with a large slotted spoon and reserve the stock. Pull the skin and bones from the chicken, shred the chicken into small pieces.

Preheat the oven to 450. Press the pie crust into the bottom of a deep pie plate. Pinch along the edges. Scatter the shredded chicken into the pie crust. Pour the 1 cup of stock over the chicken. Sprinkle the flour over the top of the chicken. Salt and pepper the chicken according to taste. Cut the butter into small pea size pieces and place around the dish.

Unfold the pastry crust, cut a hole in the center of the crust. Paint the beaten egg around the rim of the pie dish. Place the pastry crust on top of the chicken. Pinch the pastry crust onto the pie crust edges. Paint the top of the pastry crust with the beaten egg.

Bake at 450 x 20 minutes and then 375 for an hour. Allow to rest for 10 minutes before serving so that the juices will congeal.
Notes
Puff pastry makes this recipe easy!
Nutrition
Nutrition Facts
Chicken Pie and Puff Pastry
Amount Per Serving
Calories 400
* Percent Daily Values are based on a 2000 calorie diet.