Hello everyone in Loaves and Dishes land! Sarah here! I am finally done with my Wind Ensemble duties and almost done with my classes for the semester. I hope to be heading home for the summer soon and am looking forward to spending some time in the kitchen – maybe even with my mom.
Today I am going to treat you to some Chocolate Chip Bread Pudding. I enjoy bread pudding because it is sweet, decadent and so easy to make! Bread pudding has been around since the 11th-12th century. It came about when frugal bakers had left over stale bread that needed to be used so they added cream and sugar and baked it and made bread pudding.
There is no traditional recipe so you can get a little crazy with this one. Some people like just plain old chocolate chip like I have done here but you can add pretty much whatever you like or whatever you happen to have in your pantry. I have had White Chocolate and almond bread pudding and even bread pudding with hunks of pecan pie and butterscotch in it.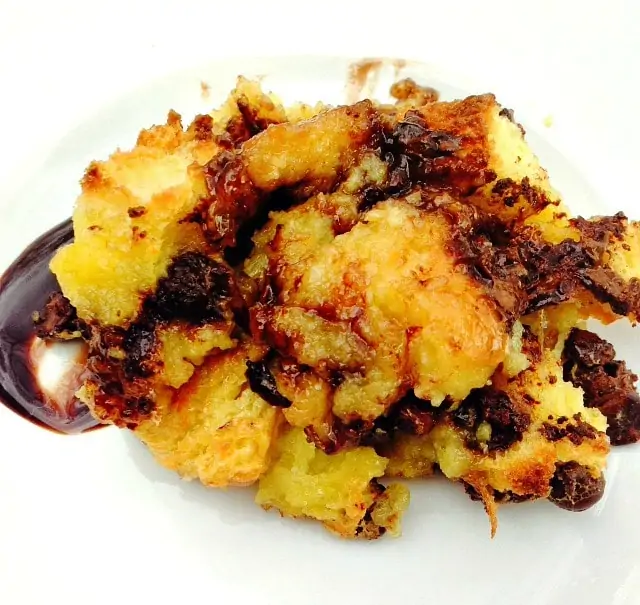 Chocolate Chip Bread Pudding is a really great dish for creative beginners. In total the ingredients for this cost me about 10$. Its easy to get inexpensive bread from your local supermarket. Look in the day old section – because you want to use bread that is a little stale anyway. I bought two loaves for $2.00. I used one for this recipe and froze the other.
Of course if you want to get extravagant with extra ingredients, you can add whatever you like. If you like something like dried fruit then your cost will go up, but that is up to you.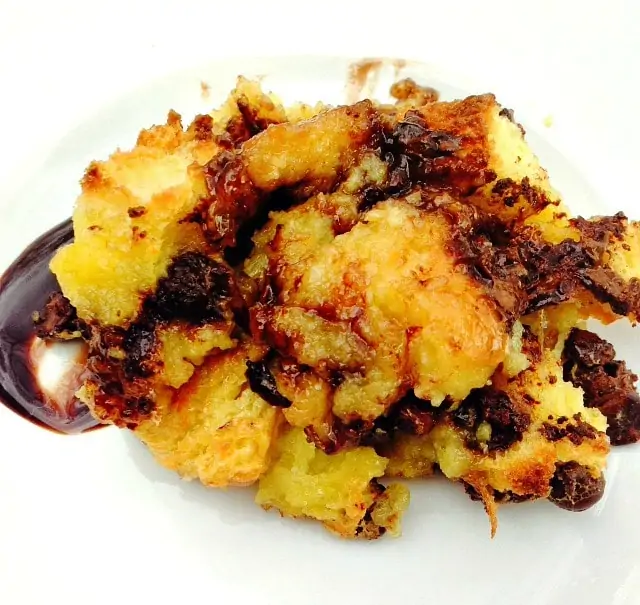 This is an easy desert and I sure hope you will try this. It is sure to impress your friends and family!!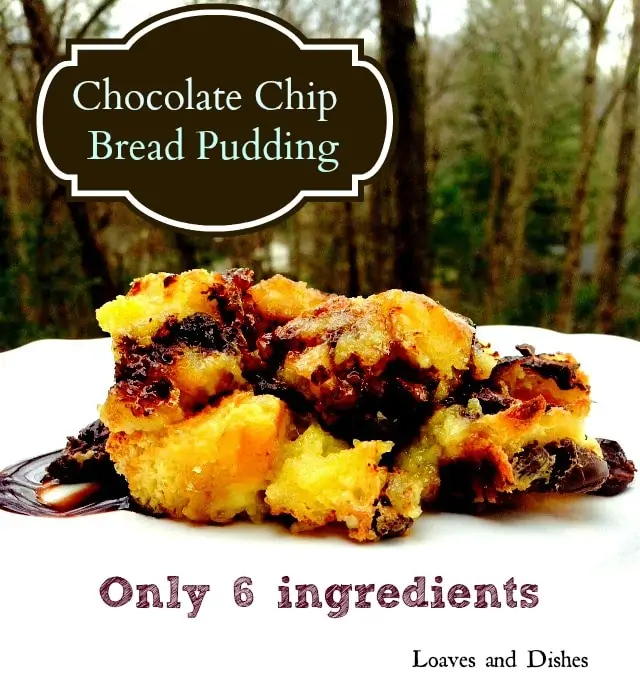 Chocolate Chip Bread Pudding
A simple recipe created by Sarah Uselton Blackwell
Print
Pin
Rate
Ingredients
3

cups

heavy whipping cream

1 1/2

cups

sugar

12

egg yolks

1

tsp

vanilla extract

I 11.5 oz bag of semi sweet chocolate morsels

1

french baguett or french loaf bread
Instructions
Heat the cream and 1 cup of sugar on the stove top in a sauce pan over medium heat until it comes to a simmer and the sugar is melted. Make sure to stir constantly.

In a separate bowl mix the egg yolks and the rest of the sugar. When the cream mixture has come to a simmer add the mixture to the egg yolks. BE SURE to temper the egg yolks – this means, add small amounts of the hot cream mixture a little at a time to the yolks so that the eggs will not cook and will be come a smooth liquid. You do not want cooked egg yellows in your bread pudding. Add the vanilla. Essentially you just made Crème Anglaise – you didn't know you were so fancy, did you?

Cube the bread into inch cubes. In a bowl mix the bread and the cream. Add as much of the cream as you would like. For a dryer bread pudding add less and vice versa. Mix in the chocolate and put in a baking pan and bake for 40 mins covered and then for 10-15 mins uncovered at 350.
Nutrition
Nutrition Facts
Chocolate Chip Bread Pudding
Amount Per Serving
Calories 300
* Percent Daily Values are based on a 2000 calorie diet.