My daughter-in-law asked me to make this easy cream cheese pound cake for Thanksgiving. I never intended for it to land here, but after pulling it from the oven, it was so pretty that I couldn't resist sharing it on Loaves and Dishes. This is a WONDERFUL holiday dish. OOOOooo's and AAAHHHhh's follow you as you lift the lid from the cake plate. Everyone loves easy cream cheese pound cake.
I have made a few adjustments to the original recipe which my daughter in law found on facebook and I do not know who to credit for the original recipe. The taste of this easy cream cheese pound cake, though, is wonderful, deep and rich.
Not everyone has a chicken or two in their back yard. So, this next request might be a little hard to fulfill. Of course, use what you are able to get, but just know….
PLEASE make this cake with farm fresh eggs. PLEASE – you won't be disappointed! Farm fresh eggs give a color and a taste that can not be matched . Seriously. Trust me. It is true.
Everyone at my Thanksgiving table gobbled this cake up (get it? gobbled?? – I crack me up sometimes). Crumbs dangled from the corner of every mouth. My mother in law, (remember, I told you she was coming for a week long stay) even had a huge piece for breakfast the next morning. She said, "Life is short, eat dessert first", as she took a great big bite. I have always heard that saying in relationship to a full meal. Evidently she means, "eat dessert first thing in the morning". What do I know. She has certainly been here longer than me and if she says it is so, then it is so. Just Go With It!
I recommend serving this easy cream cheese pound cake with a delicious vanilla ice cream. My grandchildren agree.
For everything God created is good, and nothing is to be rejected if it is received with thanksgiving, because it is consecrated by the word of God and prayer. 1 Timothy 4:4-5.
Let's Eat Ya'll.
Make Dinner, Not War!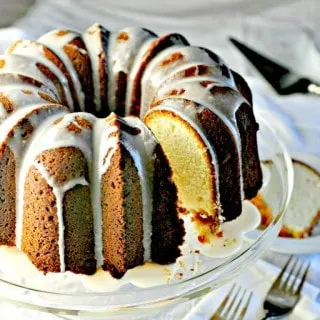 Easy Cream Cheese Pound Cake
This easy cream cheese pound cake will delight your family.
Print
Pin
Rate
Ingredients
1 1/2

cups

butter

softened

1 8

oz

package Cream cheese

softened

3

cups

sugar

6

large eggs

1 1/2

tsp

pure vanilla extract

½

tsp

pure almond extract

3

cups

all-purpose flour

1/8

tsp

salt

For the Glaze-

1

cup

powdered sugar

1/2

tsp

pure vanilla

¼

tsp

pure almond extract

1

TBS

milk

to consistency
Instructions
Set the butter, cream cheese and eggs out on the counter at least 4 hours before making this recipe so that they can come completely to room temperature.

Preheat the oven to 300.

Grease and flour a 10 inch tube pan and set aside.

Beat butter and cream cheese at medium speed with an electric mixer 2 minutes or until creamy. Gradually add sugar, beating 5 to 7 minutes. (will appear kind of fluffy).

Add eggs, one at a time, beating just until yellow disappears.

Add vanilla mixing well.

Combine flour and salt in a separate bowl and mix well. Gradually add flour/salt mixture to butter mixture, beating at low speed just until blended.

Pour batter into a greased and floured 10-inch tube pan. Fill a 2-cup, ovenproof measuring cup with water; place in oven with tube pan. This will help keep the cake moist. Bake at 300°F for 1 hour and 10 minutes or until a wooden pick inserted in center of cake comes out clean. Recheck every 5 minutes until done. Cool in pan on a wire rack 10 to 15 minutes; remove from pan, and cool completely on a wire rack.

For the glaze

Mix ingredients together in a small bowl until desired consistency is reached, but should be thin. Add more milk one teaspoon at a time to get the thinness you want. Drizzle over cooled cake.
Nutrition
Nutrition Facts
Easy Cream Cheese Pound Cake
Amount Per Serving
Calories 100
* Percent Daily Values are based on a 2000 calorie diet.
And now for a post blog dessert – this poem about CHEESE as found at the Impresario . Someone wrote a poem about CHEESE! lol.
Dear Lady, I beg you
To cook as you please,
But don't overlook the
Importance of cheese!
As a casserole topping
All bubbly and brown,
It will make your fine cooking
The talk of the town.
As a spread for a sandwich
Or a puffy soufflé
It will help you to cope
On your busiest day.
Its tang and its flavor
Will tempt and will tease;
'Most all of your dishes
Can be sharpened with cheese!