Sometimes I get so sick of cooking. Sometimes I feel like I will scream if I have to look at one more dirty dish or one more crusty frying pan. There I said it. You read it first here. Do you ever feel that way? Sure you do. I have an answer for you. Easy Crockpot Taco Chicken.
Is this recipe healthy. Ummm. No. Is it better than making a trip through the drive through or feeding your family cold cereal – again? Yes. Definitely. How did I discover this recipe? I couldn't face cooking again for another night and we live too far from a restaurant to make it an attractive option for dinner on most nights.
Enter Easy Crockpot Taco Chicken.
To be honest – we did not eat this chicken in a taco originally. Instead, we had rice from the rice cooker (God's greatest gift to rice lovers) and (I'm actually embarrassed to tell this) but I opened a bag of precut broccoli florets and tossed those in a pan and boiled it a little – and – instant dinner. However, I do admit that it was TASTY! In our house this only became taco chicken when we had leftovers – and it was terrific in a taco too! In fact, I am sure that Easy Crockpot Taco Chicken would be delish over some pasta as well. See how versatile being sick of cooking can be?
When I give you the instructions for this dish you are going to say, "Really?" and I am going to say, "yep, that's all" and then you are going to be sold. So, if you know you will be running out the door to a ballgame with only a few minutes for dinner or if you are sick of looking at your kitchen or if you are only have experience making ramen noodles – then this is the dish for you – because I promise – it doesn't get any easier than this.
I'm glad I'm over my kitchen sickness. You'll be seeing better stuff from me later this week.
Don't forget to subscribe to Loaves and Dishes – the button is RIGHT OVER THERE <<<<<<
On a final note – I have a friend whose child has received some devastating news. I am not naming any names or circumstances, but I ask you to please say a prayer for them. Pray for healing, pray for peace, pray for relief from pain. Seriously, I'm asking you to stop what you are doing right now – which I am sure you are getting ready to run to the kitchen to see if you have everything to make this recipe – and to close your eyes and say, "Lord, I pray for Wendi's friends, you know their needs and you know the circumstances, I am lifting them up to you for healing, peace and pain relief". That is all you need to do. Thank you so much! I believe that prayer works and I am asking you to pray.
You might also enjoy Crockpot Chicken Chili
Recipe inspiration for Easy Crockpot Taco Chicken
The ingredients are what I had in my fridge/freezer and cabinet and I thought, "hey, that might work – I'll give it a shot". Nothing to lose because I am not going in that kitchen again today! Enjoy
"This, then, is how you should pray: " 'Our Father in heaven, hallowed be your name." Matthew 6:9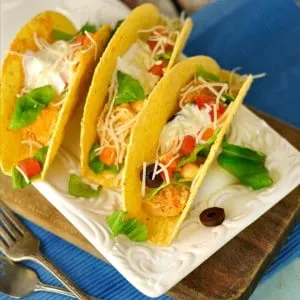 Ingredients
2

huge boneless skinless chicken breasts

or 4 small ones

1

block of cream cheese

perfectly fine to use the reduced fat kind or the Neufchatel –both will have less fat.

1

packet of Ranch Dressing seasoning

1

packet of Taco seasoning – any spice level

Salt and pepper to taste

Optional

but does make it more tasty!

1

tsp

dried thyme

Pinch

of cayenne pepper
Instructions
Cut the raw chicken breasts into chicken nugget sized chunks and place in a standard sized crockpot with the other ingredients.

Turn the crockpot on low, put the lid on and come back in 6-8 hours.

About 20 minutes before serving, stir the ingredients really well – if it seems a little dry, you can add some milk to thin back out. Serve over rice, in a taco shell, in a flour tortilla or over pasta.
Notes
Easy, throw it in the crockpot, come back to supper.
Nutrition
Nutrition Facts
Easy Crockpot Taco Chicken
Amount Per Serving
Calories 87
Calories from Fat 18
% Daily Value*
Fat 2g3%
Cholesterol 48mg16%
Sodium 113mg5%
Potassium 278mg8%
Protein 16g32%
Vitamin A 40IU1%
Vitamin C 0.9mg1%
Calcium 7mg1%
Iron 0.5mg3%
* Percent Daily Values are based on a 2000 calorie diet.