I have a real treat for you today. A Garlic Dill Potato Salad that will add just a touch of style and class to your 4th of July picnic. No regular old mustard or mayo potato salad for you! Nope! This Garlic Dill Potato Salad is also excellent for a pool side party or for any summer get together! Shoot! You will probably love this Garlic Dill Potato Salad ALL YEAR LONG!
As I told you last time, I have the honor of preparing the baby shower food for our upcoming party! This week I played around with potato salad recipes and finally landed on this one. My daughter in law (soon to be new mother) told me that she doesn't like potato salad, at all, but she bravely tried this one and said, "Hey, I LIKE this one!".
She said, and I have to agree, that this Garlic Dill Potato Salad reminds her of a Tzatziki sauce rather than a regular potato salad sauce and that works for her. So – with that in mind, try this garlic dill potato salad on your friends and family. Garlic Dill Potato Salad has a real zing and is light on the tummy. Perfect for a summer party.
If you take this Garlic Dill Potato Salad to an outdoor summer party – or any event – remember that it does have mayonnaise in it and will need to be kept cool! For our baby shower, I am planning to serve this in a bowl that will sit atop another bowl of ice. YUM! Icy potato salad on a hot day! PERFECT!
A word about the potatoes used in this recipe. I recommend using baby new potatoes – the ones that are about the size of a big marble. That is what we tried this week at my birthday party (where I sampled a bunch of new recipes on my unsuspecting children and their spouses! ) I can't wait for you to try my new recipes for BBQ meatballs, creamy white cake with cream cheese butter cream icing and this potato salad – delicious! (Isn't that funny – that is my kind of birthday – making everyone eat my new concoctions! LOL!).
And because I simply can't resist – I want to show you some photos from my birthday party. I hope you will indulge me. (Only 2 photos). After all – I DID turn 25 this week (again). My two oldest children tell me that I need to pick a new age since one of them is older than 25 and the other is quickly approaching – and since I have been telling them and everyone else that I am 25 since my second child was born. LOL! You can see that my dear husband picked a new age for me with the candles. I'll take it. 🙂 I saved them for next year's cake.
ANYWAY…. I went completly off topic there… way off in the weeds. I recommend using those tiny baby potatoes or the fingerling potatoes – you know, the ones that are about the size and shape of a fat finger! If you can't find those – or you don't have those – do what I did for these photos – use red potatoes, leave the skin on, and cut into bite size pieces. Salt some cold water, bring to a boil, add the potatoes and then check them frequently by poking with a fork. When they are tender enough that you would want to eat one – they are done. Pour them into a colander and soak with some cold water to stop the cooking process. Then, allow them to cool before turning into potato salad!
Recipe Inspiration for Garlic Dill Potato Salad
Two weeks ago my bookclub, met at the local state park for a picnic. I really do wish you could meet my friends. You would love them! One of my friends, Carla, brought A WONDERFUL potato salad. I asked her about the ingredients and she told me "its just some sour cream, mayo and dill". Then, last week, I was watching Food Network (MY FAVORITE CHANNEL!) and saw Ina Garten make a delicious looking potato salad too. Her recipe is right HERE. I played around with the ingredients from both of those potato salads and added my own ingredients and – here you have it! This recipe for Garlic Dill Potato Salad serves 4. You can double, triple, etc. Depending on how many servings you want.
Want a different and fantastic potato salad? Try our Steakhouse Potato Salad, Oh BOY it's good!
Before I get way off topic again – maybe by telling you how I could just eat this potato salad sauce with a spoon (or perhaps by admitting that I really did eat it off a spoon – way too much of it! ) – I'll just say good bye instead.
Goodbye.
Thank you for visiting and please come again. I miss you when you aren't here!
I have set the LORD always before me. Because he is at my right hand, I will not be shaken. ~ Psalms 16:8
*****IMPORTANT NOTE: I personally love potato salad with A LOT Of creamy sauce. You might not like so much sauce. If you do not like so much sauce, simply increase the potatoes by 1/2 again as much as the recipe calls for OR half the ingredients for the sauce – pretty simple concept there – but really – I recommend MORE sauce rather than less. ******
Let's EAT!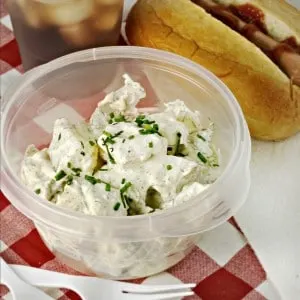 Garlic Dill Potato Salad
Basically what I want to eat all summer long. You will too.
Print
Pin
Rate
Ingredients
2.0

lbs

of potatoes

recommend baby red potatoes or fingerling potatoes – if using whole red, roughly 4-6 fist sized potatoes – you don't have to be exact here

½

cup

mayonnaise

½

Cup

sour cream

1

heaping Tbs whole grain mustard

important to use the really good kind

1

large clove garlic

minced as small as you can mince it

½

tsp

pepper

1

tsp

salt

2

ribs celery – cut into very small pieces – about the size of a BB

4

Tbs

fresh dill – chopped – leaves only.

4

tsp

green onion

1

small shallot – chopped small

2

Tbs

black truffle oil

optional – but does add a nice earthy flavor

2

tsp

apple cider vinegar

Chives – for garnish
Instructions
Wash the potatoes, put on a large pot of cold water to boil. Salt the water with 1 tsp of salt. Using a fork, pierce the potatoes after boiling for 5 minutes – when fork tender, remove from the stove top, pour out into a colander and rinse well with cold water to stop the cooking process. Allow to cool completely before making into potato salad (otherwise the sauce doesn't turn out right).

In a medium sized mixing bowl, mix together the remaining ingredients except the chives. Mix well and then toss with the cooled potatoes. Mix gently so as not to break the potatoes apart. Taste to make sure the salt and pepper is the right balance. Add more salt and pepper to taste.
Notes
You can substitute other herbs for the dill. Try using Thyme!
Nutrition
Nutrition Facts
Garlic Dill Potato Salad
Amount Per Serving
Calories 280
* Percent Daily Values are based on a 2000 calorie diet.