Bam Bam Bam Bam Bam Bam!!! Know what that is? It's a drum roll – couldn't you tell? I promised you about a month ago that Sandy Uselton and I were almost done with our PERFECT Healthier Baked Chicken Wing Recipe and HERE IT IS!!! Healthier Baked Chicken Wings
This is a photo of my youngest daughter, Sandy. She and I have been on a quest for the past 6 months because we both LOVE spicy chicken wings. Love. LOVE. I'm talking LOVE PEOPLE! We share a rating system for all of the local eateries based upon their chicken wings. Seriously. It's true. If you love wings – the conversations are similar at your house.
The problem with making wings at our house is that we don't own a restaurant style gigantic deep fat fryer. It is on the list – but since my kitchen is about 4 square feet – it's not likely to happen. You probably don't have one either. What we DO have is an oven. So – whenever we have made oven baked wings or crockpot wings in the past, the wings tasted ok – but the skin turned out wet and rubbery and EWWW – so unappetizing. I mean, don't get me wrong, a wing is still a wing – which is one of my favorite food groups – we still ate them.
Thus. A quest was born. How to make a baked chicken wing with crispy skin like one finds at a restaurant. TA-DA!!! In walks the October/November issue of Cooks Country Magazine – with a recipe for The Best Baked Chicken Wings. Check it out HERE. We gave it a shot! How to Cut Chicken Wings
The recipe for how to bake the wings is straight out of the magazine. You can't mess with perfection.
A word about the baking powder in this recipe. This is a serious matter to me. As you know, I am a nurse and have cared for enough elderly sick people. Aluminum has been implicated in some pretty serious diseases. I checked the labels of every box of baking powder I could find and Rumford Brand was the only one I could find that didn't contain Aluminum. Please. Only make this recipe if you are going to use Rumford or some other brand that does not contain Aluminum. Enough said. I trust you to do this for me. Right? Right!
And now – for the BIGGEST PART of this recipe – THE SAUCE. This is what Sandy and I have worked and worked on. We have gone back and forth and back and forth. You wouldn't believe the concoctions we have had sitting in bowls in the kitchen. It's comical really. It's more astounding that we actually tasted all of them!
The items that have gone in our sauce concoctions have included but are not limited too – and in varying mixtures – Texas Pete Brand hot sauce, Siracha hot sauce, Butter, Hooters Brand Sauce, Franks Hot Sauce, Franks Hot Wing Sauce, vinegar, paprika, garlic powder, soy sauce, molasses, Braggs liquid, liquid smoke and coconut oil.
We finally settled on the mixture you see below.
I hope you will enjoy these chicken wings as much as we have enjoyed concocting them. You know, you COULD share this recipe with some friends – sit down together, watch the game, play some cards or solve the world's problems even. Seriously. That is what good food is all about – sharing and enjoying each other's company – maybe even making new friends. Try it!
Serve Healthier Baked Chicken Wings with
Serve these Healthier Baked Chicken Wings with your choice of dressings and celery. You might also want a carb – like some bread or fries – because your mouth might be a little hot. A fresh green salad might be a lovely option as well.
Introduction to Yummly!
I want to take a moment to introduce you to Yummly! I have been using Yummly myself for several months and LOVE the ease. I find a recipe I like on the internet and simply "Yum" the recipe with the "Yum" button that most bloggers offer with their recipe sharing buttons. The recipe is then saved to my own personal recipe box! So easy!'
I urge you to open your own free account. You will have your own recipe box and can simply save everything right there!
I invite you to check out my own Yummly Publisher page for Loaves and Dishes You can find it HERE! Please give my recipes a "Yum!".
Remember your blessings….
And God is able to make all grace abound to you, so that in all things at all times, having all that you need, you will abound in every good work ~ 2 Corinthians 9:8
Here are all of the steps in photographs – in case you had a question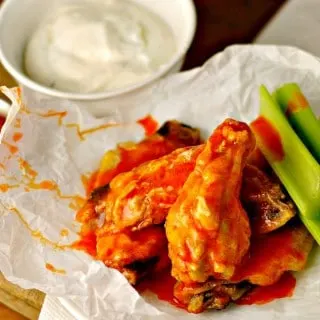 Healthier Baked Chicken Wings
This is a recipe for baked chicken wings
Print
Pin
Rate
Ingredients
For the wings

4

lbs

chicken wings – cut at the joint

wing tip discarded (the typical large pack at the grocery)

2

Tbs

Baking Powder

the kind with NO Aluminum

¼

tsp

table salt

For the Sauce

½

Cup

Franks Hot Sauce or Franks Hot Wing Sauce

6

Tbs

unsalted Butter – melted

3

Tbs

Siracha Hot Sauce
Instructions
For the Wings
Preheat oven to 250. Make sure the oven racks are on the upper third of the oven and the lower third of the oven.

Cut the wings at the joint – discard the tips.

Dry the pieces well with a paper towel. (Very important step)

Place all of the wing pieces, the baking powder and the table salt into a resealable plastic bag, seal and then shake until all of the pieces are evenly coated with the powdery mixture.

Line a rimmed half sheet pan with aluminum foil (to protect the pan) and place a wire rack on top of the rimmed half sheet pan. Lay the coated wings out on the wire rack so that they are evenly spaced and so that the hot oven air can circulate around them.

Place the baking sheet on the bottom rack of the oven and bake for 30 minutes at 450.

After 30 minutes increase the heat to 450 and move the wings to the top rack in the oven. Bake for another 30-45 minutes. When done – the skin will be golden brown and the meat will have no pink color – juices will run clear.

Remove the half sheet pan from the oven and let rest for 5 minutes. While resting, make the sauce.
For the Sauce
mix all of the sauce ingredients (hot sauce, butter and sriracha) together in a large bowl. If you like more heat, then add more sriracha.

Once the wings have rested, toss the wings in the sauce bowl until well coated. Pour wings and sauce out onto a plate and serve with ranch or blue cheese dressing and celery.
Notes
Make sure to move the wings from the bottom of the oven to the top of the oven and change the oven temp while baking - as noted in the recipe.
Nutrition
Nutrition Facts
Healthier Baked Chicken Wings
Amount Per Serving
Calories 86
* Percent Daily Values are based on a 2000 calorie diet.