Every time I have the chance, I oogle the fruit tarts in the dessert case at my local upscale grocery store, I do! I can't pass the refrigerated dessert case without drooling just a little. I have been known to occasionally splurge on one of those delicious treats. However, they are expensive and sometimes a little rubbery.
For us droolers though – here is the solution. Not exactly inexpensive, but not as hard on the wallet as the refrigerated case variety.
When I passed the refrigerated case this past weekend, I just wiggled my fingers and said, "Hello you little tarts! See my basket here? I have the ingredients to make my OWN tart!". They gave a little wag of their tiny shoulders and a wink of their little bitty bright eyes and said, "You just try- it will never be as good as us!". (what tarts!).
OK – that isn't true – well – the part after "…OWN tart!" isn't anyway. I'm embarrassed to admit, I did talk to the tarts in the case. I can report, however, these tarts are EVERY BIT AS GOOD – AND EVEN BETTER than the grocery store tarts!
This recipe is adapted from a similar creation in Cook's Illustrated Magazine. Those folks over there at Cooks Illustrated know what they are doing! I made a few changes that I thought would taste even better. And all I can say is YUM!!
You Might Also Enjoy My Watermelon Fruit Salad
I do want to add one thing – when you read the recipe – it seems a little overwhelming. However, you make this tart in three parts – and made like that it is simple!! Make the pastry cream and put it away until later – till tomorrow even. Make the dough- and put it away – until tomorrow even. Dream about it for 24 hours. When you can't stand waiting anymore – bake the pie shells. Put them away. Dream about it more. Finally – assemble – that is the best best part. The waiting was so delicious – but the eating is EVEN BETTER!!!
I hope you enjoy it too!
Let's Eat Ya'll.
Make Dinner, Not War!
Give thanks in all circumstances, for this is God's will for you in Christ Jesus. ~1 Thessalonians 5:18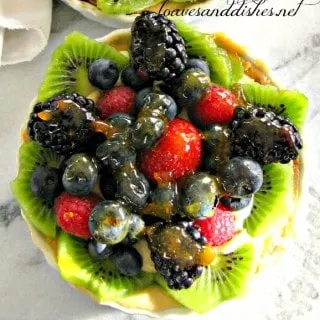 Mini Fruit Tart
This delicious and beautiful mini fruit tart is incredible and much easier than you ever dreamed!
Print
Pin
Rate
Ingredients
For the Pastry Cream
1

Cup

whole milk

1

Cup

heavy cream

½

Cup

granulated sugar

Pinch

of salt

5

large egg yolks

3

Tbs

cornstarch

5

Tbs

unsalted butter

cut into 4 pieces

1 ½

tsp

real vanilla extract
For the Tart Dough
1

Large egg yolk

1

Tbs

heavy cream

½

tsp

real vanilla extract

1 ¼

Cups

all purpose flour

2/3

Cup

confectioners sugar

¼

tsp

salt

8

Tbs

unsalted butter – cut into ¼ inch pieces and chilled

For the Fruit and Glaze
For the Fruit and Glaze
3

Kiwis – peeled

halved lengthwise and cut crosswise into 3/8 inch thick slices

5

oz

raspberries

5

oz

blueberries

5

oz

blackberries

4

straweberries with caps cut off

½

cup

apricot jelly

can use apple if unable to locate apricot – do not use jam.
Instructions
For the pastry cream:

Bring milk, cream 6 tablespoons of sugar and salt to a simmer in a medium sauce pan over medium heat, stirring occasionally.

As the milk mix begins to simmer, whisk egg yolks, cornstarch and remaining 2 tbs sugar in a medium bowl until smooth. Slowly whisk 1 cup of the simmering milk mix into the yolk mix to temper, then slowly whisk tempered yolk mix back into the remaining milk mix in the saucepan. Whisk like crazy! Cook and keep whisking until mixture thickens – about 30 secs. Remove from the heat. Whisk in butter and vanilla. Transfer all of this mixture to a clean bowl, lay a sheet of plastic wrap directly on the surface and refrigerate pastry cream until chilled and firm – about 3 hours. (will keep in fridge for 2 days).

For the Tart Dough:

Whisk egg yolk, cream and vanilla together in a bowl. Process flour sugar and salt in food processor until combined – about 5 secs. Scatter butter over the top and pulse until mix resembles coarse cornmeal – about 15 pulses. With processor running, add egg mix and continue to process until the dough just comes together around the processor blade – about 12 secs.

Turn the dough onto a sheet of plastic and divide into 4 equal pieces. Flatten each piece into a 4 inch disk, wrap in plastic wrap and refrigerate for at least 1 hour. Let dough sit on counter for 10 mins (this is a very important step) before rolling. (the wrapped dough will last for 2 days in the fridge and can be frozen x 1 month – if frozen – allow to completely thaw on the counter top before rolling).

Roll the dough into 4- 6 inch circles on a lightly floured surface. If the dough becomes to sticky at any point while rolling, carefully place onto a sheet of plastic wrap and place back in the refrigerator for 30mins.

Prepare 4 mini 4 inch tart pans with non stick baking spray.

Press the rolled dough into the pans and allow the excess hang over the edge. Run the rolling pin over the top of the pan to remove any excess dough.

Adjust oven rack to middle position and heat to 375.

Set the dough lined tart pans on a cooking sheet. Cover each tart pan and dough with a square of aluminum foil that has been sprayed with vegetable oil spray, press the foil – greased side down – onto the tart shell. – cover the edges well to prevent burning. Fill the aluminum covered tart shells with pie weights or dried beans.

Bake the tart shell until golden brown – about 30 mins.

Carefully remove the foil and weights and finish baking if not golden brown.

Let tart shell cool completely – about 1 hour.

For the Fruit and Glaze.

Spread the chilled pastry cream over the bottom of the cooked tart shell.

Shingle the kiwi slices around the outer edge of the cooled tart shell. Place the strawberry cut side down in the center of the tart. Mound the raspberries, blackberries and blueberries in the center.

Melt the jelly over medium high heat, stirring occasionally to smooth out any lumps. Using a pastry brush – gently dab the jelly over the fruit and allow to set.

Serve immediately.
Nutrition
Nutrition Facts
Mini Fruit Tart
Amount Per Serving
Calories 500
* Percent Daily Values are based on a 2000 calorie diet.
And now – for my dedicated readers – a post blog dessert. I can't believe you really want dessert after those fruit tarts though! I'm going to share my other favorite joke with you.
The farmer says to the horse, why the long face?
LOL!
This recipe seen on link party at Huckleberry Love