Hey! Guess what's happening around here soon?  A WEDDING!!  My son, a handsome, talented and smart young man is also a very lucky fella.  You wouldn't believe how lucky he is!  He has come through some amazing things in his life with relatively few scrapes.  And now – oh boy – now, he is lucky enough to be marrying a gal who is as smart, talented and beautiful as he is!  I am very proud and happy for both of them.  I am ecstatic for me too because this means I get a new daughter out of the deal.   Anyway, it is a fall wedding and the bride and groom want cupcakes rather than some old stuffy wedding cake. So – fall flavors it is.  Pumpkin Spice Cupcakes with Pumpkin Cream Cheese Icing.  YUM!
I am making these delicious little bites and have been practicing. You will notice that my icing abilities leave something to be desired – but fortunately – THE Sarah Uselton (I'm not just name dropping again – she is my daughter – see how lucky I am!) is coming came home from Western Carolina University and SHE knows how to ice a cupcake!  WHEW!  I'm off the hook.  (You can see that I switched out the original photos for this post with the ones from the actual reception – in which Sarah iced the cupcakes – we DID get rave reviews on our cupcakes though – so, you should try them too!)
I will say, however, the icing is so good – that everyone around here has been dipping their fingers and spoons and stray bits of cupcake in the bowl before I could even apply any to a cupcake. (That is how it is when the teenager and all of her friends are home!)  I had to beat them back with a spatula just to have enough left to put on a cupcake so that I could take a picture!!!  I'm exaggerating just a little – but not by much!
I hope you enjoy these cupcakes as much as we have. Print the recipe, make a batch, share with friends and enjoy!
Let's eat ya'll!
If I speak in the tongues of men and of angels, but have not love, I am only a resounding gong or a clanging cymbal.  If I have the gift of prophecy and can fathom all mysteries and all knowledge, and if I have a faith that can move mountains, but have not love, I am nothing.  If I give all I possess to the poor and surrender my body to the flames, but have not love, I gain nothing  ~ 1 Corinthians:  1-3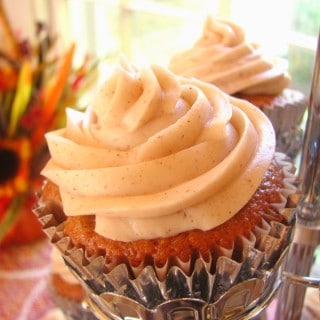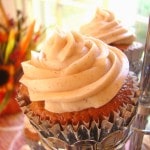 Pumpkin Spice Cupcakes
A delicious fall sweet - don't forget the Icing recipe that follows!
Ingredients
3 1/4

Cups

All Purpose Flour

2

tsp.

baking powder

2

tsp.

ground cinnamon

1 ½

tsp.

ground cloves

1

tsp.

ground allspice

1

tsp.

ground nutmeg

½

tsp.

baking soda

½

tsp.

salt

1 ¾

Cups

granulated sugar

1

Cup

vegetable oil

4

large eggs at room temperature

1

tbs.

vanilla instant pudding

2

Cups

of pumpkin puree

or one 15 oz. can – DO NOT USE PIE FILLING
Instructions
Preheat the oven to 350 and arrange the rack to the middle of the oven.

Coat 12-18 wells of muffin pan with paper liners or coat well with non-stick bakers spray

In a Large bowl (not the mixer bowl) sift together the flour, baking powder, cinnamon, cloves, allspice, nutmeg, baking soda and salt.

Into the bowl of a stand mixer place the sugar and 1 cup of vegetable oil. Using the paddle attachment, beat on medium speed for about 1 minute until the sugar is fully incorporated into the sugar. Scrape down the sides of the bowl with a spatula.

Break the eggs into a liquid measuring cup or small bowl.

Add the eggs one at a time and beat well after each one is added.

With the mixer on low, add the pumpkin and the vanilla pudding and beat until just combined.

Scrape down the sides with a rubber spatula.

With the mixer on low, add the dry ingredients slowly and beat for 1 minute until almost completely incorporated.

Remove the bowl from the mixer and using a spatula finish mixing the ingredients, making sure to scrape down the edges again and to mix the ingredients at the bottom of the bowl.

Fill the muffin cups to ¾ full.

Place muffin tins side by side in the oven and bake for 10 minutes.

Very gently, turn the pans around and bake until a toothpick inserted in the center comes out clean – about another 10 minutes.

Allow tins to cool on a wire rack for 5 minutes and then remove the cupcakes from the pans and cool completely before frosting.
Nutrition Facts
Pumpkin Spice Cupcakes
Amount Per Serving
Calories 330
* Percent Daily Values are based on a 2000 calorie diet.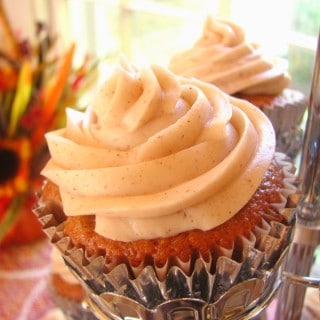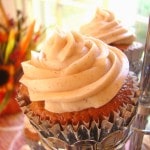 Pumpkin Cream Cheese Icing
A delicious Icing for the Pumpkin Spice Cupcakes!
Ingredients
4

Cups

powdered sugar

sifted plus additional

1

tsp.

ground cinnamon

¼

tsp

ground nutmeg

12

oz.

cream cheese

room temperature.

8

Tbs.

unsalted butter

1 stick, room temperature

¼

Cup

Pumpkin puree

not pie filling
Instructions
Set out cream cheese and unsalted butter to allow to come to room temperature.

Sift the powdered sugar.

Place cream cheese and butter into the bowl of a stand mixer fitted with the paddle attachment and beat on medium until fully combined and smooth – for about a minute.

Reduce to low speed and very slowly add the sifted powdered sugar and beat for another 3 minutes until fully incorporated and smooth.

Scrape down the sides of the bowl and make sure to incorporate the ingredients from the bottom of the bowl.

At low speed, add the pumpkin and mix for one minute until smooth. If icing seems too loose, add more powdered sugar ¼ C at a time until desired consistency.

Place in the refrigerator for 10 minutes and then use immediately.
Nutrition Facts
Pumpkin Cream Cheese Icing
Amount Per Serving
Calories 330
* Percent Daily Values are based on a 2000 calorie diet.
And for my faithful readers, a post-blog cupcake bite! Here is a sneak peek picture of my dog, Spooky wearing her Halloween costume!  You didn't recognize her in her costume, did you? Spooky LOVES Halloween!  We always have a big Halloween party in which the entire neighborhood (you could say, the entire town) comes over for chili, treats and hanging out.  We can't wait!
<script> (function(i,s,o,g,r,a,m){i['GoogleAnalyticsObject']=r;i[r]=i[r]||function(){ (i[r].q=i[r].q||[]).push(arguments)},i[r].l=1*new Date();a=s.createElement(o), m=s.getElementsByTagName(o)[0];a.async=1;a.src=g;m.parentNode.insertBefore(a,m) })(window,document,'script','//www.google-analytics.com/analytics.js','ga');   ga('create', 'UA-54966896-1', 'auto'); ga('send', 'pageview');   </script>