Here is some good news! My mother-in-law is coming to stay with us the week of Thanksgiving! I know most of you would wonder how that is good news – but in my case it is. My mother-in-law is funny and talkative. One of her favorite subjects is telling stories about my husband, which is always fun for me (maybe not so much for him). Besides, this means I will get to do some fun cooking while she is here – she likes what she calls "old time" cooking – and I do too. Bring on the cornbread and pintos!
Anyway, back to the food blog… on to this week's food blog post. Quinoa Asiago stuffed mushrooms! YUM! I took these to my book club this week and someone characterized them as having a gentle and delicate flavor. I'll take that. Someone else said, "let me have that last one!". I'll take that too!
Like I told you in my post on Arugula Caprese Salad – not all flavors are appreciated in my household. So, I did not fix this dish for my homies. Instead, I made this and carried it to my bookclub – who are always adventurous vegetarian eaters. Before I left home, hubby said, "leave me some of those mushrooms". I responded, "they are stuffed with quinoa and there's no meat in them". He replied, "oh". He tentatively tried one anyway – then ate the rest of what was on his plate and responded, "well, its not stuffed with lobster, but its good anyway" (and that is from a meat and potatoes man).
So, all of that to say this, give these mushrooms a try. They are easy to fix and I think delicious.
Now, I've got to run and get some laundry done – my mother-in-law is coming to stay for a week!
Make Dinner, Not War.
Let's eat ya'll.
A fool gives full vent to his anger, but a wise man keeps himself under control. ~Proverbs 29:11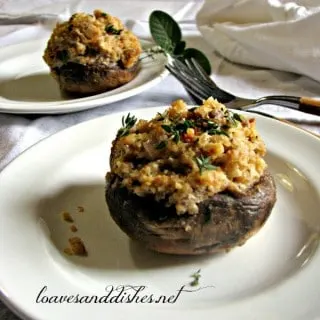 Quinoa and Asiago Stuffed Mushrooms
This delicious and easy to make Quinoa and Asiago stuffed mushroom will even delight your meat eating friends!
Print
Pin
Rate
Ingredients
½

Cup

Quinoa seed

1

Cup

Vegetable broth

2

tablespoons

butter

½

tsp

salt

¼

tsp

pepper

24

oz

package of large button mushrooms

2

Tbs

olive oil

1

large shallot – minced

1

Tbs

fresh Sage – minced

1

tsp

fresh Thyme – minced

2

oz

cream cheese – cut into pea sized pieces

¼

tsp

salt

¼

tsp

pepper

4

Tbs

sundried tomatoes – minced

¼

tsp

cayenne pepper

2

oz

Asiago cheese - grated

¼

Cup

Panko bread crumbs

½

cup

white wine
Instructions
Preheat oven to 350. Then, prepare quinoa according to package instructions in either a covered stock pot or in a rice cooker, however, use vegetable stock instead of water to cook the quinoa in and add the butter and salt and pepper to the cooking fluid.

While the quinoa cooks, prepare the mushrooms by removing the stems (reserve them) and wiping each one well with a clean damp washcloth or paper towel. If you feel that you must wash the mushrooms to remove the dirt – then do so long in advance of preparation as the mushrooms must be completely dry before preparing this recipe.

Rub each mushroom cap with ½ tbs olive oil and then apply light dusting of salt and pepper and set aside.

Remove the tough end of the mushroom stems and discard. Cut the remaining mushroom stems into small pieces.

Heat remaining olive oil in a skillet over medium heat. Add shallots and chopped mushroom stems to the skillet. Fry until moisture disappears. Add sage and thyme and cook for one minute.

Stir in the cream cheese, sundried tomatoes, black pepper and cayenne pepper. When cream cheese is melted, remove from the heat and stir in the Asiago cheese. Stir cheese mixture into the cooked Quinoa.

Using a small spoon, fill each mushroom cap with a generous amount of stuffing. Depending on how big your mushrooms are and how full you stuff them will depend on how many you use.

Arrange the mushroom caps in a baking dish prepared with nonstick cooking spray. Apply breadcrumbs to the tops of the mushroom stuffing. Carefully pour in the wine until the bottom of the baking dish is covered to a depth of 1/8 inch (adjust amount of wine as needed).

Bake for 20-25 minutes or until mushrooms are hot.
Nutrition
Nutrition Facts
Quinoa and Asiago Stuffed Mushrooms
Amount Per Serving
Calories 200
* Percent Daily Values are based on a 2000 calorie diet.
And now for a post blog dessert…..
I LOVE Julia Childs. I can remember watching her on PBS as a child and I love that I can see a lot of those old episodes on YouTube today. Here is a favorite of mine. The burner doesn't work? No problem – its beef tartar. lol.