Hello and Welcome to Loaves and Dishes – I couldn't be more glad that you are here!
I am so very excited to bring you this soup! HOLY COW! It is GOOD! I have promised you comfort food and that is exactly what this is!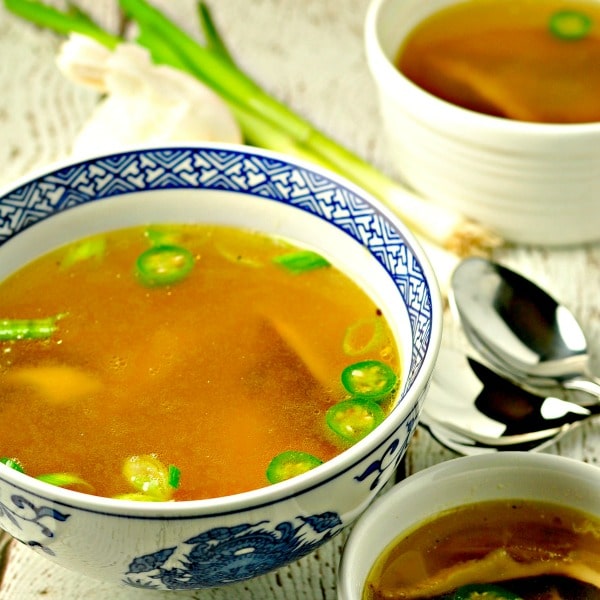 Have you been over-eating since Christmas? Are you feeling under the weather? Flu? Cold? Do you just need a quick dish for a light meal? This is the soup for you!
Usually, I only like thick and creamy soups. But here… the depth of flavor is INCREDIBLE and you won't miss any creamy richness at all – because this IS SO RICH! I can't believe it myself and I MADE it!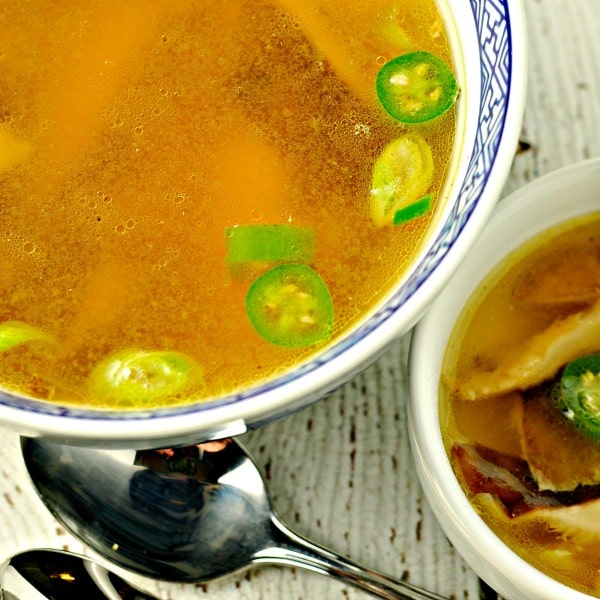 Not only that, but this soup comes together in about 5 minutes – no kidding. The super exciting part? I made mine mostly from foods that I preserved myself!! See these posts for how to make and preserve Chicken Broth. I didn't get to show you how to preserve mushrooms this summer, but next summer – we will do just that. I also preserved the jalalpeno peppers – see that post right HERE < Click right here. The chicken in my recipe is what is left from the How to Roast a Chicken in a crockpot recipe found HERE.
There is nothing and I really mean, "there is nothing" like eating food that you preserve yourself. I know exactly where that food came from, how it was grown and who handled it before it was preserved. I encourage you to look into preserving foods yourself – if you keep checking back here – I'll even show you how to do it!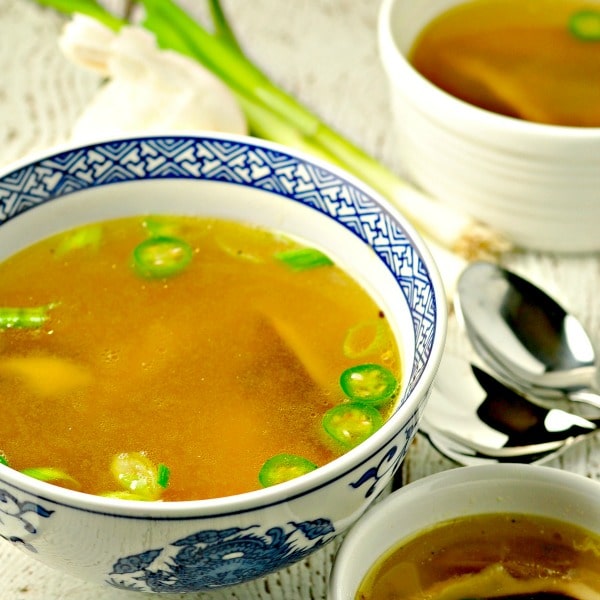 Thank you so much for visiting and I hope you will come again soon!
Recipe Inspiration
This recipe was heavily adapted from a recipe in this month's Saveur magazine called Brothy Poached Chicken with Mushrooms and Fresh Chili
Delicious Roasted Citrus, Arugula and Avocado salad. Its beautiful. You have to see it.
Don't forget to subscribe to Loaves and Dishes so that I can send you an email notice when the next recipe posts. I PROMISE to never give (or sell) your email address to anyone else – and I PROMISE not to bug you to death! (See the subscribe button on the left column of the webpage).
Serving suggestions for Roasted Chicken, Shiitake and Jalapeno Soup
Serve Roasted Chicken, Shiitake and Jalapeno soup with a good crusty bread and a fresh green salad. Easy and delicious dinner.
Now I ask you, Make Dinner, Not War.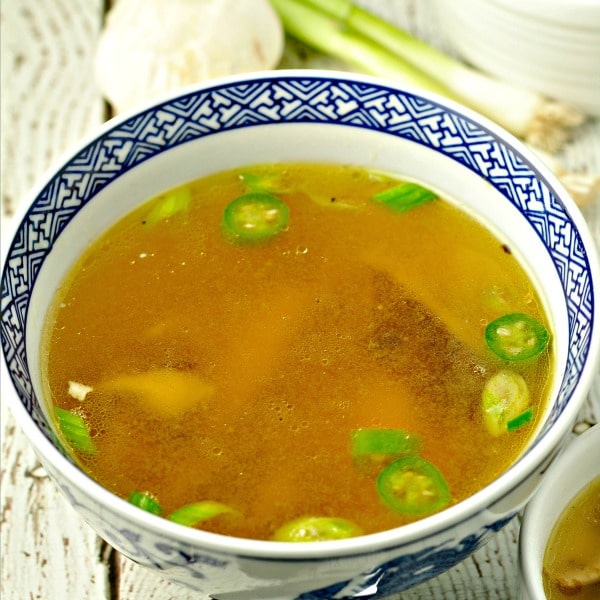 I can do everything through him who gives me strength. ~ Philippians 4:13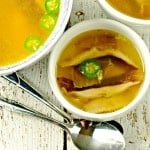 Roasted Chicken,Shiitake and Jalapeno Soup
Healthy Delicious and fast. This recipe has it all!
Keyword:
chicken shiitake jalapeno soup, soup
Ingredients
1

Tbs

butter

8

oz

shiitake mushrooms

sliced

1

Quart

of chicken broth or single box of organic chicken broth

1

chicken breast from grocery store Roasted Chicken or from chicken you have roasted yourself.

3

cloves

Garlic – minced

2

bay leaves

4

whole allspice

1 ½

tsp

kosher salt – plus more to taste

1

fresh or frozen jalapeno pepper – sliced

1 1

" piece of fresh ginger – peeled and grated

1

Tbs

Rice vinegar or white vinegar

1

Tsp

Soy Sauce

Fresh ground pepper to taste

Sliced scallion

cilantro and fresh jalapeno slices for garnish
Instructions
In small skillet melt 1 Tbs butter. Add sliced mushrooms and cook until mushrooms release their water. Remove from heat and set aside.

Pour Chicken broth into soup pan. Add 3 cups of water. Add all other ingredients as well as the reserved mushrooms and heat on medium heat on stove top.

Simmer x 5 minutes until all ingredients are heated through. Remove Bay leaves and Allspice Serve and garnish as desired.
Recipe Notes
You will want to use fresh jalapenos for this recipe and not the pickled ones. 
Nutrition Facts
Roasted Chicken,Shiitake and Jalapeno Soup
Amount Per Serving
Calories 120
* Percent Daily Values are based on a 2000 calorie diet.