Hello my gorgeous reader!!! I know this has nothing to do with Roasted Tomato and Garlic Quiche, but I want you to know that I really REALLY stink at Captcha! Am I alone? I mean, all I want to do is leave a nice comment on another foodie blog about how beautiful her post is and I become caught in a never ending, "WRONG CAPTCHA – TRY AGAIN!!!" scenario – which feels so negative as a visitor – I felt like I went in her home and broke a teacup or something. When I FINALLY submitted a correct captcha, I no longer felt ANY warm fuzzies for this gal or her delicious looking post at all!
I really hope I never have to resort to captchas at Loaves and Dishes so that you can leave me a comment. (I LOVE it when folks leave me a comment – hear the little birds singing?). I understand that there are horrible folks who spam our little blogs to death. I've mentioned before that I wish you could see my spam folder. Anyone who knows me knows I don't give two hoots about a pocketbook that costs hundreds of dollars – but that is who is spamming me! Lol. Its funny really.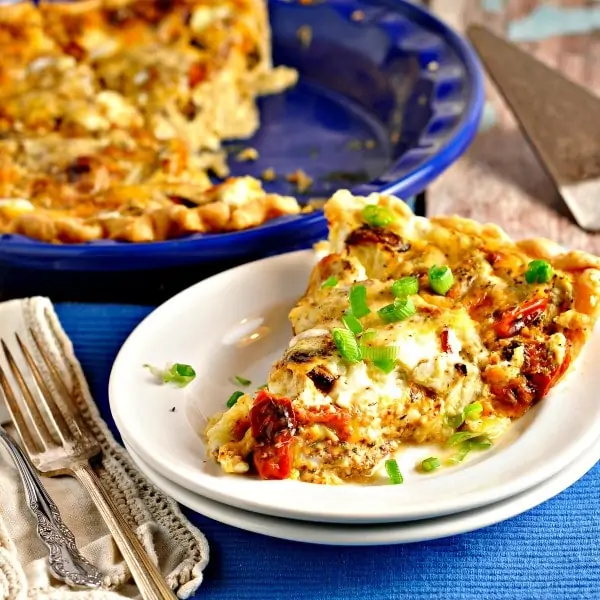 Anyway, my dear dear reader. Today I bring you Roasted Tomato and Garlic Quiche. So darn delish! I concocted this recipe a few years ago and took it to my bookclub – which seems to be a popular theme on this website – but anyway, I digress. Everyone loved roasted tomato and garlic quiche and I hope you will share it too!
The good news is that you DO NOT have to wait until summer time when the tomatoes are ripe and delicious. I use cherry tomatoes for this recipe – and pretty dependably, cherry tomatoes are good all year long.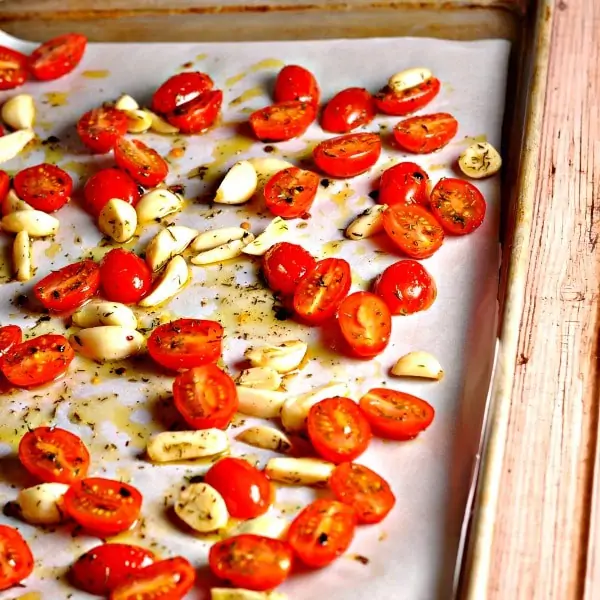 You can garnish this Roasted Tomato and Garlic Quiche with Fresh Basil leaves if you can find them. They aren't in these photos because – guess what – none at any of my local stores. It is fun to put them in a sunshine pattern in the center of the Roasted Tomato and Garlic Quiche – this will remind you that summer is just right around the corner. YAY!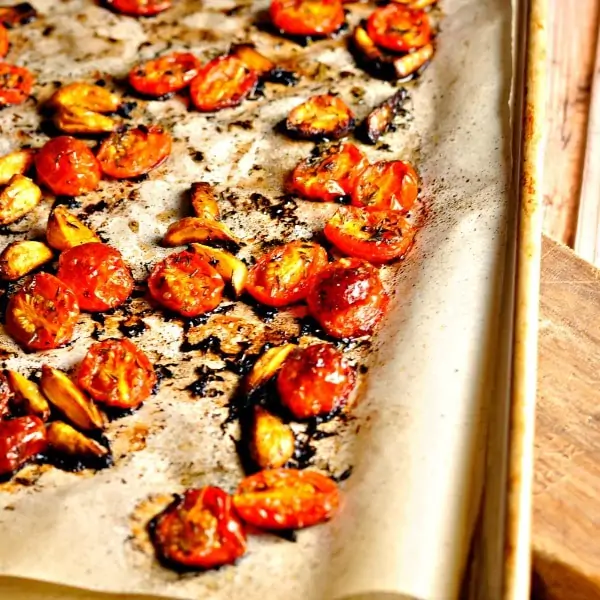 The Roasted Tomatoes and Garlic look like this
Thank you so much for visiting me. I hope you will come back very very soon! Bookmark this site so that you will remember where to go!
Recipe Inspiration
This recipe for roasted tomato and garlic quiche is an original of mine and is inspired the delicious flavors of Caprese salad – which I love so much. You can find one of my renditions of this salad here <CLICK HERE>
Next time on Loaves and Dishes.
– finally, finally, finally – with fingers crossed that Pete Spraker keeps his chicken stealing menacing self under control, we will have Crockpot Roasted chicken – so easy and simple – just plop it in the crockpot and go to work. When you arrive home, dinner is done!
Don't forget to subscribe to Loaves and Dishes so that I can send you an email notice when the next recipe posts. I PROMISE to never give (or sell) your email address to anyone else – and I PROMISE not to bug you to death either!
Serving suggestions for Roasted Tomato and Garlic Quiche:
Serve Roasted Tomato and Garlic Quiche with a delicious fresh salad and dessert for an easy weeknight meal. I suggest Arugula Caprese Salad and Fudge Pie with salted Caramel Sauce.
Now I ask you, Make Dinner, Not War.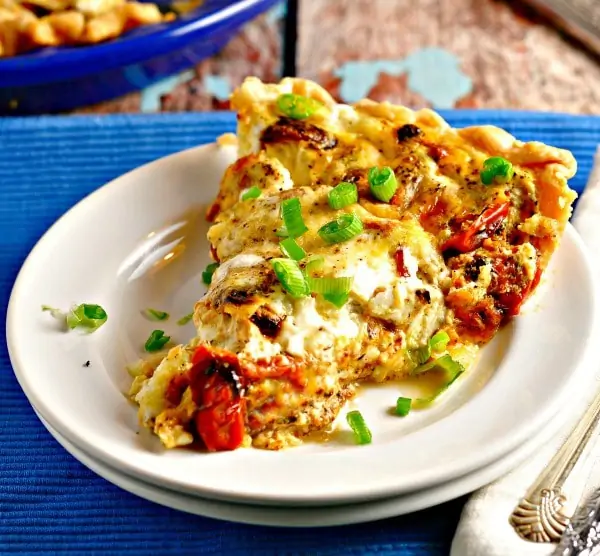 See, I am doing a new thing! Now it springs up; do you not perceive it? I am making a way in the desert and streams in the wasteland. ~ Isaiah 43:19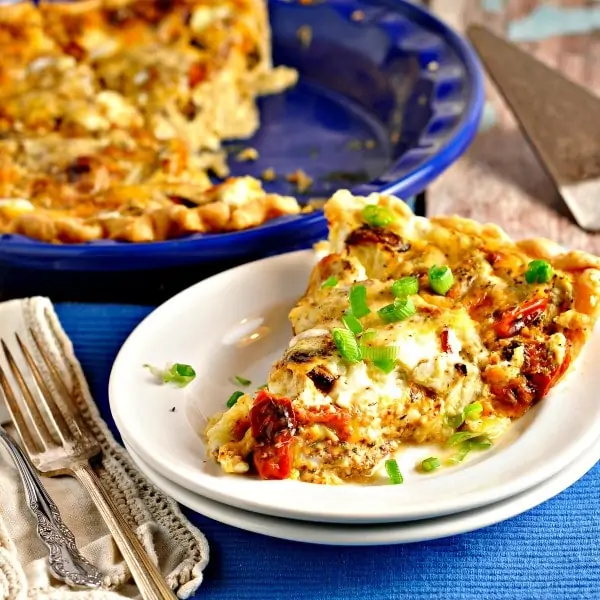 Roasted Tomato and Garlic Quiche
This delicious quiche will remind you of the taste of a caprese salad!
Print
Pin
Rate
Ingredients
1 10

oz

package of cherry tomatoes – cut tomatoes in half

6

cloves

garlic – peel and cut cloves in half

1

tsp

dried basil

½

tsp

salt

¼

tsp

black pepper

¼

tsp

Chipotle pepper

if not available may use same amount of hot pepper flakes.

1

refrigerated pie crust

the kind near the canned biscuits in the grocery – not the prefrozen kind

1 ½

Cups

Shredded mozzarella Cheese

may use preshredded or fresh if necessary.

1/2

Cup

heavy Cream

1/2

Cup

milk

4

large eggs – beaten

1/2

tsp

each of salt and pepper

2

Tbs

Parmesan cheese
Instructions
Preheat oven to 350

In a small bowl mix the tomatoes, garlic, dried basil, salt, black pepper and chipotle pepper, toss well and spread out onto a metal baking dish. Bake for 30 mins. The tomatoes will be shriveled and the garlic should be tender when done. There may be slight darkening on the garlic cloves - but they should not be burnt. If they are burnt there will be a bitter taste

Remove tomatoes and garlic from the oven and allow to cool enough to touch. Set oven temp to 375.

Press the pie shell into a deep dish pie plate. Flute the edges of the pie crust

Using a fork, poke holes into the bottom crust.

Sprinkle half of the shredded mozzarella into the bottom of the pie crust.

Cover with the tomatoe/garlic mixture and top with the remaining mozzarella cheese.

In a small bowl, mix the half and half, salt and pepper and the beaten eggs together. Pour this mixture over the ingredients in the pie shell. Sprinkle top with Parmesan cheese.

Bake 35-40 minutes until the center is no longer loose when the edges of the pie plate are gently shaken and the center no longer looks wet

Allow the quiche to sit on the counter top for 10 minutes before cutting (this allows the quiche to rest and keeps the insides from being too runny)
Notes
You can use garden fresh tomatoes or even roma tomatoes for this recipe, simply cut, roast and then follow the directions in the recipe.
Nutrition
Nutrition Facts
Roasted Tomato and Garlic Quiche
Amount Per Serving
Calories 250
* Percent Daily Values are based on a 2000 calorie diet.
POST BLOG DESSERT
For dessert today I want to tell you about my granddog – Iggi. I try to add something inspirational here for dessert each post – and you might be wondering what I find so inspirational about Iggi? Iggi is a 80 lb, 7 year old boxer dog. Iggi was attacked at the park by another dog when he was just a baby and he has been SUPER fearful of other dogs since. Iggi's fear comes out in something that looks like aggression – but is actually his way of saying, "I'm terrified of you!" My daughter, Sarah, has witnessed him lunge at a tiny Chihuahua only to have the Chihuahua lunge back. Iggi cowered in fear.
This makes for a pretty lonely life for Iggi. No doggy friends. No one to play with besides people. No visiting other dog's homes unless everyone is locked up tight. It is kind of miserable for him.
However, a wonderful and inspirational thing has happened! Iggi met Isis (who has a terrifying name, I might add. But who is a sweet dog, nonetheless ). Isis, ignored Iggi's bad behavior and LOOK! Here they are sitting calmly together! They love each other! They play together!
I said ALL OF THAT, TO SAY THIS. Iggi is a dog. If Iggi can overcome his fear of other dogs and learn to get along – YOU, you person, CAN OVERCOME ANYTHING!!! YOU CAN! I BELIEVE IN YOU!
Now, go out there and put your mind to doing what you want to do. Live your dreams. Overcome your obstacles. You CAN!