Root Vegetable Rosemary Gratin – that is a mouthful, eh? You will be glad that it is after you have had a bite!
Disclaimer: Do NOT make this dish unless you have time for it – this is a "revel in cooking" kind of dish. It does not take a long time to put this together but it takes quite a long time to bake Root Vegetable Rosemary Gratin– but, oh the smell! THE SMELL!!! OOOoooo ahhhhhhhh.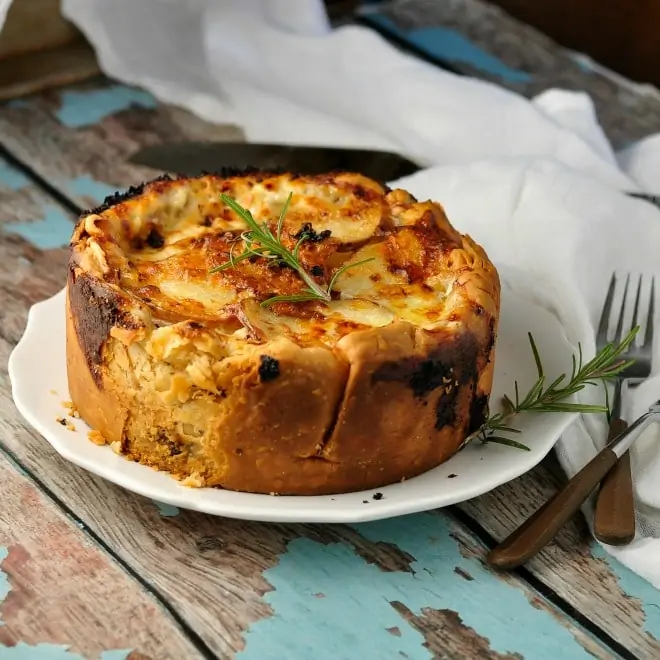 Which, is exactly what your guests will say. Really. And although Root Vegetable Rosemary Gratin looks like a difficult dish to prepare, believe me – if I can make this dish, you can make it too!
This is not your typical gooey, cheesey, swimming in cream kind of potato gratin. Although, I really love that kind of gratin too. This has more of a grown up taste about it and the cheesy goodness is oh so delicate.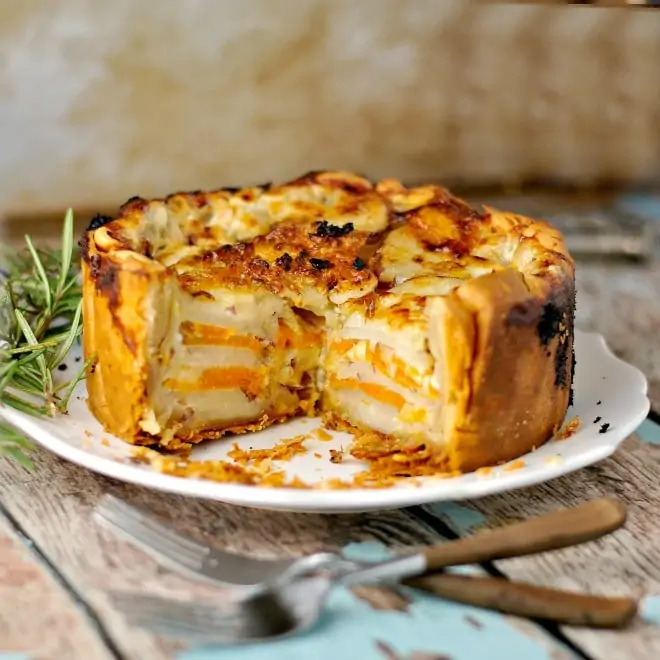 I served Root vegetable rosemary gratin for a small dinner party a few weeks ago with my near famous blueberry balsamic chicken (I'll share that recipe with you sometime) and what a total hit it was! I was especially proud of how the table looked as we entered the dining room. My guests said, "OOOO AHHHHHH You have to take a picture of the table! You have to!" I didn't. I wish I had now – because really, this gratin sitting in the middle of the table is a site to behold!
I hope you will try this sometime as a special treat for the ones you love. Perhaps this weekend for Valentines day!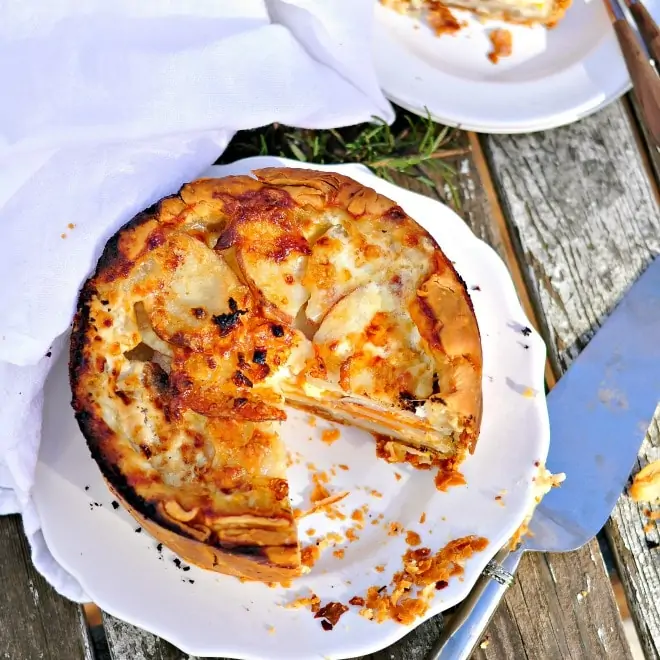 Coming up next time on Loaves and Dishes
Be prepared Lasagna or perhaps a Paprika Chicken and veggies dish that I am working on.
Don't forget to subscribe to Loaves and Dishes so that I can send you an email notice when the next recipe posts. I PROMISE to never give (or sell) your email address to anyone else – and I PROMISE not to bug you to death!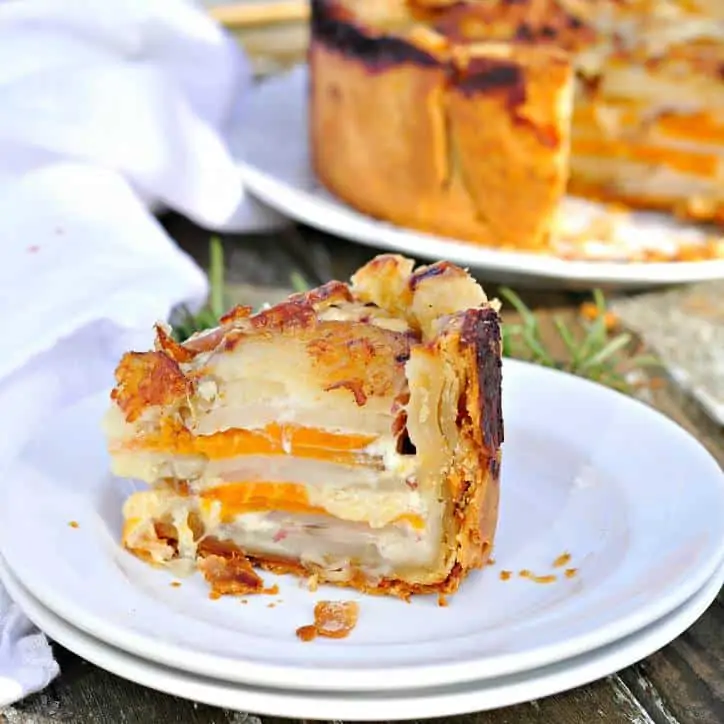 Recipe Inspiration for Root Vegetable Rosemary Gratin
A kind soul pointed out to me that I neglected to put my inspiration for this recipe, which I usually do. Thank you, whoever you are "anonymous". This recipe was inspired and adapted from a recipe that I found on one of my favorite food blogs"Home is Where the Boat is". I added turnips and carrots and adapted a few other things according to my tastes and what I had on hand. The notes in the ""Home is Where the Boat Is" post state that her recipe was originally found in Southern Living Magazine. Sorry for any confusion.
Serving suggestions for Root Vegetable Rosemary Gratin
I suggest serving this with a light main course such as Zesty Drunken chicken and a fresh green side dish such as Asparagus a la Rachel
Now I ask you, Make Dinner, Not War.
Be completely humble and gentle; be patient, bearing with one another in love. ~ Ephesians 4:2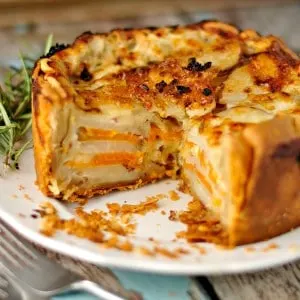 Root Vegetable Rosemary Gratin
Beautiful side dish for company"
Print
Pin
Rate
Ingredients
1

14.1-oz. package refrigerated piecrusts

1

tablespoon

chopped fresh rosemary

1/4

teaspoon

freshly ground pepper

2

cups

8 oz. shredded Gruyère or Fontina cheese, divided

1

pounds

Red potatoes – cut into disks

1

pounds

sweet potatoes – cut into disks

½

lb

carrots – sliced in disks

½

lb

turnips – peeled and sliced in disks

1

teaspoon

kosher salt

2/3

cup

heavy cream

1

garlic clove

minced

1/4

Cup

freshly grated Parmesan
Instructions
Preheat oven to 450°. Unroll piecrusts on a lightly floured surface. Sprinkle rosemary, pepper, and 1/2 cup cheese over 1 piecrust; top with remaining piecrust. Roll into a 13-inch circle. Press on bottom and up sides of a 9-inch springform pan; fold edges under. Press out as evenly as possible to avoid doughy areas of crust - this may cause some of the crust to come up above the lip of the pan - fold these under - or you can cut off and reform the edge of the curst. Chill in the fridge while you prepare the remainder of the dish.

Meanwhile, thinly slice Red potatoes - no need to peel, unless you prefer that look, peel the sweet potatoes, carrots and turnips.

Layer one-third each of red potatoes, sweet potatoes, carrots and turnips and salt in prepared crust. Sprinkle with 1/4 cup cheese. Repeat layers twice, pressing layers down slightly to fit.

Microwave cream and garlic in a 1-cup microwave-safe measuring cup at HIGH 60 seconds; pour over potato layers in pan. Sprinkle with remaining 3/4 cup cheese. Top with 1/4 cup freshly grated Parmesan. Cover pan with heavy-duty aluminum foil. Place on a baking sheet.

Bake at 450° for 1 hour. Uncover and bake 25 minutes or until potatoes are done and crust is richly browned. Let stand 10 to 15 minutes. Carefully transfer to a serving plate and remove sides of pan. If desired, carefully slide gratin off bottom of pan using a long knife or narrow spatula. I was able to remove using two large and long spatulas
Notes
Use great care when removing from pan
Nutrition
Nutrition Facts
Root Vegetable Rosemary Gratin
Amount Per Serving
Calories 220
* Percent Daily Values are based on a 2000 calorie diet.