Hi!
I'm Sarah – a 22 year old college student. I am in my final (I hope) year of college and I am all about cooking wonderful delicious food. I have had the opportunity to work in some of the finest kitchens in Western North Carolina while I have been in college and I am all about fresh, local and organic ingredients. However, did you read the first sentence? I am a college student. Fresh, local and organic are not always affordable. The one thing that is ALWAYS in my budget is something good to eat!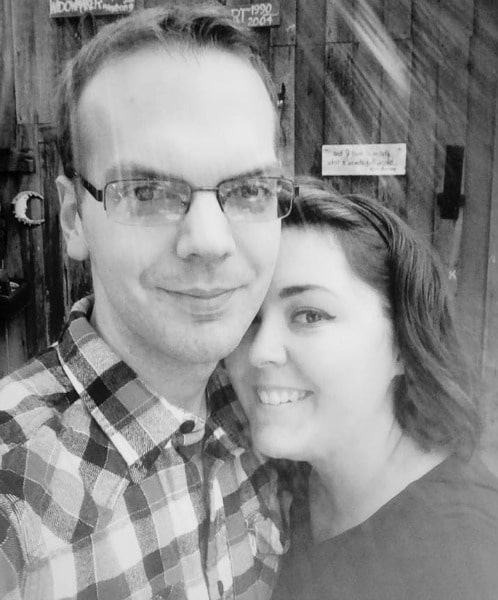 While I have lived in the dorm and know all about dorm life, I currently live in an off campus apartment with my best bud, my boxer, Iggi. You will find that my recipes are made with things that you can probably find in your fridge and pantry and will always be made with your  wallet in mind.
(The guy in this picture is my fiance Richie!!!)
In my opinion, the best all purpose pantry items are:
• salt and pepper
• minced garlic – if you buy the kind in the jar – it lasts longer and you don't have to chop it yourself
• eggs
• corn starch
• pasta noodles – super versatile, long shelf life and cheap!
• cider vinegar – good flavor and not as expensive as balsamic or champagne vinegars
• REAL BUTTER – who has time in life for fake cheese, butter or people?
Why does someone my age need to cook? After all – I still have a pass to the dining hall and can go over there and find something already prepared. All I can say about that is, eww. I can also say, try cooking something in the communal dorm kitchen, the smell alone will attract a crowd. Instant friends! Lol.
Thanks for visiting and I hope you enjoy my recipes!
Sarah