Occasionally, sweet hubby and I enjoy an evening out on the town. The kind of evening that involves sweet hubby making reservations a few days before and then on the night of the event, we wear uncomfortable clothes and shoes, we get into the car looking nothing like our day to day selves and we drive an hour to Winston Salem where we are likely to find ourselves at Milner's restaurant. Also occasionally, I spend some time in the kitchen and come up with a dish that is as fine as anything we have ever eaten in any restaurant. On those days, we say, "this dish is Milner's worthy". Today's Southern Short Ribs we dubbed "Milner's worthy" and I want to share them with you. The best part? No uncomfortable shoes or clothes and no hour long drive!
If you came to Loaves and Dishes seeking an easy, throw it all in the pot and eat in 15 minutes type of meal – today is not your day. Sorry! Southern Short Ribs requires extra effort. Instead, I urge you to check out some of the other recipes around here and I am certain you will find something you like. In fact the Sausage and Rice dish that I did a few weeks ago is probably perfect, check it out. YUM! Today, however, Southern Short Ribs will require some zen time in the kitchen. My favorite kind of day.
When someone says that something is "their favorite kind of day", doesn't that probably also mean that it is one of the more rare types of days in their schedule? I think so. I have heard people say "Staying in my pj's all day and watching old movies is my favorite kind of day". I have never assumed that meant that they ACTUALLY DID this very often. It isn't that way with me. I actually DO my favorite kind of day A LOT. That, however, is fodder for another discussion that involves talks about free time, what I choose to do with my free time and how I can ignore anything on my to-do list in order to stay in the kitchen and cook – even to the level of fostering an unhealthy lack of human interaction. But, that is telling too much and now I am over sharing.
I'll suffice it to say this. I enjoy the process of cooking as much as I enjoy the product. In fact, in my perfect dream world, I would get on my soap box right here and you would be cheering me on and listening with rapt attention. I would tell you that we could probably all have a little more inner peace if we would stop zoning out on our smart phones or in front of the TV and video games and find something we enjoy physically doing – and do it. But that is a weird little peek into "Wendi's dream world" or "Wendi has obviously been smoking crack world" which ever.
Instead of continuing on in the dream world, I just tell you that Southern Short Ribs is worth the extra effort. I work from home, so taking a very short break to go put things in the oven or take things out of the oven is easy for me to do. If you don't work from home, then this is probably a better recipe for the weekend – especially a cold, rainy and dark weekend – like we will surely have coming up soon. Believe me, this is perfect cold weather food.
RECIPE INSPIRATION FOR SOUTHERN SHORT RIBS
A few weeks ago, sweet hubby and I went to the beach for a few days and (since we have a book habit) we checked out the local used book store. If you haven't discovered your own local used book store- I totally recommend it. Unless, of course, you are like us and went to the book store on your bicycle with no way to carry a bunch of books home. I'll just leave that alone. Sweet hubby found a way to carry my big ol cookbook back to our room.
Anyway, I lucked up on an old copy of "The America's Test Kitchen Cookbook" © 2001. I LOVE EVERYTHING that I have ever ready from Cook's Illustrated or America's Test kitchen! I mean, everything. This cookbook is no exception.
I revamped the recipe in the America's Test Kitchen Cookbook to go along with the things we have at home and WOW! So good! I used short ribs that we had in the freezer.
If you are buying your southern short ribs at the grocery – I urge you to do three things
Buy directly from the butcher's case if you can – have the butcher to help you select the best ribs.
Buy meat that is nicely marbled – if there is a single fat pad on one side of the ribs – that is ok – it is just the cut. But if you can buy some that don't have this – then get that cut.
If you are buying ribs in the Styrofoam trays, try your best to see if the meat is brown on the bottom side – if it is, don't buy that one. I am guessing this isn't the most popular cut of meat –and you want to make sure that what you are spending your money on is fresh!
In the recipe, I have included brand names where possible so that you will be able to copy what I did exactly. If you try this recipe, please…. I beg you…. Come back and tell me how it turned out! I would LOVE to see a picture if you want to tag me in a photo on facebook or twitter or instagram or even if you want to email it to me! How FABULOUS would that be? I've already overshared about my lack of human interactions – so think of it as your good deed for the day – talking to a lonely little old lady of sorts. LOL.
IMPORTANT TIPS ABOUT SOUTHERN SHORT RIBS
When you do the baking part, you need to know that it could smoke up your kitchen- it did smoke up mine – both times. The first time, I figured that it was because my oven needed to be cleaned. That first time, when I took the ribs from the oven at the appointed time, I almost cried. They looked like little black crusty burnt things. No worries – that is how they are supposed to look. I cleaned my oven before making them the second time and they still smoked – but not as bad. Just be forewarned.
Apparently, Southern Short Ribs are better on the next day. For the ultimate short rib experience, you should finish straining the liquid and then store the ribs and the gravy separate. The next day, heat them together in a large pot on the stove top over medium heat. Our ribs never made it to the second day – so I can't comment on this really. I am guessing that it is true. I read this in the original recipe AND on several of my favorite blogs concerning short ribs.
This gravy/sauce for the Southern Short Ribs is EXCELLENT over mashed potatoes, rice, baked potatoes and sopped up on bread. In fact, in my opinion, it is the gravy that makes this dish.
Do not fret if the bones fall out of your Southern Short Ribs before you are able to dip them onto the plate. That is a good sign! "Fall of the bones tender" is what you are aiming for anyway!
If you are not sure what Southern Short Ribs should taste like – these taste like the most tender, moist delicate beef roast that you have ever eaten. (Now, I am making myself hungry and it is only 8:30 in the morning as I am writing this!)
With that, I'll leave you with an inspiring bible quote and the actual recipe. Enjoy, my friends. Let's Eat!
You might also enjoy Braised Pork Ribs
For I know the plans I have for you," declares the LORD, "plans to prosper you and not to harm you, plans to give you hope and a future. ~ Jeremiah 29:11
THE RECIPE FOR SOUTHERN SHORT RIBS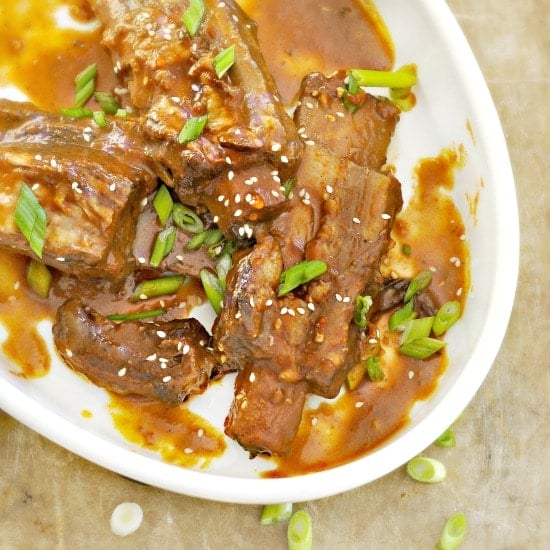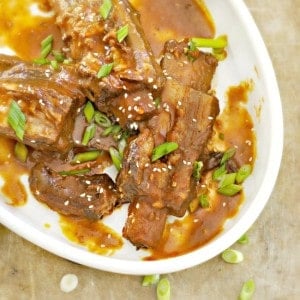 Southern Short Ribs
These delicious southern short ribs are what I want every single weekend meal to taste like and they have become a complete staple around here.
Print
Pin
Rate
Total Time:
3
hours
30
minutes
Ingredients
6

lbs

bone in short ribs – trim any excess fat or sliver skin

Salt and pepper

3

Cups

Merlot wine

I used Rex Goliath brand

2

tbs

butter

1

large onion – cut into fourths

4

large carrots – cut into large rough chunks

3

large celery stalks – cut into large rough chunks

1

head of garlic – cloves removed and smashed – skins removed

¼

Cup

all purpose flour

1

quart

of beef broth

OK to use chicken broth – I make my own beef broth – so if using store bought – 4 cups

1

quart

of crushed tomatoes drained

I use tomatoes I canned – but it is fine to use store bought – use the 14.5 ounce size can - drained

3

sprigs of fresh rosemary

5

sprigs of fresh thyme

tie in a bundle with kitchen string with the rosemary

2

medium Bay leaves

1

small can of tomato paste
Instructions
Adjust the rack of the oven to the lower middle position and set oven heat on 450. Arrange the ribs bone side down in a single layer in a large flameproof roasting pan. Season with salt and pepper – about ½ tsp of each. Roast uncovered for about 45 minutes. If there is any liquid in the bottom of the pan (mine didn't have any) drain this off with a bulb baster or a spoon. Flip the ribs over and roast the other side for about 8 minutes until the other side is browned as well. Remove the ribs from the oven and remove them from the roasting pan to a plate. Set the roasting pan across two burners on the stove and set the burners on medium high heat. Allow the pan to heat slightly and then add the wine to the pan. Bring to a simmer and scrape up all of the bits from the bottom of the pan with a wooden spoon. Set the roasting pan and the wine aside once the bottom of the pan has been thoroughly scraped. (You will note in my photos - that I have only made about 2 lbs of ribs - but I did make the sauce exactly as noted here - I simply made less ribs because that is how my ribs were packaged from the meat processor - we have 1/2 a cow in the freezer and have to use the cuts we are provided)

Adjust the oven heat to 300. In a large dutch oven over medium high heat, use 2 tbs of the reserved fat (or if there is none – 2 tbs butter – I had to use butter). Add the onions, carrots and celery and sauté for about 12 minutes until the vegetables soften. Add the garlic and cook another 30 seconds until you can smell the garlic. Add the flour and allow to cook for 3 minutes . Stir in the wine from the roasting pan, the stock, tomatoes, tomato paste and another ½ tsp salt and ½ tsp pepper. Bring to a boil. Add the ribs one at a time and completely submerge them in the liquid. Add the rosemary and thyme bundle and return the pot to a boil. Cover with the lid and place the entire pot in the oven for the next 2- 2.5 hours. When you remove the dutch oven from the oven, the meat should be very tender and near falling off of the bone. If it isn't, place back in the oven for another half an hour.

Set the dutch oven out to cool on a wire rack and allow to set until it is manageably cool – about 2 hours.

Remove the ribs from the dutch oven to a plate. Remove the bundle of herbs and any large chunks of vegetables and discard. Strain the braising liquid into a medium sized bowl and press out any liquid from the remaining solids. Discard any remaining solids.

At this point, you can put the ribs and the liquid back together and reheat on the stove top and serve OR you can cover the ribs and save the ribs and the liquid separately and refrigerate over night (which is suggested for best taste). If you do save this and refrigerate for the next day – simply reheat in a large stock pot together on the stove top.

Serve the ribs over mashed potatoes, rice, noodles or with a baked potato. Serve a crusty bread that is very absorbent (for all of that delicious sauce!). Asparagus or roasted veggies make nice sides as well.

Garnish with parsley, green onions, sesame seeds etc.
Notes
Make sure to use short ribs and not one of the other go-zillion named ribs available in the world. 
Nutrition
Nutrition Facts
Southern Short Ribs
Amount Per Serving
Calories 220
* Percent Daily Values are based on a 2000 calorie diet.