Wow! That title is a mouth full! Just like this breakfast!! Say it again – Sweet Potato Hashbrown Breakfast Bake. Whew! That was more work than making this breakfast!
Good Sunday morning Friends! See, I told you on Thursday that if you signed up for the email list that I would remind you when this post is ready! AND – here it is! Your very own and so so simple Sweet Potato Hashbrown Breakfast Bake!
This recipe makes the most easy and delightful breakfast eeevvvverrr. The rich rainbow colors of the orange sweet potato, the red / green of the peppers, the purple of the purple onion, the white and dark green of the spring onion and most beautiful of all – that dark orange/red of the smoked paprika – it is, OH something wonderful! All of those bright colors and rich flavors are off set by the white of the cheese and the golden yellow beauty of the egg yolk. AHHHHH….. it's almost more than I can take!!
I know. I'm getting a little carried away. But really. YUM to look at and YUM to eat!
So – did I tell you how easy this easy sweet potato hashbrown breakfast bake is? It is easy to prepare, easy to bake and SO easy to eat!
This totally uses the left overs from my previous post – which you can find right HERE < click here.
I know, I know – you might be thinking – sweet potatoes, cheese and eggs together. Ummm. NO. Well, let me tell you – don't knock it if you haven't tried it because this is BAM! Delicious.
I do get excited about a good breakfast!
Mostly I'm excited because I am now sharing breakfast again with my husband. Trouble in paradise??? No. He has been in Ireland traveling for his job and that has been kind of a bummer for me. However, I have stayed very busy between work, church and children. On a fun note, I can also admit, his trip has allowed me to sleep sideways across the bed on the pillows again– my favorite place to sleep that is NOT appreciated by my husband when he is home. When one is single for ten years, one can develop some strange habits. Lol.
Here is a funny window into my world – my husband brought back the menu's from the places he ate as well as pictures of his own food and the food of his traveling companions. I know, we are bizarre. But he knew what I would like. He knows what a total food nerd I am. Lol.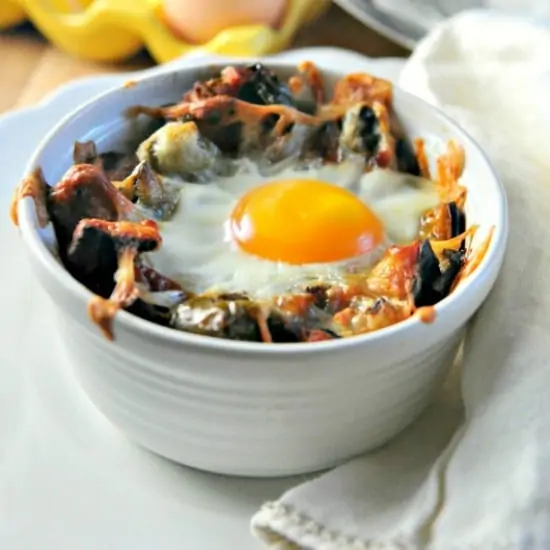 With that, I am going to leave you with your yummy breakfast of Sweet Potato Hashbrown Breakfast Bake! Whew! Still a mouthful!
Now – I charge you – make Breakfast, Not War! (You can still make dinner, not war!).
But the angel said to her, "Do not be afraid, Mary, you have found favor with God.You will be with child and give birth to a son, and you are to give him the name Jesus. ~ Luke 1: 30-31.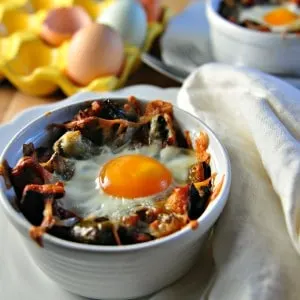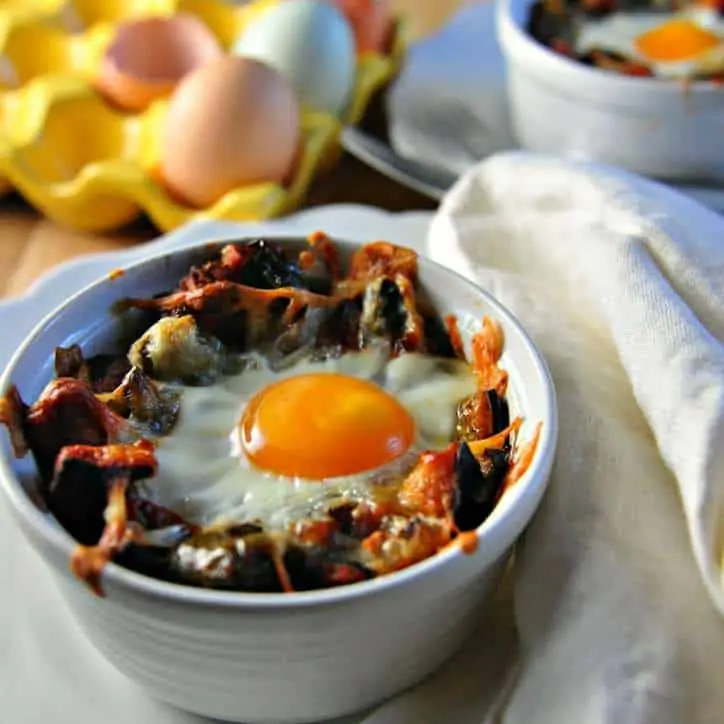 Easy Sweet Potato Hashbrown Breakfast Bake
This recipe for Easy Sweet Potato Hashbrown Breakfast bake uses delicious hashbrowns and makes them breakfast ready!
Print
Pin
Rate
Ingredients
2

large sweet potatoes

peeled and cubed in 1 inch cubes

4

table spoons of Olive Oil

½

red onion

chopped

1

red or green bell pepper

chopped

¼

Cup

green onions

chopped

4

cloves

garlic

minced

2

tsp

smoked paprika

Kosher salt and fresh ground pepper

1

egg per ramiken

1/4

Cup

shredded sharp cheddar cheese

like an English Cheddar
Instructions
Preheat oven to 350. Spread the potatoes out over a half sheet rimmed baking sheet. For reference, see https://www.loavesanddishes.net/roasted-garlic-rosemary-sweet-potatoes/ (use the same instructions – just leave off the rosemary and garlic). Mix with 2 tbs of olive oil,smoked paprika and sprinkle of salt and pepper. Using hands mix well and spread out the potatoes so that they are not touching each other. Bake for 30-35 minutes until fork tender and browned.

Meanwhile, heat 2 tbs olive oil in a large skillet over medium-high heat. Add the red onions, bell peppers, green onions and garlic and sauté until tnder and lightly golden – about 5-6 minutes. Season with salt and pepper to taste.

Portion out hashbrowns between ramikens. Make a nest indentation in the top of each ramiken filled with hashbrowns. Sprinkle grated sharp cheddar over the top of each ramiken. Crack an egg over each nested out spot. Bake at 425 for 5-6 minutes. If the hashbrowns have been refridgerated, bake until each yolk is set and white has turned white!

If you have leftovers from the

Easy Sweet Potato Hashbrowns

from the previous post - this recipe only takes the time involved in baking this - however, for the recipe totals I am assuming making this from scratch.
Notes
Feel free to experiment with the ingredients and use up some of your kitchen veggies.
Nutrition
Nutrition Facts
Easy Sweet Potato Hashbrown Breakfast Bake
Amount Per Serving
Calories 200
* Percent Daily Values are based on a 2000 calorie diet.
And now for a post blog dessert. Have I told you about my buddy Pete? Pete is a very old (maybe about 12 now) dog who someone "put out" at the country store across the road from my house. Pete desperately pawed at people's legs as they went into and out of the store on the day he was put out. I had seen him and thought that maybe some kind soul would take him in. As it turned out – someone did. Me! After dark, Pete turned up at my house and I couldn't just allow him be outside hungry and cold. I put out posters, let animal control know that he was here, called the local veterinarians – just in case someone was looking for him. Of course, no one was. We decided to just let him stay – as he is old and how much longer could he last? He has followed me around like a shadow for two years now and I love him. Here is a picture of Pete at our back door ready to come back inside.
As you consider Christmas gifts – I ask you to think twice about giving a pet as a gift. If you DO give a pet as a gift – please please please consider your local Humane Society. Here is a link to the facebook page for my own local Humane Society. I have only ever had 2 dogs that didn't come from the animal shelter or who didn't just end up at my house. My rescues were equally, if not better, than any other dogs.
Stokes County Humane Society < Click this link