DO NOT EAT THINGS YOU CAN'T PRONOUNCE, except Quinoa – eat that! That makes me laugh – every time. This actually is a general rule at our house now – although it didn't used to be. Some years ago my youngest daughter ended up with some pretty scary stuff going on with her internal organs and in her brain. The specialists at the children's hospital didn't know what to do with her and didn't have any recommendations. Their only advice, "well, lets just keep an eye on things and see what happens". My response, "Uh…. No". There were no medications to help with the condition she suffered from and my daughter was in pain. Not willing to give up, we visited a holistic physician who recommended a total change in diet as well as some herbal supplements. We stopped eating preservatives and things we couldn't pronounce and guess what? The problems resolved. In fact, that was one of the things that lit a fire under my behind to really start cooking again!
So – anyway, Quinoa is delicious – if you haven't tried it – I totally say, "give it a shot". This salad doesn't taste like you think it is going to, given the ingredients. I was SURPRISED when I took a bite. It is REALLY GOOD!
Remember when I told you that I was involved in a very public weight loss program at work last year? This is a recipe that is based upon a recipe that was shared by the nutritionist at work as a weight loss friendly recipe. I did make a few changes to the original recipe, but nothing that would interfere with the goodness or "eating right" nature of this recipe.
Let's eat ya'll!
Now may the Lord of peace himself give you peace at all times and in every way. The Lord be with all of you 2 Thessalonians 3:16.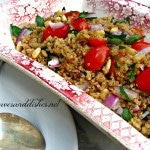 Tasty Quinoa Salad
This tasty quinoa salad is surprisingly healthy and delicious at the same time!
Course:
healthy, main, Side
Ingredients
1 ½

Cups

Quinoa

soaked overnight in water (soaking optional)

3

Cups

Chicken or Vegetable stock

½

cup

Pine Nuts

toasted lightly

2 ½

cups

Cucumber

diced

¾

Cups

Cherry tomatoes

halved.

½

Cup

red onion

chopped fine

½

cup

fresh Parsley

chopped

¼

Cup

good Olive Oil

3

Tbs

lemon juice

2

tsp

grated lemon zest

Salt and pepper to taste
Instructions
Bring Quinoa and 3 cups of stock to a boil on the stove top, reduce to simmer, cover and cook for 10-15 minutes, until done. Quinoa is done when the water is gone. You may also cook quinoa in a rice cooker the same way that you would cook rice. Allow Quinoa to cool.

Combine all other ingredients with cooled quinoa and serve.
Nutrition Facts
Tasty Quinoa Salad
Amount Per Serving
Calories 180
* Percent Daily Values are based on a 2000 calorie diet.
And now for a post blog dessert.
Its funny how these food pictures take place. If you look around the web, you will see that what you imagine when you look at a picture is not always what is happening in the world of the photographer. For this photo shoot – I should have put my dog, Spooky, inside but it was a beautiful day and she wanted to be out with me. I have a very short lunch break and I knew I had to get the pictures during my lunch break – or wait until the weekend. So – here we are out on the deck – trying to take pictures of food. I got this shot of her eye balling the Quinoa salad – I had to shoo her away right after this shot – but thought you might enjoy seeing what happens "behind the scenes".