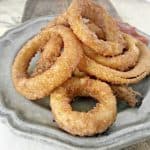 Print Recipe
How to Cut An Onion Into Rings
When you know how to cut an onion into rings, the WHOLE WIDE world of sandwiches, onion rings and salads is opened up to you! Try it today!
Remove the onion peel, cut a flat spot on the side of the peeled onion so that it is easy to hold the onion and it won't roll away.

Cut the stem away from the top of the onion.

Start cutting slices of onion through the equator of the onion, beginning at the stem end.

Cut slices all the way until you reach the root.

Separate the rings in the slices by pushing the ring through the large side

Repeat with another onion as needed.
Use fresh firm onions for your recipes, they are the freshest and best for cutting into rings!
If your recipe calls for a certain type of onion, use that type. Onions have a variety of flavors and your recipe is looking for just that flavor.
A properly cut onion ring will add a ton of flavor to your recipe. Make sure that the pieces are as evenly cut as you can make them so that all of the pieces are the same size. This will help give the right flavor your dish.
To separate the rings, you'll notice that one side of your onion is slightly larger than the other side, make sure to push the rings through the larger side.
PRO TIP: Cut a flat spot onto the bottom of your onion before you start to cut the slices, this will help keep your onion from rolling away while you are trying to cut it into rings.
Calories:
4
kcal
|
Carbohydrates:
1
g
|
Protein:
1
g
|
Fat:
1
g
|
Saturated Fat:
1
g
|
Sodium:
1
mg
|
Potassium:
16
mg
|
Fiber:
1
g
|
Sugar:
1
g
|
Vitamin C:
1
mg
|
Calcium:
3
mg
|
Iron:
1
mg