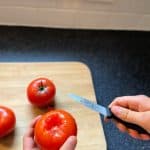 Print Recipe
How To Core a Tomato
When you know how to Core a Tomato a whole new cooking world opens up to you! . You'll be ready for sandwiches, salads and even freezing and canning!
Wash the tomato

Using a 4-5 inch blade paring knife (very sharp), point the blade beside the stem and cut down into the center of the tomato from the top stem area. Cut in a funnel shape around the stem.

When you have cut all the way around the stem, pull the center out. This is the core. It is white and hard.

Look down into the center of the tomato and see if you were able to cut out all of this white area.
Use fresh, plump ripe tomatoes for this project.
You'll want your knife to be very sharp so that you don't have to apply much pressure. Applying pressure to a tomato usually results in juice and seeds going everywhere.
Use a paring knife (small 4-5 inch long blade) for this job instead of a chefs knife.
Make sure to use a cutting board so that you don't mark up your other surfaces.
Hold the tomato down on a surface and go into the tomato from directly above the tomato, poke down about half way and cut in a funnel shape.
Calories:
7
kcal
|
Carbohydrates:
2
g
|
Protein:
1
g
|
Fat:
1
g
|
Saturated Fat:
1
g
|
Sodium:
2
mg
|
Potassium:
97
mg
|
Fiber:
1
g
|
Sugar:
1
g
|
Vitamin A:
342
IU
|
Vitamin C:
6
mg
|
Calcium:
4
mg
|
Iron:
1
mg