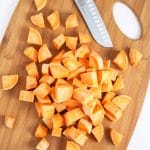 Print Recipe
How to Boil Sweet Potatoes
Sweet, Tender, Tasty and EASY to do (not to mention affordable)! Plus, shhhhhh, good for you! When you know how to boil sweet potatoes, you'll have a great intro for MANY terrific recipes staring this perfect, healthy, tasty treat!
Peel the sweet potatoes using a vegetable peeler or sharp knife. Cut the potato into cubes.

Place the sweet potato cubes into the sauce pan with the chicken stock and set stove to medium heat.

As the stock begins to boil, add the butter, brown sugar, honey, cinnamon, salt, cayenne and black pepper. Stir gently frequently. Add more stock if the liquid starts to cook off.

Continue to cook until you are able to pierce the sweet potato cubes easily with a fork.
Sweet potatoes are a HARD vegetable and you must be very careful cutting into cubes. It's important to have a very sharp knife for this job.
Cut the sweet potato into as even cubes as possible so that they cook evenly.
Sweet potatoes change colors slightly as they cook.
You will want to be able to gently push the tines of a fork completely through a cube of sweet potato to know that it is done.
Sweet Potato skins do NOT taste good and they are very fibrous. Most people do not enjoy eating them.
Substitutions:
OK to substitute water for the chicken stock to make vegetarian or if you do not have the chicken stock.
You can substitute margarine or vegan butter for butter if needed.
OK to substitute light brown sugar for dark or ¼ Cup Karo Syrup.
OK to substitute Agave nectar for honey
Calories:
305
kcal
|
Carbohydrates:
49
g
|
Protein:
3
g
|
Fat:
12
g
|
Saturated Fat:
7
g
|
Cholesterol:
31
mg
|
Sodium:
490
mg
|
Potassium:
478
mg
|
Fiber:
4
g
|
Sugar:
28
g
|
Vitamin A:
18798
IU
|
Vitamin C:
3
mg
|
Calcium:
61
mg
|
Iron:
1
mg