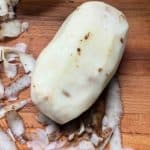 Print Recipe
How to Peel Potatoes
Fast, easy and ready in just minutes, knowing how to peel potatoes is important for many recipes! You'll be making mashed potatoes, potato salad and all kinds of great recipes once you know the secrets!
1

Potato

russet, red, yellow gold, baking, any type of potato
Wash the potato under running water. Rub off any eyes that have begun to grow out of the potato skin.

Use a peeler or small sharp kitchen knife to remove the skin of the potato. Leave as much of the potato flesh as possible.

Use the potato for whatever recipe you need. Best for boiling.
Larger potatoes are easier to peel because they have less curves, don't be discouraged with smaller potatoes, just keep working.
You can peel a potato with a small knife.
Make SURE that your knife is very sharp because attempting to peel a potato with a dull knife is dangerous and likely to end with cuts.
Washing the potato before starting to peel is imperative because as you peel, any lingering dirt on the potato is likely to end up on the peeled flesh.
Once you have peeled the potato, you can cut it up for boiling or cooking. Smaller pieces of potatoes cook faster. If you prefer to boil whole potatoes (particularly russet potatoes), once the potato is boiled and cooled, you can slip the skin off easily.
Calories:
164
kcal
|
Carbohydrates:
37
g
|
Protein:
4
g
|
Fat:
1
g
|
Saturated Fat:
1
g
|
Sodium:
13
mg
|
Potassium:
897
mg
|
Fiber:
5
g
|
Sugar:
2
g
|
Vitamin C:
42
mg
|
Calcium:
26
mg
|
Iron:
2
mg