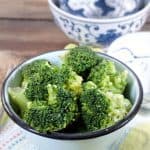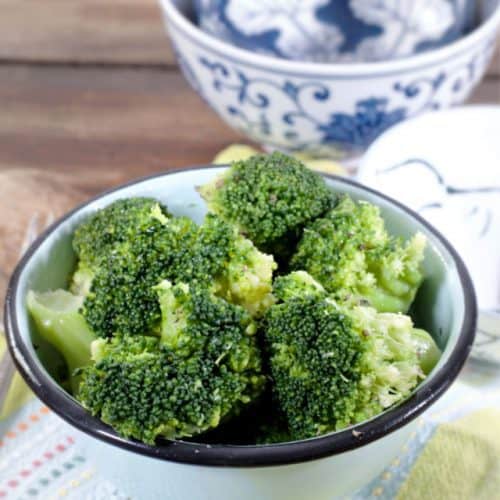 Print Recipe
HOW TO COOK FROZEN BROCCOLI
This recipe gives instructions for how to cook frozen broccoli and add a ton of flavor. If you want directions for microwave, roasting, stir frying, steaming or cooking in a skillet, please visit the post at www.loavesanddishes.net
Place the water in a medium sized saucepan on the stove top and heat over medium heat till boiling.

Add the butter, salt and pepper to the water.

Put the frozen broccoli into the water and allow water to come to a boil again.

Remove the broccoli using a large slotted spoon or a kitchen spider as it starts to boil.

Place in a bowl and sprinkle with the garlic powder and soy sauce.  Mix well and then taste. Add more salt and pepper as needed to taste.
Remove the broccoli just as it comes back to a boil. 
It is already cooked, we are essentially just heating it back up and adding flavor.
It is important to taste the broccoli and add the soy sauce and salt and pepper.
Lots of times frozen vegetables have no flavor at all.
You can substitute Worcestershire sauce for the soy sauce if you want.
Calories:
161
kcal
|
Carbohydrates:
11
g
|
Protein:
5
g
|
Fat:
12
g
|
Saturated Fat:
7
g
|
Cholesterol:
30
mg
|
Sodium:
1247
mg
|
Potassium:
499
mg
|
Fiber:
4
g
|
Sugar:
2
g
|
Vitamin A:
1300
IU
|
Vitamin C:
135.5
mg
|
Calcium:
82
mg
|
Iron:
1.4
mg