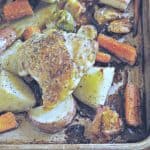 Print Recipe
One Pan Chicken and Veggies
A one pan chicken and potatoes dish that serves up crispy chicken skin, caramelized potatoes and carrots with brussel sprouts in the most amazing one pan dish that is ready in under an hour!
12

heads of brussel sprouts

trimmed – whole or halves

5

fist sized red potatoes – cut into 1 ½ inch pieces

in half and then in half the other way for typical sized potatoes

4

large shallots

peeled and halved

6

carrots cut into 2 inch pieces – halve the large ends lengthwise if thick.

6

large cloves of garlic – peeled and cut in half.

2

Tbs

vegetable oil

2

tsp

dried thyme – divided

2

tsp

dried rosemary – divided

½

tsp

red pepper flakes

1

tsp

onion powder

1

tsp

garlic powder

2

tsp

kosher salt

divided

2

tsp

pepper

divided

1

tsp

sugar

2

tbs

unsalted butter

3 ½

lbs

bone in

skin on chicken (we prefer thighs, but any will work) – trim off any large pieces of fat.
Adjust the oven rack to the upper-middle of the oven and preheat to 475

Cut all of your vegetables and place on a large sheet pan

To the veggies on the sheet pan, add 2 Tbs vegetable oil and then sprinkle on 1 tsp thyme, 1 tsp rosemary, 1/2 tsp red pepper flakes, all of the onion powder and garlic powder, 1 tsp kosher salt, 1 tsp pepper and 1 tsp sugar.

Using your hands, mix all of the spices, salt, oil and veggies together on the pan until everything is well coated

Arrange the veggies so that the brussel sprouts are in the middle with the cut side down

Dry the chicken pieces with a paper towel and lay them in the center of the baking sheet on top of the brussel sprouts with the skin side up and sprinkle the chicken evenly with ½ tsp salt and ½ tsp pepper.

Melt the butter in a coffee mug in the microwave. Once melted, Stir in as follows: ½ tsp salt, ½ tsp pepper, 1 tsp dried thyme, 1 tsp dried rosemary.

Using a Bar-B-Que brush, paint the chicken skins liberally with the butter mixture. If you have any left over, just pour it into the baking sheet pan.

Place in the baking sheet into the oven and bake at 475 for about 35 minutes. Use a meat thermometer to ensure that the chicken is cooked through. Dark meat should register 175. Breasts 160. When correct temp is reached, remove from the oven, transfer the chicken only to a serving platter, tent loosely with aluminum foil and rest for 5-10 minutes. When ready to serve, transfer the veggies to the platter with the chicken and toss the veggies in the pan juices.
Look for brussel sprouts that are 1 1/2 inches across or less.  The smaller ones taste better.
Search for brussel sprouts that are whole (not cut in half) and that look fresh and moist on the outer layers (not tried out and brownish).
Cut the carrots as described in the recipe, if you shortcut and cut into disks they will cook too quickly.
If you can't find or don't have shallots, it's ok to substitute 1 whole yellow sweet onion instead.  Cut it into quarters.
Some folks don't like dark meat, if you prefer white meat, use the one in chicken breasts.  You might have to adjust the cooking time some.
Make sure to place the items on the sheet pan as instructed so that everything cooks as it should.
If you want to line your pan with something, use aluminum foil and not parchment paper (parchment makes a mess). 
Supposing you don't want one of the vegetables, it is ok to just leave it out and substitute more of some vegetable you do want!