Admit it……
You have exactly 10 recipes in your dinner rotation and you are sick of them all!
You worked HARD preparing a delicious meal and your spouse dabbed a fork around the plate, ate a few bites and then said, "it's good honey". Liar.

You want to hear, "YOU are the GREATEST cook EVER!" (but you don't

want to spend hours in the kitchen).

You WANT serve food with BIG FLAVOR making DROOLWORTHY dinners EVERY TIME, but don't know where to start.
If any of this sounds like you, then you are in the right place! The REAL SOUTHERN COMFORT FOOD at Loaves and Dishes will have everyone BANGING THE TABLE for MORE !!!
"You Sure Know How to Make Things Delicious!"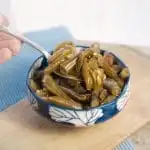 From Diane… "You sure know how to make a plain can of green beans taste delicious! Mom just rinsed then and heated them up with some water and butter. I never wanted to eat them as I only liked fresh green beans. You made them very palatable, so tasty and I'll be making my canned green beans like this forever!" Canned Green Beans
Wouldn't it be terrific to say those things tonight?
BUT JUST WHAT ABOUT WENDI SPRAKER?
HI! I'm Wendi Spraker and this is Loaves and Dishes. Unapologetic Southern Comfort Food is what you will find here.
I believe in the power of food. My recipes are REAL and have passion, flavor and love and I'll show you how to get the same results.
I invite you to my table to nourish both your body and soul.
This website started as a passionate hobby in 2014 and has turned into so much more.
I've been mastering southern comfort food recipes and cooking techniques for over 35 years. Now, through this website, I'm sharing what I've learned with you!
I want YOU to feel the pride of making REAL TASTY food!
I want YOU to hear shouts of "MORE MORE MORE!!!" (Forks banging on the table. Hungry look in their eyes.)
I want YOU to be a KITCHEN ROCKSTAR!!
BUT WHAT ARE YOUR CREDENTIALS?
People often ask about my education.
I hold a Master's Degree from Walden University in Nursing Leadership
Additionally, I hold a Bachelor's Degree in Biology from Maryville College.
Those are all ancient history and don't matter one twiddle in regards to this website however.
LOAVES AND DISHES HAS BEEN FEATURED IN...
ON THE LOCAL SCENE:
ON THE NATIONAL SCENE:
Loaves and Dishes LOVES....
Here is the REAL FOOD Loaves and Dishes members are cooking up RIGHT NOW:
AND HEY! GUESS WHAT? Look where we ARE!
FIND LOAVES AND DISHES MENTIONED ON BUZZFEED !!!
FIND LOAVES AND DISHES ON ELITE DAILY !!!
THE BEST WAY TO BE IN THE KNOW FIRST?
Sign up here to be on the newsletter and I'll send you a weekly HOT COOKING TIP!