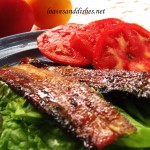 Print Recipe
Mouth Party Bacon!
A delicious bacon treat for special occasions or ANY occasion!
bowl

spatula

Frying Pan

Stove
8

slices

of Thick Cut Bacon

1/3

Cup

Dark Brown Sugar

1

tsp

course Black Pepper

1

tsp.

Sea Salt

½

tsp.

smoked Paprika

½

tsp.

Cumin

1/8

tsp.

Cayenne Pepper
Mix Dark Brown Sugar, Black Pepper, Sea Salt, Paprika, Cumin and Cayenne Pepper together in a bowl.

Rub slices of bacon with the seasoning mixture and then leave bacon in the bowl – cover bacon as much as possible with the remaining spice mix.

Allow Bacon to sit overnight in the refrigerator.

Fry on medium in non-stick or well seasoned cast iron skillet until dark brown and done

Remove to a plate – do not drain on a paper towel
Mix the spices together VERY WELL before packing onto the bacon. 
You'll want to actually pack the spices onto the bacon.  Pat them in with your hands.  This requires more than a simple dredge through the spices.  Say, "get in there spices" as you pat.  That always helps! 
Do NOT drain on paper towels.  Trust me – don't.  You will end up eating paper towel – and no one wants that.  The paper towel sticks to the bacon like an 800 pound gorilla clings to the last banana in the kitchen on a Saturday night.  Seriously.  You can't get the paper towel off and you also won't be able to throw the bacon away – so then you are stuck eating paper towel!
Make about three times as much of this stuff as you plan to serve.  People will say things like "that's just sinful, I can't eat any of that" and then you'll see great handfuls of the stuff going right in their mouth.  You'll need way more than you think you will. 
When cooking this recipe, make sure your pan is good and hot before putting the bacon into the pan.  You'll want a quick initial sear to set the flavor.
Wikipedia loves pig candy too. 
PRO TIP:  Use thick cut bacon.  It holds up to the spices very well and works best for sandwiches and other applications 
Calories:
258
kcal
|
Carbohydrates:
19
g
|
Protein:
6
g
|
Fat:
18
g
|
Saturated Fat:
6
g
|
Cholesterol:
29
mg
|
Sodium:
776
mg
|
Potassium:
137
mg
|
Fiber:
1
g
|
Sugar:
18
g
|
Vitamin A:
384
IU
|
Calcium:
21
mg
|
Iron:
1
mg