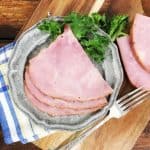 Print Recipe
How to Thaw Ham
Have ham frozen for the upcoming holidays? Family dinner and need to thaw the ham? Here's how to thaw ham, all kinds!
Method 1 (Refrigerator)
Remove the ham from the freezer.

Place a large serving platter in the refrigerator with a kitchen towel on top of it.

Lay the ham on top of the platter and towel.

Allow to thaw in the fridge for 3 days before cooking
Method 2 (cool water)
Fill a large container with cool water.

Wrap the ham in two layers of unscented trash bags

Lower the trash bags into the large container of cool water.

Change the water every 30 minutes.

Ham will thaw at a rate of 1lb per 30 minutes.
Plan ahead and place the ham into the fridge for about 3 days before you plan to use it.
Be SURE to put a plate or towel beneath the ham to collect any dripping juices as it thaws in the refrigerator.
Use the cool water method if you will need the ham more quickly.
Double bag the ham in an unscented garbage bag to keep the water out if you are thawing using the cool water method.
Use a VERY CLEAN cooler, sink or a plastic tub for thawing the ham with the cool water method.
Calories:
606
kcal
|
Protein:
54
g
|
Fat:
42
g
|
Saturated Fat:
15
g
|
Cholesterol:
155
mg
|
Sodium:
2961
mg
|
Potassium:
714
mg
|
Calcium:
17
mg
|
Iron:
2
mg