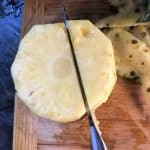 Print Recipe
How to Cut Up A Pineapple
FRESH PINEAPPLE IS THE BEST!!! Tangy, sweet, juicy PERFECT Pineapple is just moments away when you know how to cut up a pineapple. Never be a slave to highway robbery grocery store prices for cut fruit EVER AGAIN!
Cut the top off of the pineapple and set it aside.

Cut the bottom off of the pineapple and set it aside.

Set the pineapple upright on its now flat bottom. Using a large sharp chef's knife, cut down the sides of the pineapple to remove the bumpy exterior crust. Repeat all the way around.

Looking down at your pineapple, observe the round core in the center. Cut through the pineapple just to the right of the core. Slice all the way through the pineapple.

Turn the pineapple 45 degrees and repeat this cut. Repeat this until you have removed all of the pineapple meat from the core. Set the core aside.

Cut the pineapple pieces you have into long 1" strips and then cut into 1" chunks. A few pieces you may need to cut in half thickness-wise.
You'll find that pineapple is QUITE SLIPPERY when you start cutting it. Be very careful with a slippery pineapple and a sharp knife.
You can also cut the bottom off of the pineapple to make it flat to start cutting.
Make sure you get all of the core out of the pineapple because it is tough and not edible.
Bamboo kabob sticks are usually available at the grocery store.
PRO TIP: Pineapple is TERRIFIC grilled on the grill! Just paint the pineapple kabob with butter, sprinkle with brown sugar and cinnamon and a pinch of cayenne. You won't be sorry!
Calories:
75
kcal
|
Carbohydrates:
20
g
|
Protein:
1
g
|
Fat:
1
g
|
Saturated Fat:
1
g
|
Sodium:
2
mg
|
Potassium:
164
mg
|
Fiber:
2
g
|
Sugar:
15
g
|
Vitamin A:
87
IU
|
Vitamin C:
72
mg
|
Calcium:
20
mg
|
Iron:
1
mg