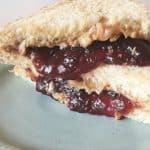 Print Recipe
Peanut Butter and Jelly Sandwich
Mind Blowing Creamy Peanut Butter with soft, sweet, drippy, sticky PERFECT jelly makes the BEST EVER PEANUT BUTTER AND JELLY SANDWICH!
2

slices

white bread

2

Tbs

Creamy Peanut Butter

2

Tbs

Strawberry Jam
Lay the pieces of white bread onto a paper towel

Scoop about 2 tbs of peanut butter from the jar and spread out over the entire face of both slices of white bread.

Scoop about 2 tbs of strawberry jam out of the jar and spread them out over the faces of both slices of bread on top of the peanut butter.

Put the two pieces of bread together with the peanut butter and jam facing each others.
I recommend white bread for this sandwich, but of course, if you prefer a grainy whole wheat or something else, then use that instead.
Strawberry Jam is the favorite for PB&J in this house, but the second best favored is grape jelly! Use whatever kind of jam or jelly that floats your own boat. You can even try honey or apple butter! Both are delicious!
For a fun twist, add some banana slices to your sandwich! Whoowee!
The important thing about PB&J is the ratio of peanut butter to jelly and that should be about 1 to 1 and you should spread it out ALL THE WAY TO THE EDGE of the bread.
Calories:
432
kcal
|
Carbohydrates:
58
g
|
Protein:
13
g
|
Fat:
18
g
|
Saturated Fat:
4
g
|
Sodium:
405
mg
|
Potassium:
265
mg
|
Fiber:
4
g
|
Sugar:
25
g
|
Vitamin C:
4
mg
|
Calcium:
144
mg
|
Iron:
3
mg