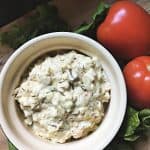 Print Recipe
How to Make Coleslaw From a Bag
Tangy, Crisp, Refreshing, Creamy, Crunchy, Sweet and a PERFECT SOUTHERN SIDE DISH! No overwhelming mayonnaise or sickening sweet goop! Just a fool proof recipe for homemade shredded coleslaw in how to make coleslaw from a bag.
When using a mix (or even when grating your own cabbage, you'll be tempted to add more mayonnaise because initially it looks VERY dry.
Don't be tempted to add more than the recipe calls for because as the coleslaw sits, the sugar and the salt draw water out of the cabbage and it becomes much more runny which isn't the best quality in a coleslaw.
Allow the coleslaw to sit for at least 2 hours for the flavors to meld, overnight is even better.
This coleslaw does have a slightly yellow color to it, that isn't a fault, that is the way it should be.
If you are thinking, "I don't like xxxx ingredients", please just give it a try because wowee, it tastes good together!
Substitutions:
Substitute the bagged coleslaw for an equivalent amount of cabbage and carrots (generally 1 head of cabbage and 3 large carrots). Grate of process in food process until they are very small pieces.
Raw sugar for the white sugar - equal amounts.
¼ tsp cayenne pepper for hot sauce.
½ tsp table salt for Kosher salt.
½ white onion, grated fine for the onion powder.
2 cloves garlic, grated on a zester for garlic powder.
Lemon Juice for Cider Vinegar.
Broccoli Slaw for Cabbage slaw.
Calories:
95
kcal
|
Carbohydrates:
6
g
|
Protein:
1
g
|
Fat:
8
g
|
Saturated Fat:
1
g
|
Cholesterol:
4
mg
|
Sodium:
260
mg
|
Potassium:
58
mg
|
Fiber:
1
g
|
Sugar:
4
g
|
Vitamin A:
35
IU
|
Vitamin C:
11
mg
|
Calcium:
14
mg
|
Iron:
1
mg