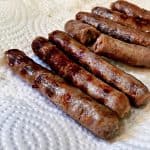 Print Recipe
How to Cook Breakfast Sausage Links
Lazy weekend mornings and punched up busy week day mornings are BOTH perfect for this herby pork taste and once you know how to cook breakfast sausage links, you'll be enjoying them all the time. WARNING, you can't eat just one!
Frying Pan

spatula

stove top
1

Tbs

vegetable oil

4

sausage links
Place a 9-10" frying pan onto the stove top and set the eye on medium heat. Pour in the vegetable Oil and allow the pan to come to temp. The pan is at the right temperature when the oil appears to glisten and shimmer on the surface.

Add the sausage links to the frying pan and cook until there is no longer pink in the sausage link. Remove to a paper towel lined plate and allow to drain for 2 minutes before serving. Serve hot.
The links tear easily, allow them to stay in one place for at least 3 minutes once you put them in the pan before you attempt to roll them to the other side. This allows the skin to cook and release from the pan. (or use a non stick pan).
If you feel your link is not cooking as quickly as you like, sprinkle a small amount of water onto the hot pan (no more than 1 tsp) and quickly cover the links with a pan lid. This will steam the link and cause it to cook more quickly. WARNING: sprinkling the water on the pan will cause spatter. Do not burn yourself,.
Plan for 3-4 links per person.
When cooking sausage links, do not crowd the pan because then the links will steam rather than fry.
If you are cooking a large number of links, set the oven on the lowest possible setting and put the links onto a paper towel lined oven proof tray once they are cooked to keep them warm.
Usually you do not have to add salt and pepper to sausage links because they are already filled with enough, but you be the judge of that.
Substitutions:
It's fine to substitute some other kind of oil, just choose something with an acceptable smoke point. Butter doesn't work well for this recipe. Olive oil is fine.
If you are using vegetarian sausage links, you'll want to use the water sprinkling method mentioned above.
Calories:
182
kcal
|
Protein:
6
g
|
Fat:
18
g
|
Saturated Fat:
9
g
|
Cholesterol:
29
mg
|
Sodium:
254
mg
|
Potassium:
99
mg
|
Vitamin A:
30
IU
|
Iron:
1
mg