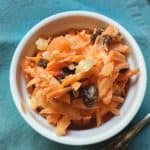 Print Recipe
Easy Carrot Raisin Salad Recipe (like Chick Fil A)
Fresh, sweet and just the right choice for an Easter Dinner or any spring and summer meal. You'll start whipping this up for every gathering and for your own lunches too when you see how easy it is! I'll show you how today and you'll think you are at Chick fil a!
Grater

bowls

measuring cups and spoons

Spatula or large spoon for stirring

plastic wrap
2

Cups

Fresh Carrots Shredded fine

about 3 carrots

⅓

Cup

Pineapple

drained and chopped small

½

C

raisins

¼

C

Dukes Mayonnaise

¼

Cup

White Granulated Sugar

¾

Tsp

fresh lemon juice

½

tsp

vanilla extract

don't use imitation

Kosher salt and pepper to taste

about ¼ tsp each
At least 30 minutes before making this recipe do the following: drain the juice from the pineapple and reserve it. Soak the raisins in the juice from the pineapple. Grate the carrots. Mix the sugar into the drained pineapple chunks. Then, put everything in the fridge and allow it to rest for 30 minutes

After 30 minutes in the fridge, remove everything from the fridge and pour off the liquid from the raisins and discard, pour off any collected juices from the carrots and discard. Drain the pineapples again and discard any juices.

Mix everything together well and cover and refrigerate until ready to serve. You may have to drain off more liquid before serving. Do so if it seems too soupy.
Only use fresh carrots for this recipe, the taste has more depth and the flavors will be right on cue.
You don't want this recipe to be soupy, so before mixing together, be sure to pour off any collected juices from the carrots, pineapples and raisins.
This recipe specifically calls for Dukes Mayo, if you can't find it, that's ok, just use the best mayo that you can find. Hellmans, Blue Plate and Aldi Brand are all fine to use.
Do not substitute Miracle Whip for the Mayo, that won't work.
If you need to make a substitute for the mayo, I would try a thick greek yogurt mixed with honey and salt, but frankly, it won't taste the same.
When removing the salad from the fridge, always be sure to give it a little stir before serving. It may settle and the carrots on top may want to dry a little, but a slight stir will fix all of that.
You CAN make this by simply mixing everything together, however, you will need to pour off more liquid at the end.
PRO TIP: This is one of those salads that gets better after it sits for 24 hours. If you are planning to take this to a gathering, make it a day ahead and WOW them every time!
Calories:
232
kcal
|
Carbohydrates:
35
g
|
Protein:
1
g
|
Fat:
11
g
|
Saturated Fat:
2
g
|
Cholesterol:
6
mg
|
Sodium:
138
mg
|
Potassium:
369
mg
|
Fiber:
3
g
|
Sugar:
17
g
|
Vitamin A:
10692
IU
|
Vitamin C:
12
mg
|
Calcium:
26
mg
|
Iron:
1
mg