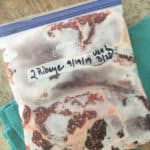 Print Recipe
How To Thaw A Steak Fast
Did you ever forget to take the steak out of the freezer and now it's almost dinner time and you are faced with the frozen pizza or running up the street to go through the drive thru? I've done it too. In fact, I did it today. That's why I'm going to share How to Thaw A Steak Fast with you! No need to miss that glorious steak dinner!
Equipment

large bowl

Zip lock type bag
Place the steak into a zip lock type bag. Remove as much air as possible and zip closed.

Run room temperature water into a large bowl.

Place the bagged steak into the water and submerge. If the steak wants to float, submerge with a plate, bowl or something heavy.

Check the steak in 15 minutes and change the water if it has cooled substantially.

Repeat until the steak has thawed
Make sure the steak is sealed in a zip lock type plastic bag and as much of the air is removed as possible. This helps the warmth of the water to defrost the steak as quickly as possible.
If there is more than one steak stuck together, as soon as you can break them apart, do so and then keep them in one layer for defrosting.
If water gets into your bag, don't worry. Just pour it out as quickly as possible and then seal it back up and keep allowing it to defrost,.
Proceed with seasoning the steak when it is thawed completely.
If the steak is already in a vacuum sealed bag, just place that into the water.
Supposing you froze your steak in the styrofoam plate that it came from the store in, place the entire package into a zip bag and float upside down in the water. Check every 10 minutes or so and as soon as you are able to remove the packaging, do so, return to the zip bag and continue thawing.
Calories:
943
kcal
|
Protein:
91
g
|
Fat:
64
g
|
Saturated Fat:
29
g
|
Cholesterol:
277
mg
|
Sodium:
236
mg
|
Potassium:
1216
mg
|
Vitamin A:
68
IU
|
Calcium:
32
mg
|
Iron:
8
mg