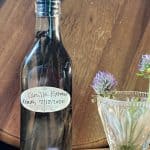 Print Recipe
How to Make Vanilla Extract Recipe
Ever wonder how to save money on Vanilla Extract? It's EASY! Just two simple ingredients and you'll have enough vanilla to last for an entire year at pennies on the dollar too! I'll show you how to make vanilla extract in no time at all!
8 oz glass jar or bottle

Liquid measure

sharp knife

cutting board

whisk
6

vanilla beans

8

oz

80 Proof Alcohol
Using a sharp knife, cut the vanilla bean lengthwise in half exposing the seeds on the inside of the pod.

Use the sharp edge of your knife to scrape the seeds out of the pods. Put the seeds into your liquid measure. Place the pods into the jar you will be using.

Pour 8 oz of 80proof alcohol into the liquid measure and use a small whisk to whisk the seeds and the alcohol together using the whisk to break up the clumps.

Pour the alcohol into your jar over the pods.

Seal the jar tightly, label and make sure to indicate what date it is ok to use the vanilla (2-6 months from now).
Before starting, note if the beans are hard or soft. They should be soft and supple. If you note that they are hard, soak in warm water for 15 minutes or so first before trying to take the seeds out of the beans.
Many people use a funnel to pour the alcohol into the jar, but I find that using a liquid measure to pour into the jar works just fine plus, it allows me to measure the exact quantity that I need.
When you scrape the seeds from inside the beans, you'll notice that they want to clump together. You may want to mix the alcohol and the seeds together and then use a whisk to break them up before pouring into the jar. That method seems to work best for me.
It isn't necessary for the beans to stand straight up in the bottle, it's just necessary that the pods be in there, so if you don't have a tall bottle, you can use a short one, just bend the beans in half and poke them in there.
Usually I advise you to use alcohol that you would drink in recipes, but in this case, that really isn't necessary. You won't really be tasting the alcohol so, for once, I am promoting using the less expensive variety of alcohol!
PROTIP: For a nice presentation, when you split the beans, leave them attached at the top so that the whole beans stays together when you put it in the jar.
Calories:
9
kcal
|
Carbohydrates:
1
g
|
Fat:
1
g
|
Sodium:
1
mg