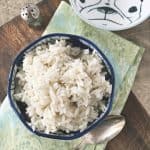 Print Recipe
How To Cook Minute Rice
Fluffy, white, perfect rice in minutes every single time! That's what you want, right? Let me show you how to cook minute rice and you'll never wonder how to achieve perfect rice ever again!
2

Cups

Chicken Broth

1

tsp

garlic

minced

1

tbs

butter

1

tsp

kosher salt

1

tsp

ground black pepper

2

Cups

Minute Rice
Heat broth in a medium sauce pan on the stove top over high heat until boiling. While heating, add the garlic, butter, salt and pepper.

Once boiling, cut off the heat, remove the sauce pan from the eye, add the minute rice and place a lid on top. Wait 5 minutes (no peeking). Remove lid and fluffy rice with fork. Serve hot.
Have your water and your rice pre measured before you start cooking. You don't want to be caught with boiling water and no rice to put in! That could cause you to lose water to evaporation and make your rice dry!
Pre-flavor your rice by adding flavors to the cooking water. This helps cook the flavors right into the rice itself.
If it is time for your rice to be finished, but it still seems soupy, just put the lid back on and turn the stove eye back on for 30 secs to 1 minute and then turn the heat off.
Leave the lid on for 1-2 minutes and recheck. If still soupy, repeat. Otherwise, fluff with a fork and proceed.
If your rice is done and you find that it is too dry and crunchy, add a little more liquid (like ¼ cup), stir well, turn the burner back on for 30 secs to 1 minute, put the lid on. After 30 secs, turn the heat off but leave the lid on for a minute or two. Check the rice. You may need to repeat.
Stay right by your pan when you put the water on to boil. As soon as it is boiling, add the minute rice and cover the pan. Have your lid ready.
Salt is an essential ingredient. Try to add the salt to the cooking water. This makes a huge difference in the flavor of your rice!
The package instructions simply call for adding water and salt, no other ingredients are needed to make basic minute rice. I am giving you the recipe for how to make this rice taste great!
Serving:
12
cup
|
Calories:
197
kcal
|
Carbohydrates:
36
g
|
Protein:
4
g
|
Fat:
4
g
|
Saturated Fat:
2
g
|
Cholesterol:
8
mg
|
Sodium:
1041
mg
|
Potassium:
106
mg
|
Fiber:
1
g
|
Sugar:
1
g
|
Vitamin A:
89
IU
|
Vitamin C:
8
mg
|
Calcium:
17
mg
|
Iron:
3
mg