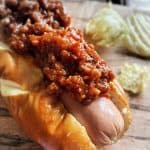 Print Recipe
South Carolina Hot Dog Chili Recipe
Sweet, Tangy, Meaty and the perfect mix of spices to light up a South Carolina barbecue (or any state, really!). Add some mustard, onions and slaw and you'll be having this South Carolina Hot Dog Chili Recipe "ALL THE WAY". You can make it at home so easily, I'll show you how!
2

Tbs

vegetable oil

olive oil works too

1

lb

ground beef

⅓

cup

broth

4

oz

tomato paste

½

cup

ketchup

2

tsp

chili powder

½

tsp

salt

½

tsp

pepper

1

tsp

brown sugar

2

tsp

onion powder

2

tsp

garlic powder

1

tbs

Worcestershire

1

Tbs

fish sauce

1

Tbs

cider vinegar
In a large skillet on the stovetop over medium heat, pour the oil into the pan (if your ground beef is very lean, if it isn't, you can skip the oil part). Break up the ground beef as you remove it from the package into the pan with your fingers. Cook ground beef till just past pink breaking it into fine pieces with a potato masher.

Once the beef is just past pink, add all of the other ingredients and stir well. You can serve this immediately, but the flavor will deepen if you allow it to simmer for just a bit. This may mean that you need to add a little more of the stock to loosen the consistency.

Serve over grilled quality hot dogs with toasted buns.
You will definitely want the ground beef broken up very fine. You CAN do this by continually chopping the meat while it is browning, but that isn't any fun! Instead, just use a potato masher and give it a couple of whacks with that. You'll be done with that job in a matter of minutes.
Think about if you like for your hot dog chili to have a sweet tang to it? If so, use a little more brown sugar, if not, use less. Remember that the ketchup already has sugar in it and will add some sweetness to the dish.
One thing that I never enjoy about canned hot dog chili is that the meat tastes overcooked usually (probably because it is). Don't do that to your own hot dog chili!
Instead, only brown it until most of the pink is gone. The meat will finish cooking as you add the other ingredients and won't over cook that way.
Of course, if you prefer to use fresh garlic or onions, that works fine here. I'm writing this recipe while we have a world wide demic happening and don't have those ingredients available to me at the moment. The powders work just fine.
Follow the basic ingredients list and if the final chili is thicker than you want, add a little extra broth (like ¼ C at a time) to thin it to the desired consistency.
PRO TIP: The fish sauce and the cider vinegar in this recipe really are the secret ingredients! You should try to add them if you can. You won't taste fish because of the fish sauce, it simply adds umami and THAT is a flavor you want!
Calories:
142
kcal
|
Carbohydrates:
6
g
|
Protein:
7
g
|
Fat:
10
g
|
Saturated Fat:
5
g
|
Cholesterol:
27
mg
|
Sodium:
453
mg
|
Potassium:
264
mg
|
Fiber:
1
g
|
Sugar:
4
g
|
Vitamin A:
343
IU
|
Vitamin C:
3
mg
|
Calcium:
16
mg
|
Iron:
1
mg