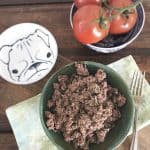 Print Recipe
How To Break Up Ground Beef
Ever wondered how to get fine crumbles of ground beef for things like tacos, hot dog chili or nachos? It's EASY and you can do it without any problem! No need to stand around chipping away with a wooden spoon or spatula, it only takes a minute or two and I'll show you how to break up ground beef today!
Frying Pan

potato masher

Spatula or wooden spoon.

stove top
In a frying pan set over medium heat on the stove top, add oil to the pan if your ground beef is very low fat. Use your fingers to break up and pull off pieces of the ground beef chunk and put into the pan.

Once the ground beef is all added to the pan, use a potato masher to mash and break up the ground beef into fine and small pieces. Repeat this as the ground beef cooks.

Once the ground beef is just past the pink part, add ½ tsp salt, taste. Add the remainder if the ground beef needs it.

Turn off the heat and proceed with whatever recipe you plan to use finely crumbled ground beef for.
For less grease in the final product, use a leaner hamburger to start with. The FRACTION tells you how much fat is in the hamburger. Choose one with a larger FIRST number such as 80/20 or 90/10 for less grease.
Be sure to drain the hamburger well before using in your recipe.
If you do not have a potato mashing tool, use a meat pounder or wash a can of soup very well and then use that instead.
Add salt to your ground beef before using it in your recipe, this will lend a lot of flavor to your recipe.
Calories:
350
kcal
|
Protein:
19
g
|
Fat:
30
g
|
Saturated Fat:
9
g
|
Cholesterol:
81
mg
|
Sodium:
657
mg
|
Potassium:
306
mg
|
Calcium:
20
mg
|
Iron:
2
mg