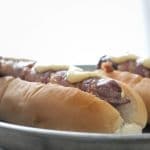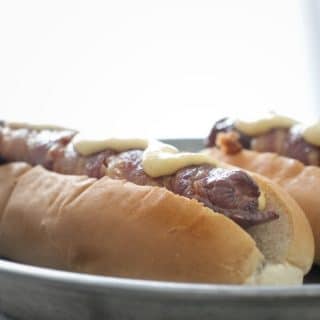 Print Recipe
How To Freeze and Thaw Hot Dog Buns
Every time we have hot dogs, there are left over buns and it's so wasteful to throw them out. Today I'll show you how to freeze hot dog buns in minutes so that you never waste another one! It's EASY and takes just a few minutes!
plastic wrap

Zip lock type bag

Sharpie marker

freezer
Wrap the hot dog bun in plastic wrap and place it inside of a freezer safe zip top gallon size bag. Repeat this process for each hot dog bun.

Squeeze as much air out of the bag as possible.

Write today's date, "Hot Dog Buns" and Use By (date 3 months from now) on the bag with a sharpie marker.

Place into the freezer for use next time.
Wrap the buns individually and then place them in a freezer safe bag, this helps to protect the buns from the harsh conditions in the freezer.
Make sure to use a freezer safe bag for the buns! A typical storage bag doesn't offer enough protection in the cold cold deep freeze!
Freeze the buns as soon as you know that you have left overs. Stale buns that are frozen will still be stale when they come out of the freezer.
To thaw the hot dog buns, simply lay them out on the counter the day you plan to use them or use one of the methods I discuss above.
Calories:
118
kcal
|
Carbohydrates:
21
g
|
Protein:
4
g
|
Fat:
2
g
|
Saturated Fat:
1
g
|
Sodium:
213
mg
|
Potassium:
54
mg
|
Fiber:
1
g
|
Sugar:
3
g
|
Calcium:
74
mg
|
Iron:
1
mg