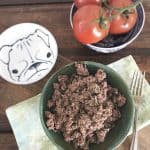 Print Recipe
How to cook ground beef for spaghetti
Delicious hearty, and super easy spaghetti! Your family will be begging for more of this amazing spaghetti. It will be everyone's favorite.
Frying Pan

wooden spoon

stove top
1

lb

Ground Beef

1

tsp

Kosher Salt

½

tsp

Ground Black Pepper
Put ground beef in the frying pan and turn the heat on medium. Start breaking up the ground beef into small crumbles or whatever size crumble you prefer.

Season the beef with salt, pepper or whatever seasonings you prefer.

As soon as there is no more pink color showing, remove the beef from the heat and add your spaghetti sauce and proceed with your sauce recipe.
Make sure you season your meat! If you aren't sure if there is enough seasoning then give it a taste.
Remove the meat AS SOON as the pink color is gone. This will keep your meat from getting dried out. Don't over cook your beef!
You don't need oil to cook ground beef. Just put it in a pan and turn the heat on. The fat from the beef will help to keep it from sticking and help keep it moist.
You can cook beef in the oven, just line a baking sheet and break the beef up. Cook at 425 for 15 minutes.
Always check the fat content on the beef packaging. Different fat contents are good for different things.
PRO TIP: Pro Tip Don't drain all the excess fat. Keep some for extra beefy flavor!
Calories:
289
kcal
|
Carbohydrates:
1
g
|
Protein:
19
g
|
Fat:
23
g
|
Saturated Fat:
9
g
|
Cholesterol:
81
mg
|
Sodium:
657
mg
|
Potassium:
306
mg
|
Fiber:
1
g
|
Sugar:
1
g
|
Calcium:
20
mg
|
Iron:
2
mg