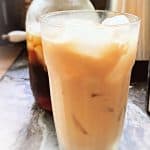 Print Recipe
How To Make Vanilla Iced Coffee
Refreshing, creamy, lite and SO EASY to make that you'll be wondering why you have been paying so much for a Starbucks Iced Vanilla Latte or a McDonald's Iced Vanilla Coffee! Just a few easy steps in how to make vanilla iced coffee and you'll be brewing your iced coffee recipe in no time at all!
2

Cups

Ice

maybe more depending on your coffee cooling method.

1 ½

Cups

Coffee

cooled, fresh, maybe more or less depending on the size of your iced coffee cup.

2

Tbs

Vanilla Syrup

more or less depending on your preference.

3

Tbs

Whole Milk

more or less depending on preference.
Fill a tall drinking glass completely with ice. Fill glass half way with cooled coffee.

Add the vanilla syrup to the glass.

Fill to 1 inch below the glass rim with more cooled coffee.

Add the milk.

Stir and enjoy!
Use fresh coffee for this recipe.
If you know that you are going to be drinking iced coffee throughout the day, brew an extra pot in the morning and put it in a pitcher in the refrigerator for yourself to drink out of. Make sure to use fresh coffee each day.
Not sure if you will be wanting some throughout the day? Then just brew one cup at a time (hello keurig users) and use the quick cool method of pouring over fresh ice in a mason jar and giving it a good shake.
If you need your iced coffee sweeter than listed, do not simply add sugar to the cup.
Melt sugar in an equal amount of water heated a little on the stove or in the microwave (only heat enough so that the sugar will dissolve).
Use a quality whole milk for maximum creaminess in your coffee, but don't use cream. It's too thick and wants to cling to your lips when you drink it in a greasy type of film.
This recipe requires quite a lot of ice if you are chilling your coffee by that method. Just be forewarned.
PRO TIP: For coffee that doesn't water down as the ice melts, make ice cubes out of coffee to use for your iced coffee!
Ways to Cool Fresh Brewed Hot Coffee:
Pour freshly brewed coffee into a large container (with a lid) of ice (work quickly so that the ice doesn't all melt into your coffee). Put the lid on and give it a good shake for 10 seconds. Pour the coffee immediately into your iced coffee cup.
In the same vein, if you don't have a container with a lid, prepare two large cups of ice. Pour the fresh coffee back and forth between the two cups 2-3 times to quickly cool the coffee and then pour over the ice you have prepared for your drink.
Brew fresh coffee in the morning and place it right into the fridge. Use it for your iced coffee within 4 hours.
Allow fresh coffee to cool slightly, pour it into a mason jar, put the lid on and place it into the freezer laying on it's side (more surface area is exposed to the cold freezer this way). Pack a zip lock bag filled with ice cubes around the mason jar. Allow to cool in the freezer. DO NOT FORGET ABOUT IT! (ask me how I know). Check every 30 minutes until chilled.
Calories:
139
kcal
|
Carbohydrates:
31
g
|
Protein:
2
g
|
Fat:
2
g
|
Saturated Fat:
1
g
|
Cholesterol:
5
mg
|
Sodium:
73
mg
|
Potassium:
234
mg
|
Sugar:
32
g
|
Vitamin A:
73
IU
|
Calcium:
65
mg
|
Iron:
1
mg