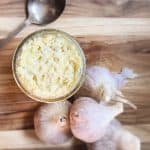 Print Recipe
Garlic Ginger Paste
Bright, tangy and just the right umph to add to your favorite dishes, this garlic ginger paste brings the FLAVOR and will be your new secret ingredient!
Peel the ginger and the garlic.

Add all ingredients to a food processor and pulse until the garlic and ginger are finely minced. If the paste looks too dry or is balling up in the processor, add a little more oil.

Place into a sealable container and keep refrigerated for use in any dish that you might use minced garlic.
You'll want equal amounts of garlic and ginger. To achieve this, you could weigh them or just "eyeball it" which is what I do.
After you have made this a number of times, you'll find that sometimes ginger is more wet than others, just adjust your olive oil amount to make it as loose as you like.
This recipe calls for kosher salt which has a larger grain than table salt. If you are using table salt, reduce the amount by at least ½.
No food processor? Use a blender or other type of food chopper. If you have neither of these, use a microplane or the finest side of a box grater.
Try this paste for any recipe where you would use minced garlic. The ginger gives a real fresh boost to the flavor of just plain garlic alone.
Calories:
27
kcal
|
Carbohydrates:
4
g
|
Protein:
1
g
|
Fat:
1
g
|
Saturated Fat:
1
g
|
Sodium:
196
mg
|
Potassium:
58
mg
|
Fiber:
1
g
|
Sugar:
1
g
|
Vitamin C:
3
mg
|
Calcium:
14
mg
|
Iron:
1
mg