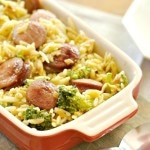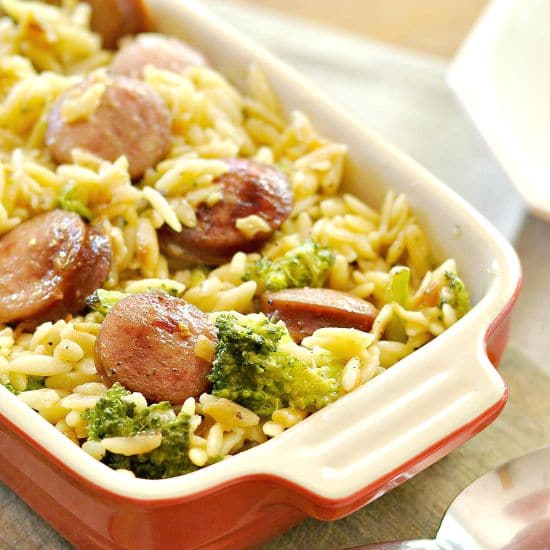 Print Recipe
Smoked Sausage and Cheesy Orzo
This is a recipe for Smoked Sausage and Cheesy Orzo kind of like a grown up version of hot dogs and macaroni - only with smoked sausage and orzo. Get it?
1 ½

Cups

uncooked Orzo

about 3 cups if already cooked

2

tbs

vegetable or olive oil

1

small onion

1

clove

garlic

½

green bell pepper

1

cup

bite sized broccoli florets

1

package of Smoked Sausage

about 16 oz, typically

Salt and pepper to taste

1/3

cup

milk

1 ½

cups

shredded cheddar cheese
In a large sauce pot, bring 3 quarts of water to a boil and cook the orzo per the package instructions. Don't forget to salt the water. If you want to do something unconventional and be like me, drop the broccoli florets into the boiling pasta water for about 3 minutes while the pasta is cooking. This precooks the broccoli to just the right softness for the dish – and then you don't have to wait for them to cook in the frying pan later. Dip them out with a slotted spoon when they turn bright green and set them aside.

While the pasta and broccoli are cooking, dice up the onion, bell pepper and mince the garlic. Cut the sausage into disks – about ½ inch thick. Heat a large skillet with the oil on medium heat on the stove top. When the oil is hot, add the onion and bell pepper and cook until the onion is translucent. Add the garlic and the sausage. While this cooks, the orzo should be about ready. Drain the orzo per package instructions and set aside until the sausage is browned.

When the sausage is browned, add the orzo and the pre-cooked broccoli to the skilled and cut the heat to medium low. Add the cheese and the milk. Salt and pepper to taste. You can then serve from the frying pan or turn out into a baking dish to serve.