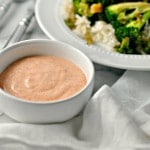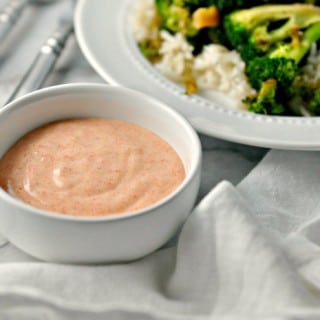 Print Recipe
Shrimp Sauce Yum Yum Sauce
This delicious recipe for Shrimp Sauce Yum Yum Sauce will have you believing that you are sitting at the finest Japanese restaurant.
Mix all ingredients in a bowl – may add extra sugar to taste. Allow to sit in refrigerator for at least an hour before serving so that flavors can meld.

Special tips and recipes JUST FOR EMAIL subscribers. Look for the red and white banner "Subscribe" now on the Loaves and Dishes website
You might want to add a tiny bit more sugar – according to your tastes.  You be the boss in your kitchen!
Use a whisk to combine the ingredients, you'll be much more satisfied with how smooth the resulting sauce is.
If you are concerned about this being too hot, first let me assure you, it isn't hot.  The spices that you normally associate with "heat" are simply flavor in this recipe.
Don't limit yourself to JUST Japanese food with this sauce, you can put it on EVERYTHING!
Just so you know, this recipe is the same as Shrimp Sauce and Japanese White Sauce - they just have different names depending on what restaurant you are in and who you are talking to.
PRO TIP:  Allow this sauce to sit in the refrigerator for at LEAST an hour before serving.  This gives the ingredients time to meld!
Calories:
422
kcal
|
Carbohydrates:
10
g
|
Protein:
1
g
|
Fat:
42
g
|
Saturated Fat:
6
g
|
Cholesterol:
23
mg
|
Sodium:
800
mg
|
Potassium:
92
mg
|
Sugar:
8
g
|
Vitamin A:
580
IU
|
Vitamin C:
1.1
mg
|
Calcium:
9
mg
|
Iron:
0.4
mg