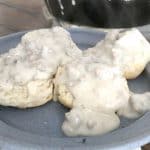 Print Recipe
SAWMILL GRAVY
Resistance is futile, give up now. Sawmill gravy is the answer to your weekend breakfast dilemma. No matter what the dilemma is, sawmill gravy will make it better!
Cook the sausage in a 9-10" skillet over medium heat on the stove top.  Break the meat up into small pieces as you cook it.

After the sausage is done, pour off the grease leaving just a small amount in the pan.  It's fine to leave the sausage in the pan if you are going to use it in your gravy.

Add the flour by sprinkling it over the top of the sausage. Cook the flour over medium heat for 1-2 minutes with the sausage in the dry pan.

Add the milk all at once and use your wooden spoon to scrape the bits of meat and stuck on pieces from the bottom of the pan.

Stir continuously, scraping the sides and bottom of the pan while stirring.  Continue this until the gravy is as thick as you like it. The longer it cooks the thicker it will get.  It will get slightly thicker once you remove it from the burner. If the gravy starts to boil and spatter, turn the heat down and keep stirring.
Have all of your ingredients ready when you start because once the milk is added you must stir stir stir till its' done'.
If you have a lot of grease left after cooking the sausage (or whatever meat you choose to use), then pour that off.
When you add the flour, allow it to cook in the dry pan for 1-2 minutes to get the flour taste out.
Add the milk and scrape up any of the meat bits that are stuck to the bottom of the pan.
As the milk thickens and cooks, you'll note that some of it wants to cling to the side of the pan.  
Use your spoon to scrape that off and add it back to the gravy regularly.
You can cook the gravy to be as thick as you want it.  
If you like it thicker, just cook it a little longer.
Note that the gravy will thicken a little as it cools.