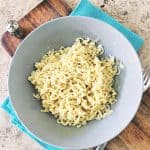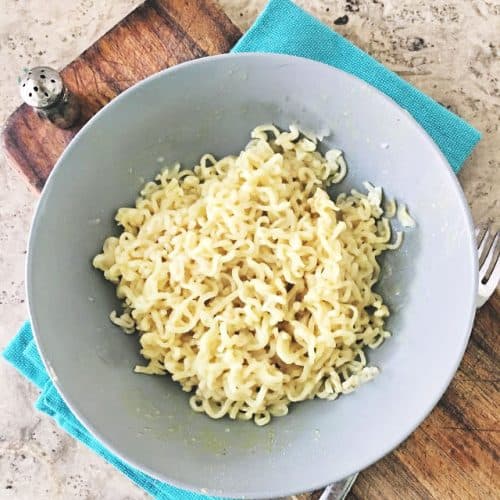 Print Recipe
How To Microwave Ramen
This FAST EASY recipe will have you sitting down to a CHEAP and DELICIOUS meal in minutes!
1

Package of Ramen Noodles

½

Cup

Water

1

flavoring packet

1

Tbs

butter

Salt and pepper to taste
Before opening the package of ramen, break the noodles up and then pour them into a microwave safe bowl.

Pour ½ Cup water over the broken noodles.

Microwave for 1 minute and then repeat in 30 second intervals until steaming hot and noodles are soft.

While hot, add the flavoring packet and the butter. Stir. Add salt and pepper to taste.
***If you have never made ramen before, you need to know that there is a small foil pack with flavorings inside of it and it will be inside the package of your Ramen Noodles.  Do not microwave this foil material***
Make sure to stir the ramen between each session of microwaving.
To add a lot of flavor to your ramen, try using broth instead of water.
Add toppings such as cooked veggies like carrots or broccoli. Add scallions to the top for flavor. You can also add chunks of meat or boiled egg.
If you are concerned about using the enclosed flavorings, you can make your own as follows:
½ tsp onion powder
½ tsp garlic powder
¼ tsp sugar
¼ tsp cayenne pepper
Pinch of salt
Pinch of pepper
1 Tbs soy sauce
*Be sure to add the butter though.
These ramen noodles are really good with a bright green flavor added in like fresh cut scallions, fresh parsley or chives.
Calories:
106
kcal
|
Carbohydrates:
1
g
|
Protein:
1
g
|
Fat:
12
g
|
Saturated Fat:
7
g
|
Cholesterol:
31
mg
|
Sodium:
128
mg
|
Sugar:
1
g
|
Vitamin A:
355
IU