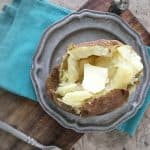 Print Recipe
How to Microwave a Baked Potato
Fluffy, hot, soft and perfect! Tender and cooked through Every single time!
Wash the potato well to remove any dirt and debris.

Using a fork, poke holes in the potato with the fork tines 3-4 times on one side and then again on the other side.

Wet the paper towel with the water and squeeze out any extra water. Wrap the damp paper towel around the potato.

With a towel between your hand and the potato, give the potato a squeeze. If the sides give easily then the potato is done. If the potato remains hard to the squeeze, microwave in 1 minute bursts until the potato gives easily.
Remember that all microwaves are not created equal and yours may take longer or fewer minutes to cook the potato.
Baking potatoes come in all sizes. If yours is smaller than 4 inches or more than 5 inches you'll need to adjust the baking time as LESS for smaller and MORE for bigger.
You can easily bake several potatoes at the same time using this method. Use the chart in this post to help you decide how long to set your microwave.
If you would like a crispy skin, heat the broiler on your oven, paint the potato skin with melted butter and brush on the potato. Broil at high for 3-5 minutes until skin is crispy.
Top your potato with any number of yummy toppings, but start with butter, salt and pepper.
PRO TIP:  To get that perfect opening steakhouse slice across the top of your potato, use the edge of a fork tine rather than a knife! It will be fluffy and perfect, just like a TV commercial! 
Calories:
358
kcal
|
Carbohydrates:
82
g
|
Protein:
10
g
|
Fat:
1
g
|
Saturated Fat:
1
g
|
Sodium:
26
mg
|
Potassium:
1891
mg
|
Fiber:
6
g
|
Sugar:
3
g
|
Vitamin C:
26
mg
|
Calcium:
59
mg
|
Iron:
4
mg