Fluffy, hot, soft and perfect! Tender and cooked through Every single time! Soon, you'll know how to microwave a baked potato.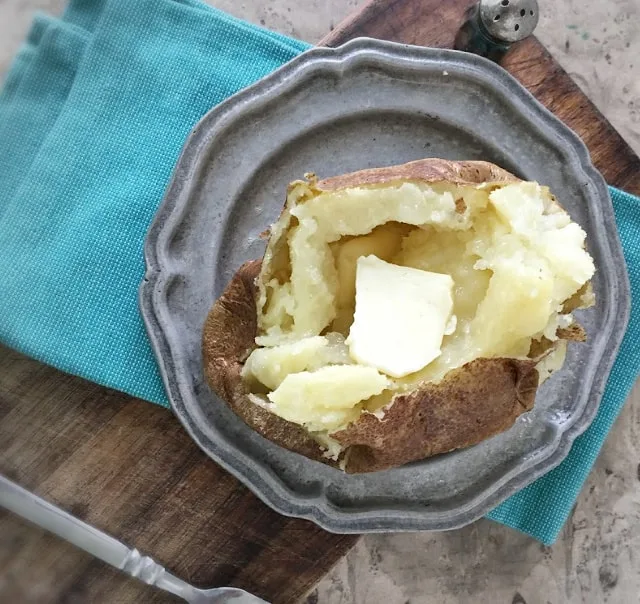 Why This Recipe Works
Fast
Easy
Cheap
Makes a PERFECT Microwave Baked Potato Every Single Time!
Here's How It's Done
STEP 1.
Wash the potato and poke holes in the sides with a fork 3-4 times per side.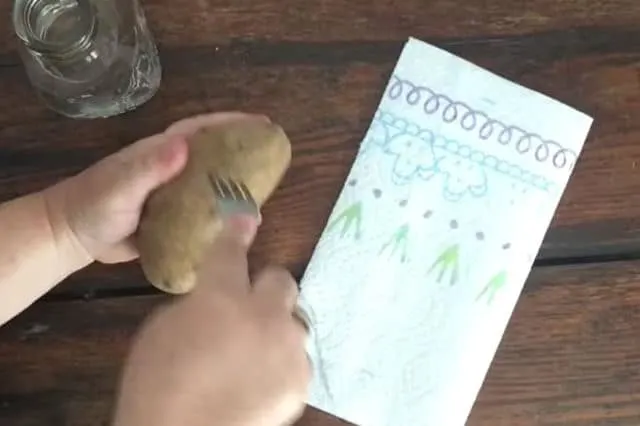 STEP 2.
Wrap in a damp paper towel and Microwave for 4 Minutes on one side, flip it over and then do another 3 minutes and then allow to rest for 1 minute. *** Cooking times may vary based on the wattage of your microwave***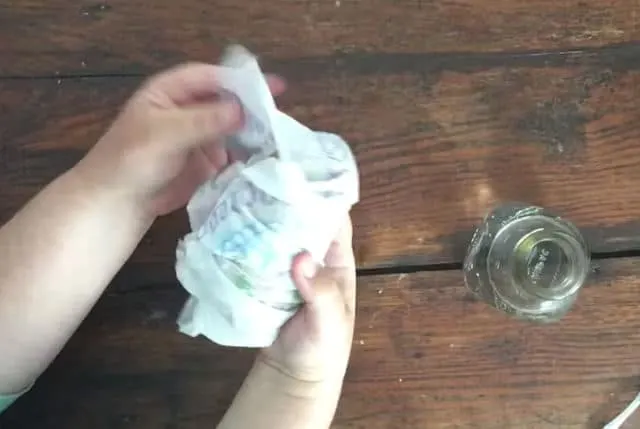 STEP 3.
Give the potato a little squeeze and poke with a fork. If the sides give easily and the fork slides in without resistance, then it is ready to eat! If it still feels hard at all, microwave in 1 minute intervals until soft.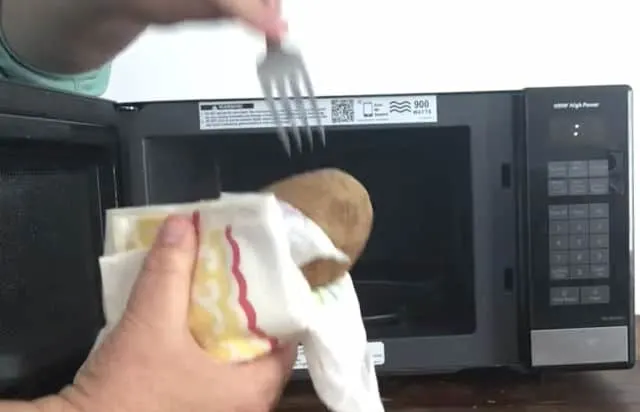 What Goes With a Baked Potato?
Everyone loves a baked potato with a perfectly marinated pork chop. How about trying some broccoli on the side? We all love a great glass of iced tea!
Frequently Asked Questions (FAQ's)
How To Microwave A Baked Potato?
Wash

potato

, poke holes 3-4 times per side with fork.

Microwave potato

for 4 minutes, turn it over,

microwave

for another 3 minutes.

Allow

potato

to rest in

microwave

1 minute, using towel over your hand, squeeze

potato, poke with fork

, if it is soft and gives easily, it is done. If not, then

microwave

in 1 minute bursts till soft.
PRO TIP: *** Cooking times may vary based on the wattage of your microwave***
Is It Safe to Microwave a Potato?
Yes! Absolutely it is safe to microwave a potato! First poke the holes in the side to allow gas to escape.
What Else Can I Do With Baked Potatoes?
We LOVE to make baked potato casserole at our house! We also love to chop up the leftover baked potato very small and make hash browns! So simple and easy!
What Kind Of Potato Do I Use for Microwave Baked Potato?
Use any type of potato, most people prefer a Russet Potato (also known as the Idaho Potato). The red potatoes and yellow potatoes have a waxy consistency, but you might like that better!
How Many Potatoes Can I Microwave At Once?
You can microwave as many potatoes as your microwave will hold in a single layer on the microwave disk. However, YOU WILL have to increase the cooking time.
What Size Potato Do I Microwave?
For a baked potato, you'll want a single potato that is about ½ pound. You'll find them in the grocery listed as baking potatoes. Go for the ones that are 4-5 inches long. That's about right for dinner with other items on the plate.
How to Get a Crispy Skin on a Microwave Baked Potato?
To get a crispy skin on a microwave baked potato, after microwaving the baked potato, rub the baked potato with butter or paint melted butter on the skin with a kitchen brush. Place potato under the broiler set at "Hi" for 3-5 minutes. This will make a delightful crispy skin.
Should I Microwave My Potato Wrapped in Foil?
NO! Don't do that! You'll have a real fireworks show on your hands. Save the foil for the oven and do not use it in the microwave.
Do I HAVE to wrap the potato in a paper towel first?
No, you don't have to and your potato will still be cooked. The damp paper towel helps to keep the potato from drying out and to steam the skin slightly.
Do I Peel a Potato Before Baking It In the Microwave?
No. The skin of the potato makes a perfect wrapper to keep the insides moist and fluffy. Leave the skin on.
Can I Freeze a Baked Potato?
Yes, you can freeze baked potatoes. But honestly, they keep so long fresh and then are so easy to bake in the microwave, you might not want to take up valuable freeze space with frozen baked potatoes.
Can I Pressure Cook a Potato?
Sure can! Check out my article about pressure cooking baked potatoes!
How Long Is a Cooked Baked Potato Good For?
Your cooked baked potato is good for about 5 days if kept in the refrigerator.
What Kind Of Toppings Go On a Baked Potato?
Many!
Sour Cream

Butter

Chives

Garlic Salt

Bacon

Onion Salt

Cheese (all kinds).

Broccoli

Onions

Peppers

Veggies

Mexi-melt cheese.

Alfredo Sauce

Fresh Cracked Black Pepper

Kosher Salt

Chili

Broccoli Soup!

Macaroni and cheese

Pizza toppings
And LOTS of others.
Tips and Tricks for How to Microwave a Baked Potato
Use a 4-5 inch long Russet (Idaho or Baking) Potato.

Wash the skin well to remove the dirt. Potatoes tend to be dirty.

Always turn the potato half way through cooking, otherwise, the bottom will be hard and the top soft.

You'll be able to tell if the potato is done if you give it a little squeeze and the sides give easily.

The best toppings for a baked potato are MANY! Try things and see what you like!

If you want to learn more than you ever wanted to know about potatoes, here is a great resource!
If You Enjoyed This Recipe You Might Also Enjoy…
YA'LL HELP ME OUT, OK?
Please leave me a comment and 5 STAR ( 🌟 🌟🌟🌟 🌟 ) review, I ALWAYS love to hear from you and your comments MAKE MY DAY! (Plus, it helps me out by letting everyone know that this is the place to find good recipes!)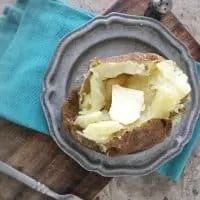 How to Microwave a Baked Potato
Fluffy, hot, soft and perfect! Tender and cooked through Every single time!
Print
Pin
Rate
Ingredients
1 4-5

inch

long Russet

(Idaho or Baking Potato) about 1/2 - 1 lb

4

Tbs

Water
Instructions
Wash the potato well to remove any dirt and debris.

Using a fork, poke holes in the potato with the fork tines 3-4 times on one side and then again on the other side.

Wet the paper towel with the water and squeeze out any extra water. Wrap the damp paper towel around the potato.

Place the potato in the microwave and heat for 4 minutes. Turn the potato and heat again for 3 minutes. Allow hot potato to sit in the microwave for 1 minute and rest.

With a towel between your hand and the potato, give the potato a squeeze. If the sides give easily then the potato is done. If the potato remains hard to the squeeze, microwave in 1 minute bursts until the potato gives easily.
Notes
Remember that all microwaves are not created equal and yours may take longer or fewer minutes to cook the potato.
Baking potatoes come in all sizes. If yours is smaller than 4 inches or more than 5 inches you'll need to adjust the baking time as LESS for smaller and MORE for bigger.
You can easily bake several potatoes at the same time using this method. Use the chart in this post to help you decide how long to set your microwave.
If you would like a crispy skin, heat the broiler on your oven, paint the potato skin with melted butter and brush on the potato. Broil at high for 3-5 minutes until skin is crispy.
Top your potato with any number of yummy toppings, but start with butter, salt and pepper.
PRO TIP: To get that perfect opening steakhouse slice across the top of your potato, use the edge of a fork tine rather than a knife! It will be fluffy and perfect, just like a TV commercial!
Nutrition
Nutrition Facts
How to Microwave a Baked Potato
Amount Per Serving
Calories 358
Calories from Fat 9
% Daily Value*
Fat 1g2%
Sodium 26mg1%
Potassium 1891mg54%
Carbohydrates 82g27%
Protein 10g20%
Vitamin C 26mg32%
Calcium 59mg6%
Iron 4mg22%
* Percent Daily Values are based on a 2000 calorie diet.
A VERSE TO SHARE
Today someone left a really hateful comment on a post about a "verse to share". That's happening more frequently these days. I usually let the comment through if it isn't too nasty. Other times, I just delete it and move on.
Today I let it through and just didn't respond to that part of the persons comment. I'll admit that often I want to respond in a very sharp way.
That's my way. I have a very sharp tongue when I want. That isn't Jesus' way. Here's what Jesus said and that's what I'll try to follow.
Matthew 5: 38-39
You have heard that it was said, 'Eye for eye, and tooth for tooth. But I tell you, do not resist an evil person. If anyone slaps you on the right cheek, turn to them the other cheek also.