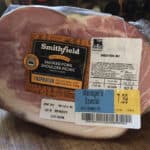 Print Recipe
How to Freeze Cooked Ham
Leftover holiday Cooked Ham? NO PROBLEM! When you know HOW TO FREEZE Cooked Ham, you'll be saving money, time and have Cooked Ham you can use later!
Use a sharpie marker to write on the Cooked Ham container: today's date, use by date (3-6 months), how many days until expired.

Freeze the Cooked Ham in the store container for no more than 2-3 weeks.

If you need to freeze for longer, then wrap the Cooked Ham inside the store container with several layers of plastic wrap followed by several layers of freezer paper. Secure well with tape. Be sure to label the Cooked Ham well.

Place the Cooked Ham in the freezer until needed.
Buy more Cooked Ham than you need when it is on sale and freeze some for later!
Use your frozen Cooked Ham as soon as you can. Don't let it stay frozen longer than 6 months.
Remember that Cooked Ham will go bad after you thaw it, use it quickly.
Don't try to freeze Cooked Ham that is on the verge of spoiling, it will still spoil quickly when you thaw it.
To thaw Cooked Ham, place it in the refrigerator a day or two before you plan to use it.
Calories:
338
kcal
|
Protein:
43
g
|
Fat:
17
g
|
Saturated Fat:
4
g
|
Cholesterol:
166
mg
|
Sodium:
2619
mg
|
Potassium:
637
mg
|
Vitamin C:
53
mg
|
Calcium:
14
mg
|
Iron:
2
mg